Bay Area pot busts cited in attorney general report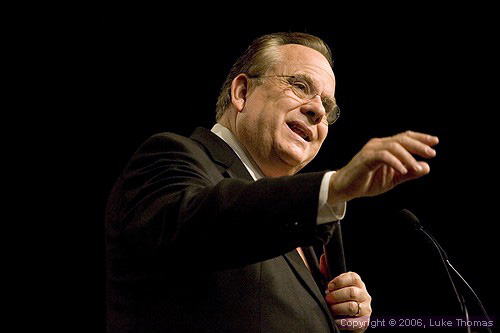 Attorney General Bill Lockyer. File photo 4/29/6
Photo(s) by Luke Thomas
By Lara Moscrip, Bay City News Service
September 8, 2006
Attorney General Bill Lockyer announced Thursday that the state has destroyed $4.9 billion worth of illegally cultivated marijuana plants so far during the 2006 eradication season.
The California Department of Justice Campaign Against Marijuana Planting has destroyed more than 1.2 million illegally grown marijuana plants this year by conducting raids on gardens with the help of deployment teams and aerial surveillance, Lockyer reported.
Authorities in Santa Clara County destroyed more than 38,000 plants worth $155,5000 in 2006, according to the report.
This follows the August 29 raid in western Marin County that uncovered 20,000 illegally cultivated marijuana plants with an estimated value of $50 million. The National Park Service reported that the seizure appears to be one of the largest ever in Marin County.
Some of the marijuana was found on land owned by the Marin Municipal Water District. According to the National Park Service, some areas under cultivation suffered extensive resource damage and an assessment is being conducted.
Trees were damaged and several water holding ponds were dug into the hillside. An extensive irrigation system was connected to a spring a half-mile from the site, the National Park Service reported.
Growers are killing wildlife, diverting streams that contain threatened species of fish and are using harmful pesticides in the natural areas, park service officials said.
State Department of Justice raids throughout California this year have led to the destruction of 335 gardens, the arrest of 18 suspects and the seizure of 17 weapons.
Last year, the state's program destroyed more than one million plants worth nearly $4.5 billion of illegally cultivated marijuana plants, Lockyer reported.
Copyright © 2006 by Bay City News, Inc. -- Republication, Rebroadcast or any other Reuse without the express written consent of Bay City News, Inc. is prohibited.
####