Lockyer sues to challenge new SUV fuel economy standards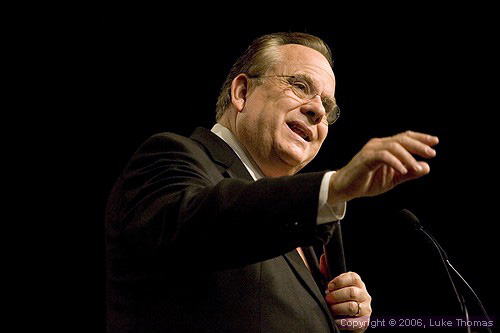 California Attorney General Bill Lockyer.
Photo(s) by Luke Thomas
By Julia Cheever, Bay City News Service
May 3, 2006
SAN FRANCISCO (BCN) - California Attorney General Bill Lockyer filed a lawsuit in a federal appeals court in San Francisco yesterday to challenge the Bush administration's new fuel economy standards for sports utility vehicles and other light trucks.
The lawsuit filed in the 9th U.S. Circuit Court of Appeals on behalf of the people of California was joined by nine other states, the District of Columbia and New York City.
Lockyer said the lawsuit will claim that the rules issued by the U.S. Department of Transportation on March 29 fail to address the effects of the new standards on the environment and global warming.
The attorney general said, "With gas prices skyrocketing, we must substantially increase fuel efficiency in new vehicles, not only to protect the pocketbooks of working families, but also to reduce vehicle emissions that contribute to global warming."
Lockyer contended that the administration "has missed an opportunity to promote new technology, fuel economy and conservation by issuing fuel economy goals that are status quo.
Another lawsuit challenging the new rules was filed in the appeals court last month by a conservation group, the Center for Biological Diversity.
Under federal law, there is a 60-day period after issuance of the rules in which lawsuits challenging the standards can be filed.
A spokesman for the Department of Transportation was not immediately available for comment.
Transportation Secretary Norman Mineta said in March that the new rules are "the most ambitious fuel economy goals for light trucks ever developed in the program's 27-year history."
Copyright © 2006 by Bay City News, Inc. -- Republication, Rebroadcast or any other Reuse without the express written consent of Bay City News, Inc. is prohibited.
####