Treasurer candidate Isaac Wang
cause of opponent campaign sign removal
| | |
| --- | --- |
| | |
| Isaac Wang | Calvin Louie |
By Luke Thomas
Copyright fogcityjournal.com 2005
November 4, 2005, 8:55 pm
Mutiple complaints by Treasurer candidate Isaac Wang to the Department of Public Works (DPW) triggered the removal of Calvin Louie campaign signage, the Sentinel has learned.
DPW complaint documents, obtained under the Sunshine Act, show Isaac Wang called in five separate complaints between November 2 and November 4, and wrote a letter, signed by Wang, to DPW today, one day after DPW crews worked late into the night remounting Calvin Louie campaign signs.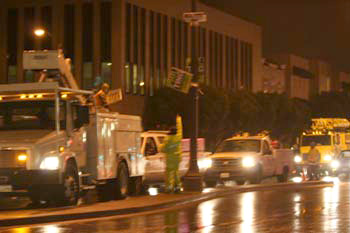 November 3, DPW crews work late into the night
remounting Calvin Louie campaign signs.
Photos provided by Calvin Louie campaign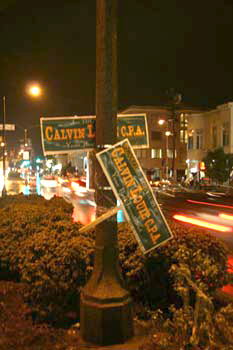 In the November 4 letter from Wang to DPW, Wang states, "Please remove these illegal signs ASAP. As you may know, Treasurer's race this year is very close race, and DPW's indulging of illegal signs posting may cause UNFAIR competition and practice."
In the letter, Wang cites Brotherhood Way, Lincoln Way, Alemany Blvd and and 19th Ave locations where Calvin Louie campaign signs are posted illegally.
The Sentinel has also obtained a copy of DPW's public letter of apology, also dated November 4. In that letter DPW Deputy Director Mohammed Nuru states, "Our crews, trained to respond quickly, may have reacted hastily. However, once the department realized the mistake, we stopped it and rectified the situation by remounting the signs immediately. We will make sure that the proper procedure is in place and will be followed, so that this will not happen again."
DPW's letter of apology comes on the heels of Calvin Louie's Ethics Commision complaint, filed November 4.
For his part, Wang told the Sentinel by phone, "DPW doesn't know the difference between a residential block and a commercial block. Campaign signs are only legal on blocks that comprise at least 50% commercial use."
####
City workers take down
Calvin Louie campaign signs,
later they're put back up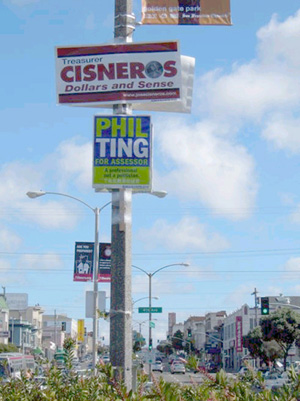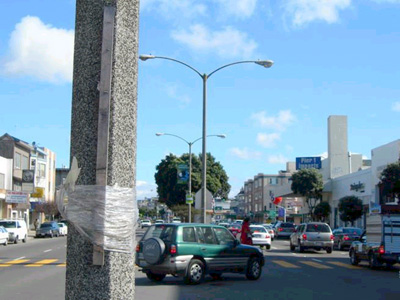 Photos provided by Calvin Louie campaign
showing Louie campaign signage removed.
By Luke Thomas
Copyright fogcityjournal.com 2005
November 3, 2005, 6:22 pm
The Sentinel has learned two Department of Public Works (DPW) workers were observed removing Calvin Louie campaign signage along Geary Boulevard, east of Arguello earlier today.
Michael Acree, 59, an outer Richmond resident and libertarian, was walking to work at 8.20 am along Geary Boulevard when he noticed two DPW workers removing the signs.
"I thought it was odd these DPW workers were removing Calvin Louie signs and only Calvin Louie signs, so I followed them", Acree said by phone. "Further on they were again removing Calvin Louie signs and leaving Cisneros and Wang signs alone."
Acree approached the DPW workers and asked why they were removing the signs. The DPW workers responded they didn't know why but had been ordered to remove only Calvin Louie signs and gave Acree a phone number to call to request information about the signage removal order, Acree stated.
The Sentinel contacted DPW's Public Relations Office and spoke with Frank Lee. Lee stated, "the workers were general laborers who thought they were following orders to take down illegal signage. We are investigating the situation and have called Calvin Louie's office to apologize. We have also put the signs back up."
Calvin Louie's campaign manager, Doug Comstock, filed an immediate disclosure request under the Sunshine Ordinance and will be filing a complaint with the Ethics Commission in the morning.
Editors Note: Copy of Ethics Commission Complaint available here.

####