Clinton, Pelosi get boobed in San Francisco
with Breasts Not Bombs protest
By Luke Thomas
July 24, 2007
Democratic presidential front-runner Senator Hillary Clinton and Speaker Nancy Pelosi were the targets of a group of anti-war protesters yesterday.
The group, organized by Code Pink and Women for Peace, bared their mammories in full view of God and country outside the San Francisco federal building at noon, calling on Pelosi to use her position as the most powerful woman in U.S. political history to impeach President George W. Bush and Vice President Dick Cheney.
"We're here to press the Speaker to call for impeachment because the office of the presidency has been abused," said Sherry Glaser. "Whether it's spying on the American people, or false representation in going to war… these are impeachable offences," she said.
The protestors are also calling on Pelosi to cut funding for the war. To date, the war in Iraq and Afghanistan has resulted in the deaths of 3637 U.S. service personnel, and as many as 655,000 Iraqis.
The cost of the war is quickly approaching half a trillion dollars, an amount close to the U.S. federal budget surplus accrued under President Bill Clinton.
"We're calling on Pelosi to absolutely stop all the funding for the war and to get our troops home immediately, starting today," said Marget Howe.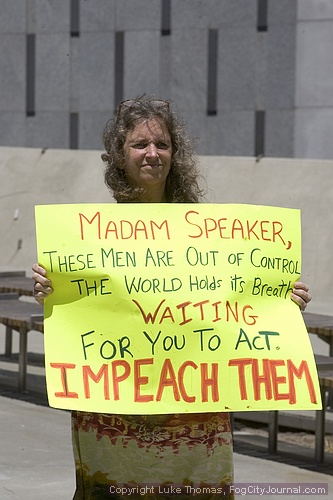 Margaret Howe, Breasts Not Bombs
The group later infiltrated a Hillary for President campaign meeting comprising of as many as 250 Bay Area supporters who had gathered at Clinton's San Francisco campaign headquarters to watch the first televised democratic national debate hosted by CNN.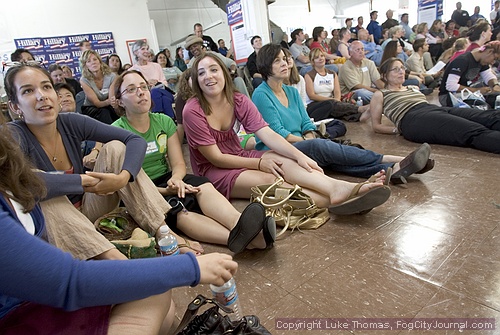 At approximately 5:30 p.m., several protesters removed their shirts and brassieres while other protestors held signs that read, "Breasts not Bombs" and "Hillary - Warmonger or Peacemaker."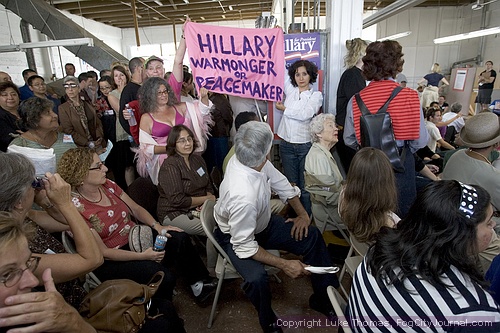 The protesters were summarily ushered away while cheers and sneers were heard from all quarters.
####