Brown officially sworn in
as San Francisco mayoral candidate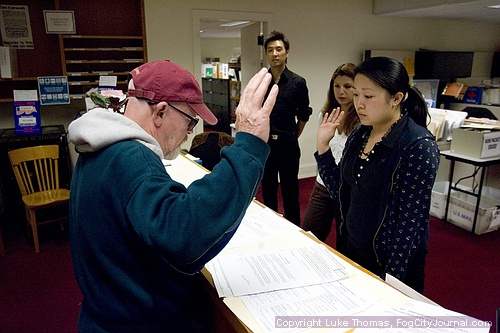 Mayoral candidate h. brown is officially sworn in
as candidate for Mayor of San Francisco at the Department of Elections yesterday.
Photo(s) by Luke Thomas
By Luke Thomas
July 26, 2007, 9:49 a.m
San Francisco Court Jester, SFBulldog publisher, and satirical muckraker, h. brown, was officially sworn in as candidate for Mayor of San Francisco yesterday.
Brown, 63, who lives in a single residence occupancy (SRO) in the Tenderloin, joins Wilma Pang and George Davis as the only mayoral candidates to have filed their required nominating petitions and who have paid the required fee for entering the mayor's race.
Brown's nominating petition signatures include Supervisors Sean Elsbernd and Ross Mirkarimi.
Brown, who is not connected to any monied pay-to-play forces, is running on a platform of cleaning up city government and promises to "fire all 61 department heads," replacing them with "veteran City employees from within those departments, agencies and authorities."
Brown's qualifications include:
"My expertise is in political analysis, public safety and program development for the behaviorally disturbed. I hold a Master's degree in Special Education from Clemson University. I have other degrees and certifications in Fire Technology, Cryptology and Emergency Medical care.
"I am a Viet Nam era veteran of the U.S. Navy. I spent the vast majority of my 47 years of work in public service. I've been a firefighter, teacher, coach and I built and operated a large jazz club in my youth.
"For the past decade I've covered the political beat at San Francisco City Hall for a variety of publications. My medium is political satire and I've written over a thousand columns ranging from profane to mundane."
####