Ethics panel OKs settlement,
finding filing errors by public power
campaign treasurer were inadvertent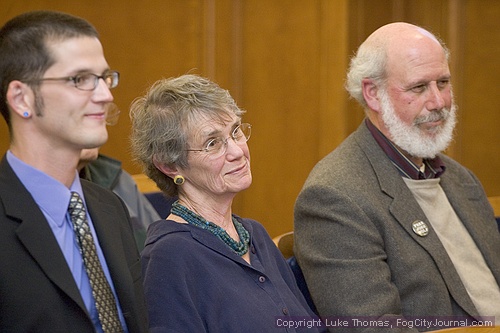 San Franciscans for Affordable Clean Energy campaign treasurer Carolyn Knee, flanked by attorney David Waggoner (left) and her husband, Richard Knee, smiles as the Ethics
Commission finds that campaign finance reporting violations were unintentional and votes unanimously to accept a staff-recommended settlement.
Photo(s) by Luke Thomas
By Luke Thomas
July 10, 2007
The San Francisco Ethics Commission voted unanimously Monday to accept a staff recommendation that a fine levied against the treasurer of pro-public power campaign organization for finance reporting errors be reduced by 99 percent, to $267, because the violations had been minor and inadvertent.
The treasurer, Carolyn Knee, had been charged with reporting failures involving nearly $20,000 in contributions to San Franciscans for Affordable Clean Energy, the leading organization among proponents of a 2002 ballot measure that called for the city government to replace Pacific Gas & Electric Co. as provider of electricity to residences and businesses. But as Knee and her attorney, David Waggoner, made clear during proceedings before the commission, most of that amount involved contributions that were not reportable and there was thus no violation.
The 2002 initiative and a pair of similar measures a year earlier failed because PG&E spent $5 million to defeat them. The commission earlier had fined attorney James Sutton, the treasurer for the PG&E forces, $100,000 for failing to disclose a pre-election expenditure of $800,000 during the 2002 campaign. Sutton attended Monday's meeting.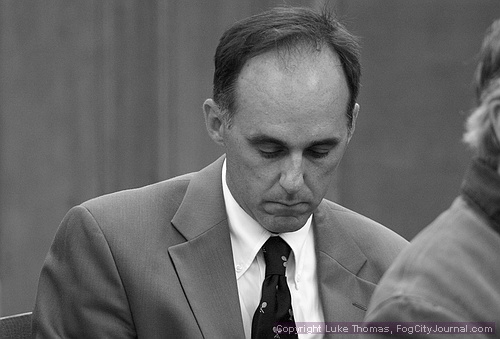 Attorney James Sutton
But, according to Ethics Commission Executive Director John St. Croix, the reduced fine levied against Knee was fair and appropriate.
"I think that the amount is suitable. I don't believe that there's any purpose served by further prosecuting this or asking for a considerably larger fine through this process," St. Croix said.
Knee's fine was calculated based on her ability to pay and on the minor nature of the violations.
Following the unanimous decision, Knee told Fog City, "I absolutely support the purpose of the Ethics Commission. There needs to be oversight and I have no argument with that. I just think they went a little overboard on me but, in the end, they arrived at a just decision."
Attorney David Waggoner, who represented Knee throughout the investigation, told Fog City: "It was a reasonably fair settlement. I wish the commissioners had dismissed it, initially. I think they should have taken the advice of campaign fines officer, Oliver Luby, when he recommended no fine. However, I don't think the commissioners would have accepted a no fine settlement.
"Carolyn has always had good intent, has cooperated and acted in good faith, but the way the law is currently interpreted, that doesn't matter. If a grassroots treasurer does everything they possibly can, as Carolyn did in this case, there can still be a violation.
"For me the intent aspect is very important. That's why I could believe so strongly about this case and get behind Carolyn because from the outset, her intent has always been to contribute in a positive way to our community and there's never been any evidence of any effort to conceal or misrepresent the facts, or the amount of money involved, unlike the opposing entity [PG&E] and the particular election."
In arriving at the decision, St. Croix condeded: "We have come to learn that we have more work to do in the community of educating smaller filers, people who have less resources. We do have more outreach to do."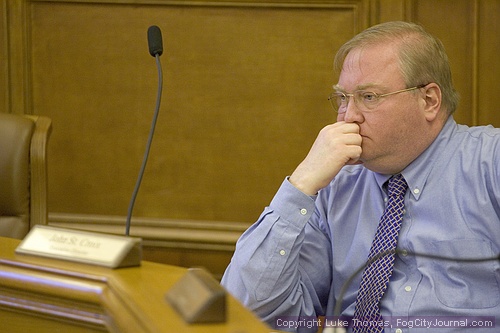 Ethics Commission Executive Director, John St. Croix.
####