San Francisco Assemblymember Ma sworn-in
Submits public safety bill as party whip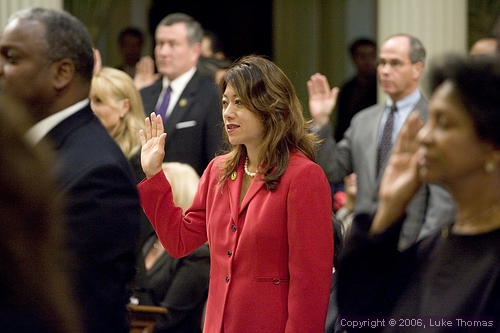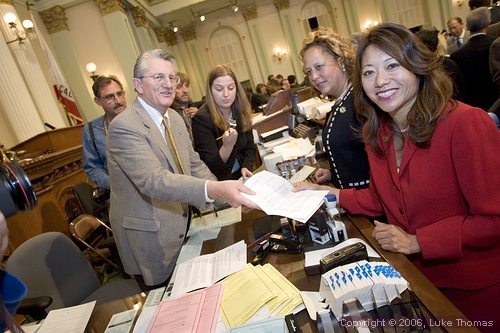 Former San Francisco District 4 Supervisor Fiona Ma was sworn in today as California District 12 Assemblymember. Named Majority Whip, Ma wasted no time in submitting her first bill, AB-23, legislation she introduced to help improve public safety on San Francisco's busiest streets.
Photo(s) by Luke Thomas
December 4, 2006
SACRAMENTO – In a formal ceremony today at the State Capitol, Fiona Ma (D San Francisco) was sworn into office for the 2007-2008 legislative session.
Ma was elected on November 7 to represent the 12th Assembly District, which includes the western half of San Francisco, Daly City, Broadmoor, and Colma. Ma will become the first Asian-American women to represent San Francisco in the state legislature.
On her first day as Assemblywoman, Ma wasted no time getting right to work. She introduced her first piece of legislation shortly after being sworn in. The bill, AB 23 requires crosswalk-stoplights on state highways in urban corridors be equipped with numbered countdowns. 19th Avenue, Sloat Boulevard, and El Camino Real are state highways that would fall under the requirements of the bill. A July 2006 report issued by the San Francisco Metropolitan Transportation Authority showed that last year there were nearly 700 pedestrian injuries and 14 fatalities in the city.
"I am honored that my neighbors have put their trust in me as their representative in Sacramento and it is time for me to go to work and fulfill the promises of my campaign," said Ma who plans to take her expertise as a CPA and San Francisco Supervisor to Sacramento to fight for resources to improve the quality of life of residents in the district.
"We laid the groundwork for this effort while I was at the Board of Supervisors---this bill is the product of that experience, and will tangibly address the most critical pedestrian safety problem facing San Francisco and San Mateo."
The legislation continues Ma's work as a champion of safe streets. Ma, most recently served as a member of the San Francisco Board of Supervisors where she authored legislation mandating school crossing signs and crosswalks as well as the "Slow Down, Look Around" campaign.
Ma also supported mandated foot patrols in areas most impacted by violent crime.
Speaker Fabian Nunez recognized Ma's hard work and leadership qualities by naming her Majority Whip of the Assembly.
"I am honored that Speaker Nunez has chosen me to join a leadership team that is reflective of the diversity of this state," said Ma.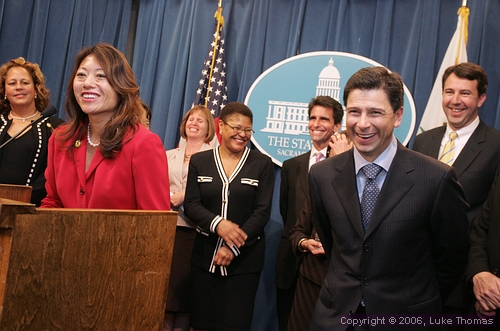 Speaker Fabian Nunez (right)
Ma's top priority in the Assembly will be to improve the quality of life of residents in the district by growing the economy and focusing on education, health care, affordable housing, and transportation infrastructure.
####