All Aboard!
Why California Needs High Speed Trains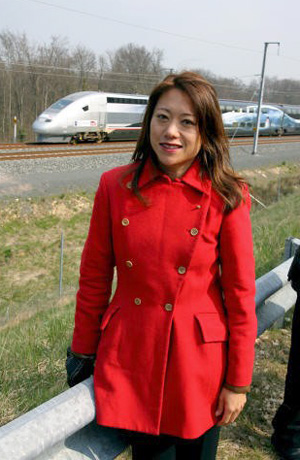 Assemblymember Fiona Ma
By Fiona Ma, special to Fog City Journal

April 17, 2007
Earlier this month, I took the ride of my life on a high-speed train that broke the world speed record. A French TGV (train à grande vitesse) reached a top speed of 357 mph, shattering the previous speed record of 320 mph set by another French TGV in 1990. This amazing experience has reaffirmed my belief that the time has come for California to make high-speed trains a reality.
California's workforce and businesses have transformed the way we live our lives by pioneering the technological revolution through innovation. From computers to medicine, our state has engineered the world into the twenty-first century. California even built a number of Mars' Rovers that have made discoveries which could signify life on the red planet.
Unfortunately, the high-speed train is the one advancement where California has fallen behind the rest of the world. Dozens of countries around the globe use the technology, including Japan which has had a system in place for more than 40 years. In order for our state to catch up, we need something that is currently missing: political will and vision.
In early January, the Governor unveiled his agenda for the year. His plan includes a number of forward thinking ideas such as universal healthcare, increasing career technical education programs in our public schools, and moving towards cleaner energy. Despite the environmental advantages, the Governor's agenda still lacks high-speed trains. In fact, the Governor's proposed budget this year cuts the funding of the California High-Speed Rail Authority to a mere $1.2 million, a sharp drop from the $14 million provided in the current year's budget. The Governor's plan also falls short of the $104 million the Authority needs to continue environmental and engineering work and buying rights of way. In addition, the Governor wants to indefinitely put off the already twice delayed $9.9 billion high-speed rail bond set for the 2008 ballot.
In order for our state to continue innovating to protect our environment and to stay economically competitive, California needs the vision to prioritize spending for the modern day transportation system that it is desperately lacking. The proposed bond is a small price to pay for the enormous environmental and economic benefits of high-speed trains. In California, the high-speed train system will combat global warming by saving the state more than 5 million barrels of oil annually and by reducing CO2 emissions by 12.4 billion pounds per year. High speed trains will also create jobs. Over 450,000 permanent jobs are estimated to be created once the system is up and running and these jobs cannot be sent overseas.
The system, which will carry 86 million passengers annually across the state, will be reliable and affordable. No longer will you have to wait in traffic or wait in long lines at the airport. A trip on a train, which will travel over 220 mph, from San Francisco to Los Angeles will only take 2 ½ hours and will cost about half the price of a plane ticket.
High-speed trains are also safe. There has never been a fatal accident in the Japan and the seismic engineering that the earthquake-prone country has developed will ensure that a California system will be more than capable of withstanding a major quake.
High-speed trains will achieve all this and more while generating up to $4 billion in operating revenue every year, and the system can be built in stages with opportunities for a public-private partnership to enhance and speed up the final schedule. The time to act is now—California must continue to move forward in innovation and become the first state in the country to embrace high-speed trains. There is no other single project that can combat global warming, move people fast, create good-paying jobs and unclog our freeways.

####