Ma wins California Democratic Party endorsement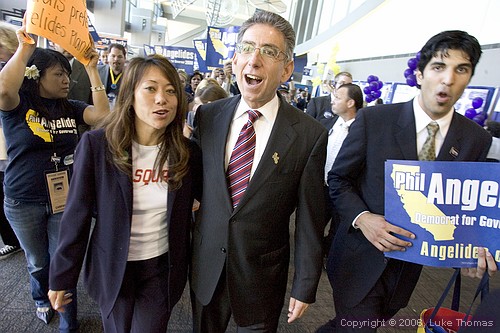 12th Assembly District candidate Fiona Ma with Phil Angelides, walk the halls
of the Sacramento convention center after receiving
the California Democratic Party endorsement.
Photo(s) by Luke Thomas
May 1, 2006
Fiona Ma has been declared the officially endorsed candidate for 12th Assembly by the California Democratic Party. Over 1,930 delegates from all around the state voted to approve the recommendation from each regions' caucus on Sunday.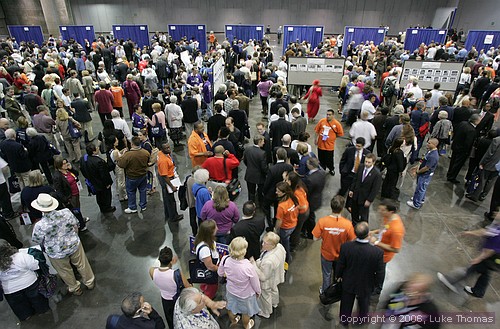 Fiona Ma won the highly coveted endorsement by securing 64% of the required 60% from the eligible delegates from her regional caucus.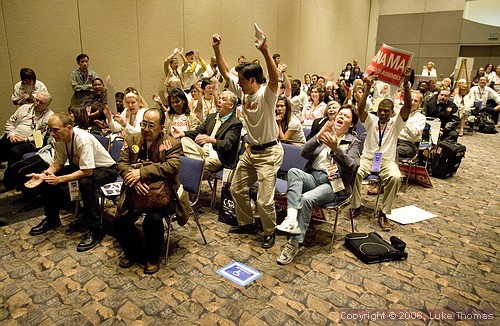 Ma supporters jump to their feet upon learning Ma's margin of victory
is unvanquishable.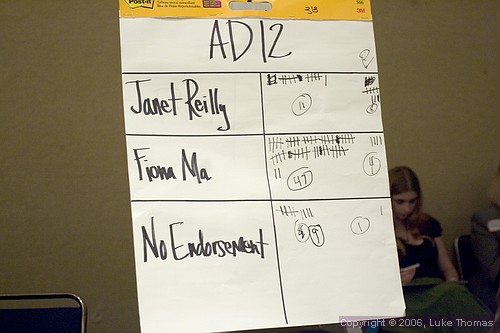 "This is an important endorsement and it adds to the tremendous momentum that we've been building over the past few months," said Fiona Ma. "I will continue to campaign throughout the neighborhoods telling people about my experience and vision for better education, my commitment to accessible and affordable health care and the need to create better jobs."

The battle for the endorsement was ratified by the entire party delegation but in order to reach that point, Ma had to convince delegates from her region that she was worthy of the endorsement.

"I've been a Democratic activist for ten years. I know the Democratic values and I know the Democratic vision. I felt right at home with all these other democratic activists," said Ma.

The endorsement process started Friday with a series of caucuses whereby affinity groups of Democratic faithful gather to hear speeches from candidates running from Governor to Assembly.

"It's really a thorough process for all the delegates to see who's running and hear what they have to say," said Ma campaign manager Tom A. Hsieh. "Fiona ma walks the walk when you talk about standing up for Democratic values and working to achieve Democratic goals."

In a surprise move following the recommendation by the 12th AD Caucus, the Reilly camp circulated petitions to challenge the 12th AD caucuses' recommendation to endorse Fiona Ma and have it re-heard on the convention floor.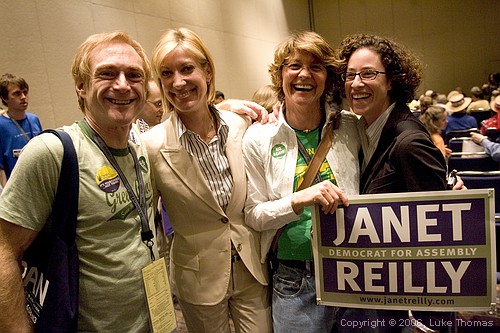 Michael Goldstein, Janet Reilly, Debra Walker and Laura Spanjian.
The Reilly camp was afforded until 11 p.m. on Saturday to gather 300 valid delegate signatures in order to qualify the challenge. By the deadline no signatures were turned in even though several Reilly agents were seen scrambling to sign up delegates.
"The delegates were resolute about Fiona Ma. They had heard that Janet Reilly worked for Republican Mayor of Los Angeles Richard Riordan. They declined to sign the petition and held firm for Fiona Ma, the Democratic activist," said Hsieh.
For her part, Janet Reilly told the Sentinel, "Of course I'm disappointed but I'm really proud of the showing... we had 50 people on the streets in San Francisco today walking precincts and talking to voters.
"We've been focusing on the street for a year now getting our voters lined up in San Francisco, and those are the people that vote in this election.
"I am still confidant for June 6th", Reilly said.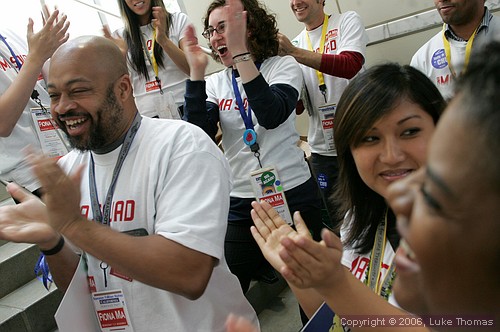 The 'Fiona Ma Squad' - organized, vocal,
and determined to outflank their opponent at every turn.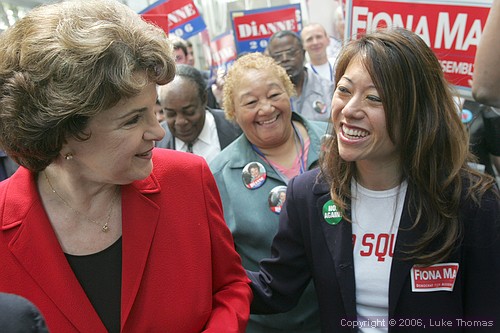 US Senator Dianne Feinstein shares Ma's victory jubilence.
####