THE MUSIC MAN
With Seán Martinfield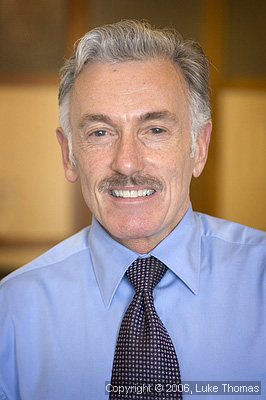 Seán Martinfield
Photo(s) by Luke Thomas
ADAM & STEVE - A tempting investing into the future
April 7, 2006
Director Craig Chester's ADAM & STEVE opens at The Castro Theatre this Friday and plays until the 13th. In the title role as "Adam", Craig is also the author - both screenplay and book.
Opening simultaneously in 17 cities across the country, the film (described as a romantic comedy) has already met with critical acclaim at New York's Tribeca Film Festival and highly praised at others, including the Fort Worth and Philadelphia Gay & Lesbian International Film Festivals. Last month at Mecca, during the launch party for PINK Magazine, I had the opportunity to meet Mark Calvano, one of a group of investors in the "Adam &Steve" production company, FUNNY BOY FILMS. Mr. Calvano, whose name has appeared on The City's A-Lists, agreed to meet with me to talk about his entrepreneurial interests in the film.
Seán: How did you get involved with this? What do you want me to know about the film?
Mark: I made a feature film. I was the Producer and Executive Producer of a full-length feature film that is still in post-production. During that time, through a mutual friend, I was introduced to Kirkland Tibbles, who is the producer of Funny Boy Films. They made our first movie, so we invested into a fund, about 15 or 20 of us. Our first movie was "Latter Days". It did extremely well at the Box Office, with about a $1 million budget. This is our second film; we plan on making ten. This is a Gay romantic comedy called "Adam and Steve". We were invited to the Tribeca Film Festival - it took First Prize.
Seán: Very nice.
Mark: We flew there for that; the cast was there. Two weeks ago Wednesday, we flew down for the premiere in LA - a "Hollywood Premiere".
Seán: How did it do?
Mark: Very well. A Sold-Out crowd. It premiered at the ArcLight Theatre. Afterwards, there was a party at Basque (at Hollywood and Vine), about 500 people. It was well-received. "Adam & Steve" is completely hilarious. It's different than "Latter Days". It's light, it's funny, it's Gay, it's not Gay - it doesn't matter. Actually, I was with straight guys and they loved it. As this interview is happening, it's opening up in 17 markets in the US. That's a lot of markets. "Godzilla" didn't open up that big! It's probably the only "Gay Film" that's opened in 17 markets in one day.
Seán: Is it just on the coasts?
Mark: It's from coast to coast. It's lagging just a little bit here in San Francisco because of the timing with the Castro Theatre, that was the only reason. Otherwise, it would have opened at the same time.
Seán: I have been very sensitive to all the commentary about "Brokeback Mountain", especially that which comes from the religious and political right wings. Comparatively speaking, "Adam & Steve" is not a large commercial release. Is it going to be touted by the major critics?
Mark: You never know. I think "Adam & Steve" is as good as "Brokeback Mountain", but it's a completely different movie. This is a Gay romantic comedy; "Brokeback" was anything but that. It doesn't matter. Will it change the world? Absolutely. The world changes through Art. Movies are a form of Art and what changes the world is exposure to that art form. Who in the world would have thought of Gay cowboys? The term is almost an oxymoron. Not anymore! Because it really was - Gay cowboys. "Adam & Steve" will continue on this path to change the hearts and minds of America because it is about exposure. Just like "Brokeback", except it's a comedy. This is about a relationship between two living human beings who go through so much of the same stuff that straight people go through. To me, that was one of the beautiful things about "Brokeback". While I was watching it, about two-thirds the way through, I kind of forgot it was about two guys. I was just into the relationship. It could have been two women, it just happened to be about two men.
Seán: For others, the story dealt with something "forbidden" or at least dangerous. A relationship-story where the two people, both married, are cheating on their spouses is "dangerous". Thus, "Brokeback" could easily have been about a man and a woman.
Mark: Yes, it happened to be about two men. It's about disclosure. Straight people are going to realize - Hey! Gay people go through the same things that we go through.
Seán: I think the central question with film projects such as "Adam & Steve" is - how "authentic" are we all going to find it? Will we recognize people we know in this story?
Mark: I think everyone is going to relate to it and that's the important thing. Some parts are so humorous you are just going to want to break up and laugh. Hopefully, some of the scenes in the movie have never happened to you. Which is why you will probably find them so embarrassingly funny and have to laugh.
The story deals with two Gay men who have clearly been around the block - a lot! - both are way past being viewed as ingénues or even young romantic leads. Craig Chester and co-star Malcolm Gets are in their 40s. As "Adam" and "Steve", neither character has ever been in a relationship. The gimmick of the story is their one-night-stand from a long time ago. Too much cocaine cut with powdered baby laxative results in the unexpected propulsion of too much digested bodily fluid. Gone! Can't remember the face / don't want to remember your name. Twenty years pass and it's time for La Forza Del Destino - they meet again. Along the way, each has gained some oddball friendships. "Rhonda" (Parker Posey of "Tales of The City" and "Waiting For Guffman") is the fag-hag of "Adam". Chris Kattan (of "Saturday Night Live") plays "Michael", the straight roommate of "Steve". With such a gathering of popular and proven talent at the gate, the nature and tone of the comedy is already established. In the Real World of movie-making, in this case, the lower-budgeted film, Who is playing Who can have a large impact on the investor walking through the door.
Seán: How secure do you feel with these kinds of projects? As an investor, did you say to yourself, "I know I'm going to at least get my money back" - ?
Mark: There are great movies that have failed and very few bad movies which ever made it. But there are low-budget movies that do make it. We invested in Funny Boy Films because we believe in Kirkland Tibbles. We believe that through the Arts - even though we look for a return on our investment - you don't always get something back. As with supporting the Ballet, you give to support the Arts. That is what you get. Anything we get back financially is gravy. We really did it for altruistic purposes. We support the Arts, we think it's for a great cause; we think it's about exposure.
"Brokeback" has done a lot of good for this country. It should have happened years ago - never did - but it's happened now. It didn't win the Academy Award, but it came really close. It's time for Gay Cinema. Gay Cinema has been given a pat on the back, a kick in the pants, or both. You know what? We can make something that straight people like and they'll come and see it if it's good. It's opened up a whole new horizon for us.
Seán: It's opened up a new vocabulary as well.
Mark: Yes. Maybe "Adam & Steve" is the first one to step in. It was made long before "Brokeback" was released. We were in production before they were.
Seán: Why do we need to see "Adam & Steve"?
Mark: It's about exposure. I think the most important thing is that we did it because it is Art and we like to have people entertained. Bring your mom, bring your dad, bring your straight friend. Watch them experience the comedy, the mystery, the tragedy and the love that happens between Gay people. The story could be about two straight people. Take out one of the Gay characters, put in a woman and it's a "straight" movie. "Adam & Steve" is a Gay romantic comedy. It's important for us that straight people see it. That's what's going to make this movie successful. If only Gay people had gone to "Brokeback", it would not be the success that it is. We are only a small percent and it's not enough. Gay people need to bring their straight friends. "Adam & Steve" will then become as big as "Brokeback Mountain".
Seán: Sounds good to me.
Hey, Funny Boy Films! Thank you!
At The Castro Theater: ADAM & STEVE
April 7-13, 2006
F, M, Tu, W, Th: 7 pm, 9:15 pm
Sa, Su: 2:30, 4:45, 7, 9:15 pm
Directed by: Craig Chester
Cast: Craig Chester, Malcolm Gets, Parker Posey, Chris Kattan, Julie Hagerty, Melinda Dillon.
Running time: 99 minutes
####