THE MUSIC MAN
With Seán Martinfield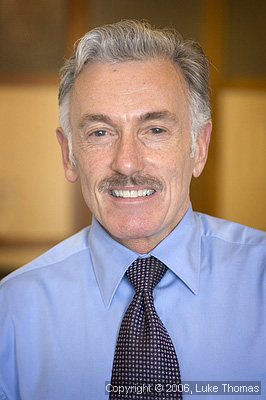 Seán Martinfield
Photo(s) by Luke Thomas
Jeanette MacDonald - First Lady of "San Francisco"
April 15, 2006
"Other places only make me love you best!" sings the immortal recording star and most beautiful soprano to ever emerge from the Golden Age of Hollywood, Jeanette MacDonald. Beginning Sunday, April 16th and playing through Tuesday, April 18th, the Balboa Theatre will be screening Metro-Goldwyn-Mayer's 1936 fanciful and treasure-filled tale of The City's great earthquake and fire of 1906, SAN FRANCISCO. Nominated for Best Picture and directed by W.S. Van Dyke, this silver-screen epic features a newly-mustachioed Clark Gable, the former lingerie queen turned opera singer Jeanette MacDonald, and as "Father Mullen", Spencer Tracy (in his first appearance as a priest) securing a nomination for Best Actor. Not without surprise, given Miss MacDonald's stunning vocals and the roar of The City being torn apart and blown to bits, the Oscar went to Douglas Shearer for Best Sound. The film's most enduring contribution was its title song (created by Gus Kahn and Bronislau Kaper), eventually being declared the Official Anthem of San Francisco. Come this Tuesday morning, beginning at 5:12 AM, those gathering at Lotta's Fountain will once again sing their promise to come home again and go "wandering no more!" (mi-mi-mi)
Balboa Theatre owner, Gary Meyer, recognizing the film's long absence from the screen at the Castro, wisely booked SAN FRANCISCO way in advance of the earthquake centennial. Reviving the once-popular tradition of an Anniversary screening, he has sweetened the deal by double-billing it with another of director Van Dyke's films displaying The City, AFTER THE THIN MAN, starring William Powell and Myrna Loy. Meyer's San Francisco-based theme continues on with other classics including Barbara Stanwyck's drama at San Quentin, LADIES THEY TALK ABOUT, Burt Lancaster in BIRDMAN OF ALCATRAZ, Hitchcock's THE BIRDS, and for you Streisand fans, WHAT'S UP DOC. It's easy to get to 38th and Balboa. Ride your bike, take the bus, and bring the kids. (I've been hooked on SAN FRANCISCO since the 3rd Grade!) It can be an awesome experience watching these preserved views of a city bent on constant growth and change.
While Mayor Gavin Newsom and Fire Chief Joanne Hayes-White, Police Chief Heather Fong and Emergency Services Executive Director Annemarie Conroy have made extraordinary advances in making San Francisco the model of disaster-preparedness, we all know another 8.6 (or worse) is possible. The film captures such devastation and the day-to-day social consequences of search and recovery. Moreover, the film might inspire a walking tour to what used to be called the Barbary Coast or over to Dupont Street (now known as Grant Avenue and how did that happen?), maybe a trip to the Main Library to see an original photo of the Mark Hopkins Mansion - destroyed in the fire (dynamited to smithereens in the film) and replaced by the hotel. In the meantime, here's the chance to view opulent turn-of-the-century set decorations by Cedric Gibbons, gowns by Adrian, hair by Sydney Guilaroff, and to hear Jeanette MacDonald deliver the City's Anthem in all its original splendor.
An operating principle of the Balboa Theatre is, "To ignore your past is to betray your future." SAN FRANCISCO is one of those films that eased its way into Cultural Phenomena. Admittedly, the look and feel of the film is extremely arch; it is intended to be a melodrama, extravagant as a soap opera, and in the same vein as the lofty animated classics from Walt Disney. It is then gilded with the voice of Jeanette MacDonald who bolstered her critical standings with scenes from the operas LA TRAVIATA and FAUST. In other words, it is not ordinary daily fare; it requires a willing engagement. On a large screen, SAN FRANCISCO is a complete treat. It is not a failed attempt at realism nor is it an objective documentary. Should "The Big One" ever hit and if (as oracles have warned) the Golden Gate sinks into the waters as did the lost continent of Atlantis - some of The City's heart and soul and the driving determination of its people can be located within the reels of this film.
Although peppered with moral charges and religious meanderings, SAN FRANCISCO is not a tale of Divine retribution. The overriding theme is that while outsiders may perceive The City as a Sodom and Gomorrah, those within understand that no one is left alone outside its gates, praying for hospitality. The story begins with cries of "Happy New Year" to 1906 from a crowd gathered in front of the Poodle Dog Restaurant - at the northeast corner of Mason and Eddy Streets, diagonally across from the elegant Tivoli Opera House over on the southwest corner - both of which will be destroyed come the wee hours of Wednesday morning, April 18th. One of the revelers announces that wine is flowing freely down at Lotta's Fountain at Market and Kearney. (This Tuesday it's going to be coffee and sinkers.) Maybe he's the same guy who later yells to the throngs of homeless encamped atop Alamo Square, "The fire is out!" Compacted within that span of time are all the elements necessary for a star-studded and profit-making extravaganza, this script coming from Anita Loos.
"Let's see your legs," says Paradise Music Hall owner "Blackie Norton" (the very fetching Clark Gable). "I said I'm a singer!" replies Jeanette MacDonald (as "Mary Blake", a parson's daughter, freshly arrived to The City known for its wickedness and labeled as "Queen of the Coast").
"C'mon, c'mon," he says, "let's see 'em." Mary raises her long skirt to mid-calf and her skeptical eye-brow to high noon. He leans and smirks. "A little thin for down here. What would you say to seventy-five a week?"
All at once Mary realizes her days in the choir stalls are over. She's gonna make it big as a Saloon singer, in a joint with a dealer and a pool table, where the swells from Nob Hill go slumming, and down the alley is the entrance to the Red Light District. She crashes to the floor.
"I guess she fainted," says Blackie to Mat, a not-so-fetching, in-between-the-girlie-acts crooner.
"Yeah," he replies. "Give me seventy-five bucks a week and I'll drop dead!" [Fade-out: ]
As a product, SAN FRANCISCO met with MGM's goals of releasing one major film per week, of creatively exploiting its dazzling stable of principal and corps talent, and to make a ton of money. It proved to be one of its biggest grossing musical films. Along the way, the film and its irresistible theme song became a cult favorite. As a teenager, I participated in a petition drive launched by the provocative radio and television station owner James Gabbert (KPEN 103.7 and KOFY Channel-20) to get Miss MacDonald's later recording of "San Francisco" re-released by RCA as a 45 rpm. It's an odd, but fun rendition; doesn't compare to her fabulous and fiery film version; even Jeanette hated it and tried to keep it buried in the RCA Vault. Sorry! Like it or not, both tracks are now digitally preserved and always available for sale on the Internet. So is the film.
Brace yourself for the concluding scenes! With the announcement up at Alamo Square that the last burning ember has been dowsed, and with the rallying cry of "We'll build a new San Francisco!" - the crowd bursts into the "Battle Hymn Of The Republic" and begins marching toward a better view of the eastern skyline. Still dressed in the now ruined ostrich-plumed and beaded finery worn to "The Chickens' Ball" from those few fate-filled-nights before - Jeanette, Clark and Spencer lead the crowd in its triumphal march. As with any true diva, Jeanette quickly seizes the opportunity and lets fly her silvery soprano way over the chanting crowd having now segued into "San Francisco". With her voice rising higher and higher, so does The New City above its wreckage. [Fade out]
"San Francisco" - both script and song - was written for Jeanette MacDonald. She campaigned for Clark Gable to be her Leading Man. Smart girl. In its collective wisdom, our City Officials one day decreed that the song should always rank as its #1 Anthem (the second being that other one). The film and Jeanette's recording will survive and be adapted to every playback device ever to be invented ever ever and every one of our City's future residents will come to know both it and her.
Whatever else you may hear or read, that's what it takes to be San Francisco's First Lady.

####