THE MUSIC MAN
With Seán Martinfield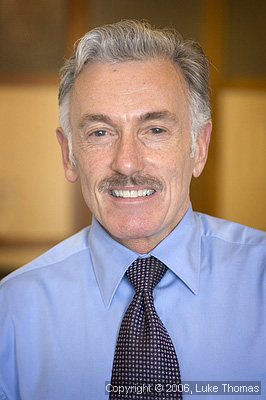 Seán Martinfield
Photo(s) by Luke Thomas
ANDY GARCIA - The Lost City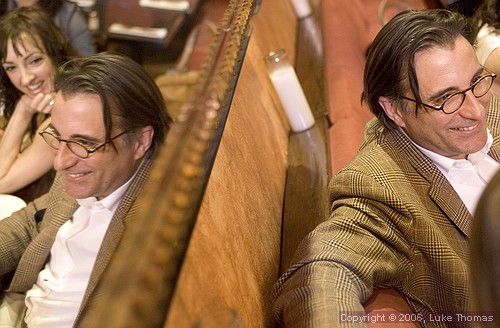 Film Director Andy Garcia at Il Destino round table
to examine Garcia's latest foray into the politcially turbulent times of 1950's Cuba.
Photo(s) by Luke Thomas
May 5, 2006
THE LOST CITY is a significant find. Its center is located in the Golden Age of Hollywood film-making. As the film's Executive Producer, Andy Garcia seizes an opportune moment to locate and target the nightmarish effects of 20th Century Marxism in the exploding dawn of 21st Century revolution and the push for Democratic principles. As its Director, Mr. Garcia brings to full realization a story that needs to be told. His vision of the Cuban revolution is clear, precise and readily understood. He extracts performances from his actors that are surprisingly forthright, intense, focused and memorable. The same can be said of his own portrayal of the main character, "Fico", proprietor of Havana's top-drawer nightclub, El Tropico - based on the universally recognized Tropicana. As the film's star-power headliner, Andy Garcia proves himself an intelligent, enduring, commanding, vital and princely leading man. Moreover, he has a sweeping knowledge and soul-filled comprehension of the music of Cuba, contributing his talents both as pianist and composer to the film's densely rich soundtrack. In Alphabetical Order, on a short roster of men in the cinematic arts who, with one film and such singular control and informed vision, serve up extraordinary sensitivity and power, artistic diversity, integrity, and social consciousness - Andy Garcia's name will be found listed after that of Clint Eastwood.
It was my privilege this week to be invited to a round-table interview with Mr. Garcia and the film's featured guest star, internationally acclaimed ballet diva Lorena Feijóo.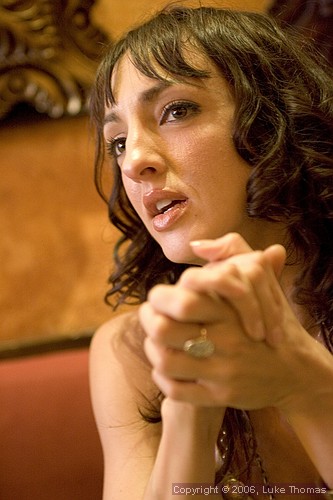 Lorena Feijóo
As Principal Soloist of our City's resident Ballet, readers know the praise the SAN FRANCISCO SENTINEL has heaped upon her during this 2006 Season. [See my reviews, February 9th and May 1st.] Lorena and her sister, Lorna (enjoying equal status with the Boston Ballet) were born and raised in Cuba, trained by the legendary Alicia Alonzo, each being promoted to the status of Prima Ballerina with the Ballet Nacional de Cuba. Their mother, Lupe Calzadilla (also from the Ballet Nacional) provided choreography for THE LOST CITY. As the only known "ballet dynasty", they are also Cuban defectors.
Remembering back to the 1961 headlines of Russia's defecting ballet stars (including the Kirov's Rudolf Nureyev) and those terrifying October days of 1962 during the Cuban missile crisis, there was much of the Surreal in sitting across the table from Ms. Feijoo and Mr. Garcia - whose family fled to Miami in 1961 with little 5-year-old Andy in hand. Surrounded in irony and the cordial atmosphere of Destino (a Nuevo Latino Bistro in the Upper Market/Castro District), Mr. Garcia shook my hand, pulled out a finely-rolled cigar (JFK himself secured a number of boxes before imposing an embargo on the island), and asked, "Do you mind if I smoke?"
With such soulful, big brown eyes looking at me? "No," I hurriedly replied, thinking - "Ah, a souvenir worth grabbing" along with an inner cry of, "Waiter, please! A Pisco Sour - and a Sidecar."
Havana is the setting of THE LOST CITY. The shooting script, by legendary Cuban author Guillermo Cabrera Infante, is not intended to be a History Channel-type documentary on Castro's take-over nor would its fictional characters and anecdotal references be the best source for an historian's Doctoral Thesis. The same can be observed throughout all of Hollywood's most treasured love-stories interrupted by war and revolution, including - MRS. MINIVER, CASABLANCA, WATERLOO BRIDGE, THE AFRICAN QUEEN, etc., and such high-budget epics as GONE WITH THE WIND and NICHOLAS AND ALEXANDRA. As Andy observed, "Truth and fiction / truth and friction, are inevitably hand in hand."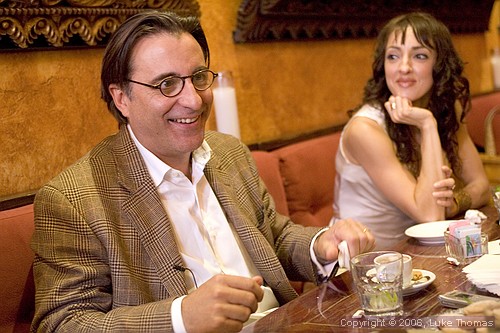 SEÁN: Here is the embargo that we know is on Cuba, but here is the cultural embargo that is on us through the Media. We know what we know and a lot of that is zip. The film reflects what I think I know of Cuba and stirs what it stirs within me to want to know more. What would be the biggest hope you would have for the film here in this country? Maybe middle-America is what I'm talking about.
ANDY: Well, obviously, not many people know about Cuban history because of stuff like that. You get what you get. You can't expect people to know. There's a lot of misconception of what the revolution was about. But, the movie to me is like Schindler's List. It's made in homage with respect to the struggles that went on and what happened. But, it was a movie made for everybody, just like my movie. It has a universal theme of impossible love, of about having to leave the thing you most cherish, and what happens in a world of dramatic change. Those are themes in Casablanca, Doctor Zhivago, the Bertolucci film 1900 or Visconti movies; that's what I'm aspiring as a film maker. The movie is about that. I'm just stimulated by the subject matter. That's what I choose, that's what I know. I wouldn't begin to make a movie about the holocaust, even though I know a lot about it. It's not where I would choose to work; the tapestry where I want to work as a director. I want to work with the things I truly know about, where I can offer some insight. So, if people learn about what happened there - I think it's a good thing, because there is a lot of misconception about it. I can see it. Listen, there are a lot of people who don't know about the American Revolution, let alone the Cuban Revolution. Here in America - you can't expect them to know it. There's a certain propaganda that comes out, certain things. But there's a lot of misconception about it.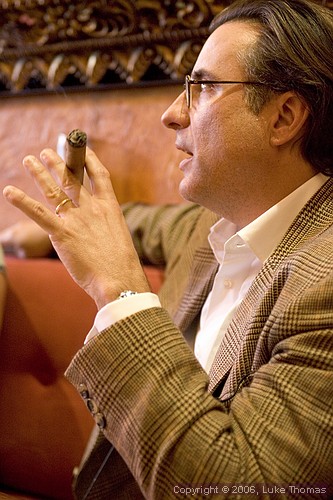 Mr. Garcia maintained a close association with Infante (indicated as "The Writer", played by Bill Murray) during the story's creation. Infante loved and respected film. His literary output (VANISHING POINT, THREE TRAPPED TIGERS, INFANTE'S INFERNO), while rooted in the island's distinctive flavors, dances with the wit of visual association. In one telling scene at the Presidential Palace, during a bloody and failed assassination attempt, President Batista asks his Aide if he has ever expressed his appreciation to him. After the briefest bit of memory search the Aide replies in the negative. "Oh," replies Batista, his carefully groomed visage remaining steady. Garcia's directorial timing is impeccable. Since we know the historical outcome, we observe Batista (actor Juan Fernández) remaining unruffled, confident, vain and arrogant. Garcia has Batista turn his gaze toward the window. The Aide waits. We wait. Outside, at a safe distance from the window, the rebels are in a bloody shoot-out with the Palace Guards. Perhaps a simple "thank you" could signal the moment for Batista's possible spiritual redemption. The coup proves unsuccessful. No apology necessary. Fico's brother is shot in the ensuing turmoil.
ANDY: People have the misconception that the Cuban Revolution was some sort of peasant uprising. That's not the case. It was an intellectual uprising - about the lack of pluralism. It was led by the intellectual society who were risking their lives. There has also been the polemic of the depiction of Che Guevara in the movie. That is history. I wish, I wish that Che Guevara did not do those things in Cuba, that that wouldn't have happened and many people would still be alive. But that is a reality. It's an historical reality people don't know about, obviously. The movie is not about that; it's an element in the film. That's an historical element in our movie. If it tarnishes the image of Che Guevara, well - that's Che Guevara's fault, it's not my fault.
Infante created an authentic set of parents for Fico. As Director, Mr. Garcia coaxed a brilliant performance from Millie Perkins (Hollywood's original "Anne Frank") as his mother and may have pushed Tomás Milian as the father into contention for an Academy Award as "Best Supporting Actor". A native Cuban, he was accepted into Lee Strasberg's Actor's Studio in the early '50s. Audiences can look forward to his next appearance as the felled Dominican dictator Rafael Trujillo. Fico's family is obliterated by the Castro regime. He leaves Cuba, a guard seizing his only relic from the family - the Father's ("Dinner is at 6 O'clock") pocket watch. He arrives in New York with a handful of LPs, the indelibly pressed heart and soul of Cuba - its music.
SEÁN: (To Lorena) How did you get this part?
LORENA: Well, I happened to meet him when he was shooting Victor across the street. [Victor Rivers, as "El Indio" - check out his recording of "Mami me gusto".] Somebody from our Board, familiar to the Ballet world and the Hollywood world, came to the studio and said, "Do you want to meet Andy?" And I said, "Yeah, when?"
"Right now."
"I can't change?"
"No. You're going in your point shoes and all." Because Andy was taking a break then. So we met and chatted. He was totally nostalgic about Cuba. "Do you know this neighborhood / is that little blue house still on the corner?" I could totally see that this project meant a lot to him. Then he said, "We need a dancer, a Flamenco dancer, in the movie." I didn't want to do it. I had danced some Flamenco in ballet school, but it was not my métier. So I said, "I don't want to go there; because the choreographer comes and gives me some intricate steps and I don't want to be put in that situation." Anyhow, I let that go. A year later we went to LA with DON QUIXOTE. Andy took his daughter to see it. Right then he said, "I have this project in mind, you know. I need a dancer. Do you want it? I don't want to audition anybody else." I was so flattered. "Of course!" I thought it was going to take longer. Actually, it happened really quickly. I was on vacation - I think it was Puerto Rico - and he called and said, "Are you ready? We are shooting this, like, soon. Do you have the choreography?" And I said, "No, we don't. But somebody will make it." My mom had to fly out with me on holiday and she made the choreography for one of the solos.
ANDY: We had no rehearsal time. The movie, after 16 years, was prepped for 6 weeks. When you do a movie you have a bond. Basically, without the bond being closed - you don't get finance. So, the first four weeks the financier was writing personal checks to keep the thing going. And we closed the bond in order to augment the people. The first four weeks were with the core group. We shot in 35 days. There was no rehearsal time. We rehearsed on the set.
LORENA: When we were shooting this scene, I thought I was practicing and they said, "That's it!" And I'm - what? We are used to the luxury of a big stage. I had to adapt these steps to a smaller stage or fall. So, I thought that was my trial period and I go, "OK, are we ready? Can we do it?" And they said, "It's done! You're done!"
SEÁN: It has the appearance of one take. Was it?
LORENA: Yes.
LUKE THOMAS: (Editor-in-Chief, fogcityjournal.com) Is that a good thing or a bad thing?
ANDY: That's a very good thing! With her, you don't need more than one take. We ran two cameras on her. And my theory was the old Fred Astaire thing - if you have a dancer, shoot them from head to toe, don't cut it off, it's not an MTV-video.
SEÁN: How refreshing!
LORENA: Uh-huh!
ANDY: Just watch her dance. We ran two cameras, one a little wider, one tighter on her with a long lens. She went and did it and that was it. There was nothing to do again. In the classical one I think we did two takes. The hand-held went up on her body to let the photographer … [The scene is at El Tropico, there is a blast.]
LORENA: … kill us off.
ANDY: The other was one take with two cameras. Most of the movie was done like that. When you do a movie of that scale in 35 days, you can't be too involved. If you have to do it again, you do it again. But, if you have it in one, you move on. Usually, there's one or two takes. It keeps things fresh. We ran multiple cameras on the performances; could be a camera on you and me simultaneously. And I think that's very good; everybody is listening. [Lorena is beaming.] Everybody's on their toes.
Infante's screenplay is essentially a tale of the ties that bind and how they can be unraveled. The losses are located in the details - love of family, the passion of lovers, love of country, love of culture - art, music, dance, celebrity, food, a fine rolled cigar, and the perfect Egg Cream. Bill Murray and Dustin Hoffmann (as racketeer "Meyer Lansky") bond in their knowledge of the perfect recipe. For me, it's 2 tablespoons of the best chocolate syrup and 6 ounces (exactly) of whole milk mixed in a chilled highball glass and then spritzed with an exact 6 ounce measuring of soda water. For Andy Garcia and his character "Fico", it is through Music and Dance that a culture and identity will survive and perpetuate itself. Much of that pride, longing, motivation and driving force is to be found in the luxurious melodies of pianist/composer Ernesto Lecuona. He is familiar to most of us through the compositions "Malagueña" and "Andalucia" (aka, "The Breeze And I" - charted by such diverse talents as orchestra leaders Xavier Cugat and Jimmy Dorsey, and kept familiar to American audiences by such singers as Vic Damone and Jeanette MacDonald). Garcia's influences include bassist and composer Israel "Cachao" Lopez, a founding father of mambo, and the warm voice and distinct spirit of Benny Moré. A quick sampling at Tower Records of Señor Moré's "Amor Sin Fe" or "Me Miras Tiernamente" will tell you why he is so central to the life of THE LOST CITY.
SEÁN: (To Lorena) How was the music chosen for the dance?
LORENA: (Indicating Andy) He did, actually. Lecuona is one of our Cuban musical glories, an incredible pianist. Actually I had done this piece in Cuba, a beautiful ballet, very much representing the era of the '50s; with four sisters in the different stages of their life - the little one, one in her youth, one that is like a constellation of the whole family, the older sister. So, I had already been familiar with this. I love Lecuona. He said, "I chose this for the solo, but if you want, if you like something else, we can talk about it." But, I loved it. So, that didn't change.
ANDY: With Lecuona you can just pick it out of a hat.
LORENA: Anything! Beautiful. He should be known. He is an incredible pianist, so melodic. He actually mixes the classic rhythm with the Cuban flavor and danson. There is that beat, that Cuban beat, inside his music all the time.
ANDY: A very active left hand. That's what people will tell you all the time. I was staying at the Huntington, across from the park on Nob Hill. There's a nice bar there and a pianist. I asked if he knew any Lecuona. "Oh, yeah, Lecuona. No, I don't know any Lecuona." So, I asked, If I bring some sheet music, will you play? He says, "Sure!" The next day I searched around, found "Malaguena", one of his classic compositions. I brought it in, he looked at it - it looks like a play! - and he's looking at it, starts fiddling, then he turns to me and says, "I gotta work on this! I'll play it for you next week." There are a lot of notes there.
LUKE: Something like a Rachmaninoff?
ANDY: Yes! I've seen people who have recorded Lecuona from different cultures. It's interesting. You can play it very straight, very classical. But when you have someone who is somehow connected with Cuban music, with Lecuona - it's a totally different feel. The same notes in the same place, but there's a swing to it. It has a pocket in it; you've got to know it. You can play it straight, but when it's played straight it doesn't have the same swing. There's a swing to it that's inherent in the Cuban….
LORENA: There's a different soul in it.
ANDY: Yes, it's very Cuban. It's connected to the song.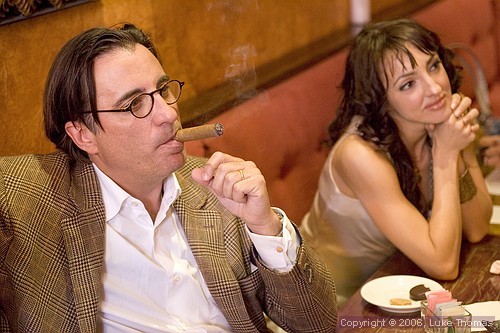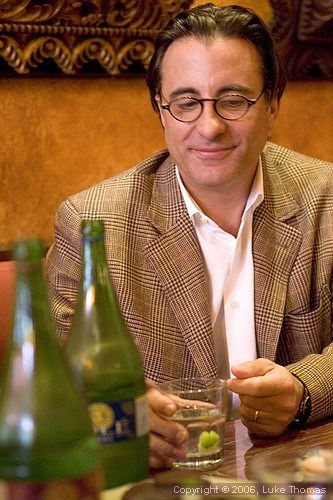 Connect to Andy Garcia's THE LOST CITY and you will connect to a Beauty waiting to be found.
The film opens Friday, May 12, at Landmark's Embarcadero Center Cinema, One Embarcadero Center (415-267-4893).
Landmark Theatres in East Bay venue tbd 510-464-5980
Landmark Theatres on the Peninsula tbd 650-327-3241
####