THE MUSIC MAN
With Seán Martinfield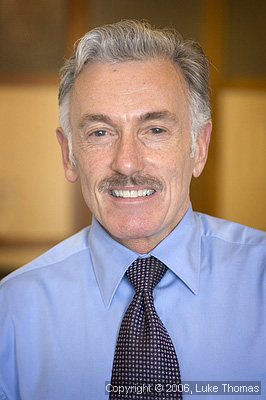 Seán Martinfield
Photo(s) by Luke Thomas
SAN FRANCISCO OPERA - Opening Spectacular
May 31, 2006
History was made Friday night as the San Francisco Opera launched its 2006 Summer Season with Puccini's MADAMA BUTTERFLY. Newly appointed General Director, David Gockley, has taken the reins and - following 30 years of guiding the Houston Grand Opera into financial solvency and artistic excellence - galloped into town. At 62, with a clear vision and proven sure-fire ability, he has hit the Bull's Eye. Attending the live "Opera Vision" simulcast - from my folding chair in the Press Box at Civic Center Plaza there was as clear a view - ours being the 18' 7" by 25' 3" Self-Illuminating LED Screen, flanked by twin towers holding a "curvilinear array" of MILO speakers creating stereophonic separation for everyone. Only the magical dome and breadth of City Hall could serve as its back wall, the long and beautifully lit Civic Auditorium and Old Federal Building distinguishing Center Left from Center Right.
Had the Mayor of Paris chosen this night to visit San Francisco, he would have noticed Renoir's hand in the vibrant glow emanating from Civic Center Plaza. The tree-lined aisles were festooned with softly lit red and yellow Japanese lanterns as The City's warmly dressed and personally invited population settled in with folding chairs, lawn chairs, mats, blankets, picnic baskets, bento, and bags of burgers and shakes from Carl's. Under a clear and airy ceiling as high as Heaven itself - thousands gathered into this suddenly majestic outdoor theatre and for nearly three hours - witnessed the unfolding of Perfection. Within moments, following the actual final curtain over at the War Memorial, the cast was shuttled (by golf carts!) to our Civic Center stage and with Mr. Gockley at their side, once again bowed to thunderous applause and multi-voiced cheers from a second house of viewers - everyone caught in amazement. Given the luxury of a free invitation, the gift of an 8-camera ever-changing viewing perspective, state-of-the-art sound, in-and-out privileges, plenty of porta-facilities, food and beverage booths - Mr. Gockley proved that the grandest of the Performing Arts can be brought to everyone and that the glory days of the San Francisco Opera are just beginning.
Three operas comprise this Summer Series affectionately and appropriately labeled as the RETURN OF THE DIVAS - Puccini's MADAMA BUTTERFLY, Tchaikovsky's JOAN OF ARC and Mozart's THE MARRIAGE OF FIGARO. Soprano Patricia Racette, in the title role of "Butterfly", is a former San Francisco Merola Opera Program participant and Adler Fellow. She made her Company debut as "Mistress Ford" in Verdi's FALSTAFF, subsequently appearing as "Liu" in TURANDOT, "Desdemona" in OTHELLO, "Mimi" in LA BOHEME, "Violetta" in LA TRAVIATA, and the title roles of LUISA MILLER and JENUFA. An un-binoculared view from the Dress Circle at the Opera House might be seen as somewhat limited, certain details going unnoticed. But those eight in-house cameras covering the singers from every angle and projected over to our crystal clear and brightly-lit wide screen captured every nuance. Including the fact that Ms. Racette is somewhat beyond the fifteen-year-old and much-experienced geisha, Cio Cio San - "Madama Butterfly". And, appropriately, is her companion "Suzuki" (Zheng Cao) as well as her leading man, tenor Franco Farina as "Pinkerton". Only for a handful of moments at the beginning of Act One did any of the age-thing distract, falling aside as the opera progressed. The marble-chiseled axiom: when a woman is old enough to play "The Nurse" is she then qualified to play "Juliet" - comes very much into play here. Even though the production itself is a re-mounting of the 1997 "Broadway Version", tonight's artists are not the fluffy and head-miked youngsters who "did BUTTERFLY". Only a voice of the caliber of Patricia Racette - well-seasoned by a previous roster of leading roles building Olympian strength, focus and control - can deliver the intentions of the composer. Some singers go on to define the role. Long-careered sopranos from the past, particularly Licia Albanese and American-born Dorothy Kirsten sustained the demands of "Madama Butterfly" for decades, nurturing and refining both their musicianship and command of the role as the years flew by. Such a future can only be hoped for with the magnificent artistry of Patricia Racette now clearly in sight. She stands to prosper for decades as this most beloved of Puccini heroines.
MADAMA BUTTERFLY continues at the War Memorial with additional performances through June:
Sunday, 6/4 (2 pm); Thursday, 6/8 (7:30 pm); Wednesday, 6/21 (7:30 pm); and Sunday 6/25 (2 pm).
I have the great privilege of being able to again witness this glittering assemblage at the Opera House on Sunday afternoon, June 4th. I am likewise curious to compare the thrill of an amplified outdoor "Opening Night" performance with the comparative intimacy of the 3,000-seat environment of the War Memorial and the more relaxed timing of a Sunday afternoon.
Stay tuned for the view.
####