THE MUSIC MAN
With Seán Martinfield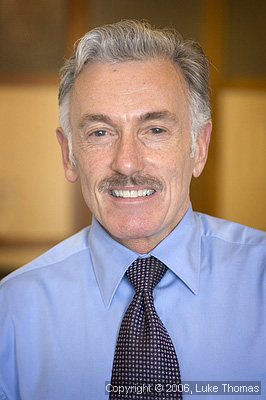 Seán Martinfield
Photo(s) by Luke Thomas
MADAMA BUTTERFLY, Part II - Week 2
June 8, 2006
Make no mistake, ain't nothin' like the real thing. This past Sunday afternoon the proscenium arch of San Francisco's War Memorial Opera House buzzed with the vibrant resonance from the most ideal cast one could possibly find in Puccini's MADAMA BUTTERFLY. Superb musicianship across the board; vocal timbres perfectly matched and balanced, including the Ensemble; everyone ideally suited to their role, each demonstrating story-telling abilities far exceeding any projected sub-title. A most rare bevy of talent! Having last week experienced these performers as "screen actors" via the simultaneous wide-screen broadcast (under the direction of Bruce Bryant) at Civic Center Plaza, their live on-stage delivery was even more commanding, at times hypnotic, never less than engrossing. (The first cough shot through two hours later during the orchestral sunset/sunrise interlude!) Hovering above it all, the first fulfillment of a promise - the "Return of the Divas" - the one granted the signature privilege of opening the Summer Season, the luminescent Patricia Racette. From this point forward, she shall be known as: "La Fantastique".
San Francisco Opera's "MADAMA BUTTERFLY, The Simulcast" - was a glittering example of artistic savvy, marketing genius, and stalwart civic pride on the part of the newly-installed General Director David Gockley [see previous article, "SAN FRANCISCO OPERA - Opening Spectacular"]. But, even after three decades of successful leadership/dealership at the Houston Grand and with Mr. Gockley's stated dream to "get his hands on" our City's Opera - ultimately, what must happen, is that The Product prove itself in The House. Eliminate all the seductive trappings and bounding energies of a (formerly exclusive) Saturday Night-Opening Night and what one is dealt - the Opera itself - is either a winning hand or a slap-down loser. Especially a week later, to us insatiable fans and long-term subscribers attending the first of three 2 pm Matinees - because? The stakes are higher. It costs more. Simple.
At this past gloriously-weathered Sunday afternoon matinee, following Mr. Gockley's welcome and surprise invitation to speak with him after the performance, the house lights dimmed, Conductor Donald Runnicles beamed at his audience, turned and jump-started the Overture. The opening strains catapult the listener to another world - yes, to a legendary Japan, but through a sudden flurry of butterflies with one of them grabbing our attention. It flits and darts, seeking its mate, seeking its shelter, seeking the place where rapture must mingle with destiny. Enter its captor, a care-free American sailor, who will pin the beauty into an empty box and then cast it aside.
As a native San Franciscan, beginning with a 4th Grade field-trip "Introduction To The Symphony", the vastness of the 3,000-seat War Memorial Opera House has never failed to unnerve me. During the opera season and when it is possible, a guided tour includes a few moments on the stage. While absorbing the grandeur, it takes a full tilt of the head to view the second balcony. The effect is daunting and makes one feel incredibly small. For those who have never had a singing lesson, it can come as quite a shock to realize that even the most standard opera singer needs to be in Olympic condition and possess vocal chops capable of decibels (ranging from whispers to certifiably illegal) projecting way-past the last and highest back row, without a microphone, in languages other than their own, with a full-scale orchestra blaring in front of them and some supreme Authority Figure waving signals of "Louder-Softer-Faster-Slower". For this two Act / one Intermission version of Puccini's MADAMA BUTTERFLY, that readiness was sustained over a 3-hour period - four-and-a-half with pre-performance getting into of make-up, wigs and long-trained robes.
Patricia Racette once again delivered a flawless and heart-wrenching performance. She only got better, younger, fresher, and more radiant as the opera progressed. Every lover of "Butterfly" cherishes a certain Diva's performance - on a recording, a film, a radio or television broadcast, maybe their own rendition. It's simply an inherent factor within the nature of the role and composer Giacomo Puccini's musical genius who brought her forth. She / The Work touches the soul. Including myself among the admirers, I have heard and seen a respectable list of immortal sopranos as "Butterfly" and probably loved the one I was with. Until now. Through a succession of performances, in two vastly different arenas, Ms. Racette delivered a consistent stream of perfection such as I have never witnessed.
In some ways, both experiences were bittersweet. While marveling in her extraordinarily beautiful soprano and being awe-struck by her impeccable handling of the text and approachable but goddess-like presence - a few tears were shed over the fact that, as with all live performances, the moment cannot happen again. "You cannot step into the same stream twice." And behind these auspicious occasions, a team of Designers and Determinators and The One who ultimately punched the sealing wax with his imprimatur: "D.G."
Translation: Done! Go for it!
They're already burning Joan of Arc at the stake and Figaro's marriage comes under scrutiny this Saturday. Before MADAMA BUTTERFLY makes her final quick get-away, including tonight, there are six more chances to catch her:

Thu. June 8, 7:30 pm
Sun. June 11, 2 pm
Fri. June 16, 8 pm
Sun. June 18, 7:30 pm
Wed. June 21, 7:30 pm
Sun. June 25, 2 pm
Opera Box Office: (415) 864-3330
On-line: www.sfopera.com/opera.asp?o=238

####