THE MUSIC MAN
With Seán Martinfield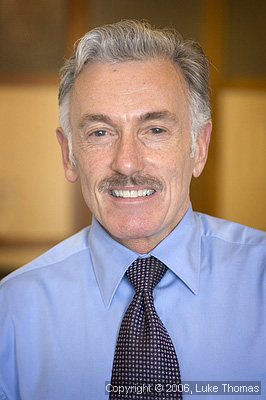 Seán Martinfield
Photo(s) by Luke Thomas
THE MAID OF ORLEANS - A Simmering Success
June 12, 2006
Tchaikovsky's THE MAID OF ORLEANS is on fire at the San Francisco Opera through June 28th. In this second offering of the Summer Series, "Return of the Divas", it is dramatic mezzo-soprano Dolora Zajick who takes on the title role of the legendary Joan of Arc. An internationally recognized star, Ms. Zajick possesses a magnificent voice, commanding in its overall strength, beautifully balanced from the resounding bass of her lower register through the warmth and ease of the middle and on up to her trumpeting treble soaring high above the orchestra and piercing through every collected ensemble. A former Merola Opera Program participant and Adler Fellow, Ms. Zajick includes in her performance and recorded repertoire the great mezzo heroines of Verdi, the coloratura of "Adalgisa" in NORMA, and the powerfully seductive and emasculating "Dalila". Combining these separate gifts of brute dynamism, lyrical agility, and feminine mystique, Dolora Zajick brings sense and sensibility to Tchaikovsky's rather odd portrait of the virgin martyr and savior of 15th Century France.
Director Chris Alexander and set designer Robert Dahlstrom deliver a noble attempt in their collaborative efforts to bring relevance and palpability to a work identified as Tchaikovsky's contribution to French Grand Opera. As such, his MAID OF ORLEANS contains all the expected components: gargantuan situations and valiant characters, continuous music including recitative rather than spoken dialogue, multiple acts - in this case, a series of extended tableaux, spectacular production values and dazzling special effects, grand processions, and the obligatory ballet. Keeping in its tradition of a raked center-stage platform with side areas reserved for a narrative chorus, along with stage-width panels and hanging pillars separating heaven and earth and the nobility from the gentry - the look and feel is somewhat similar to a church pageant or miracle play. The wardrobe of the Chorus is contemporary, ranging from very casual to business attire - the typical picture at most Sunday Morning services. The main characters are beautifully decked-out in period wardrobe by designer Walter Mahoney; heavenly figures treated to the judicially provençal, and three adorable small-fry-angels flounce in (maybe their first!) gossamer and snowy-white ballet dresses. Lighting designer Robert Hill (and a few extra boosts from the orchestra under the baton of conductor Donald Runnicles) produced spectacular bolts of lightning - unambiguous evidence that Joan is in league with the Devil, her alleged gifts and accomplishments founded and refined in the fires of Hell, along with her impure thoughts toward the comely Burgundian knight, "Lionel" (charming baritone Rod Gilfry). In this libretto fashioned by Tchaikovsky, Joan has no trial scene, no damning conviction from ecclesiastical authority. Thus, with a sudden change in the weather and several untimely strikes of lightning - BAM! - Joan is consigned to the stake and burned. Historians reveal that the remaining bits of platform and corpse were gathered and burned twice more, lest anything wind up on eBay.
In the final moments of Joan's immolation, with great luck and daring imagination, the super-abundant amount of dry ice and steam (ablaze in red light) billowing from a trap door swirled straight up the tall stake and beyond into the rafters. It was spectacular. A tiny girl steps forward from the holocaust and walks slowly down stage. It is the innocent soul of the Maid of Orleans stepping into the promised bliss of Eternity.
So Tchaikovsky. So French. So over-the-top.
The opera is fraught with problems. But Tchaikovsky provides wondrous opportunities for his singers. Special mention must be given to baritone Philip Cutlip as "Dunois". Alongside his larger fellow baritones and basses, Mr. Cutlip's baritone is strong and consistently clear. He is fortunate in that his abilities as a Leading Man are easily recognized and engaged by such companies as Opera Birmingham for the title role of "Don Giovanni" and the Seattle Opera for "Marcello" in LA BOHEME. Bass-baritone Philip Skinner as Joan's father, "Tibaut", is a graduate from the Merola Opera Program and former Adler Fellow. Familiar to General Director David Gockley from his previous association with the Houston Grand, Mr. Skinner's roles there include the four villains in THE TALES OF HOFFMANN and Mozart's "Figaro". Perhaps next Summer Season will see him in a "Return of the Divos". Current Adler Fellow Sean Panikkar proved a very tempting and romantic tenor in his role as "Raymond", the rejected suitor to the distracted Joan. Soprano Karen Black, also an Adler Fellow and Merola Graduate, heard the "Bravas" during her curtain call as "Agnes Sorel", faithful mistress to the King. (Apparently the sky god sympathizes with the frustrations of an unhappy marriage.)
If you are a fan of Tchaikovsky's ballets SWAN LAKE and SLEEPING BEAUTY, you will surely recognize their kinship with his MAID OF ORLEANS. He is at his best with the fantastical, with swords of virtue and shields of truth, with demons and fairy-angels, forbidden love and Eternal longing. This "Joan of Arc", starring our own fiery superstar Dolora Zajick, returns for three more performances:

Wednesday, June 14, 7:30
Sunday, June 18, 12 PM
Wednesday, June 28, 7:30
Order tickets on-line at: http://sfopera.com/opera.asp?o=230
Box Office: (415) 864-3330
####