THE MUSIC MAN
With Seán Martinfield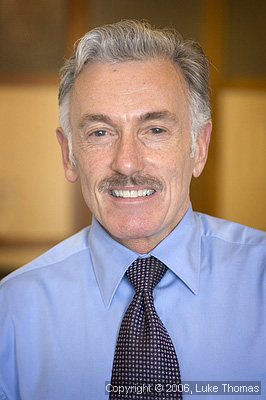 Seán Martinfield
Photo(s) by Luke Thomas
MAHINA - Now at the Zeum Theatre
July 9, 2006
In celebration of its 15th Anniversary, the Purple Moon Dance Project presents "Mahina" - continuing July 14th and 15th at the Zeum Theatre in the Yerba Buena Gardens. Artistic Director Jill Togawa and her dedicated troupe of collaborators, dancers and musicians embody all that this inspiring dance piece purports to be - "A journey of motion, sound, threshold and revelation." This weekend's opening performances happened under the clearest of purple-blue skies and the radiant light of a nearing full moon. The Pacific Island's ancient Goddess of the Moon, Mahina - mother of Maui and patroness of artisans (lovingly channeled by dancer Arisika Razak) - was smiling down on the bridge-walkway crossing over Howard Street and leading to the Zeum Theatre. Inside its very resonant, lofty and airy 210-seat space, the Opening Night crowd was invited to consider the question, "What happens to us as the day ends and a century begins, as we stand upon the shadows of the past, in the growing light of the present?"
"Mahina" is a celebration of collaboration - an homage to the coming together of women of color, of the increased visibility and vibrancy of the lesbian community, a ritualized reminder to all women that each is the human manifestation of Mother Earth and in their care and concern for each other they take better care of the Mother. "She is you / She was you / She is you."
Since the founding of Purple Moon Dance Project in 1992, Jill Togawa has attracted a retinue of multi-talented artisans whose passions for the Performing Arts are in tandem with their zeal for effecting positive social change. Through workshops, classes and benefit performances Purple Moon has proven itself a vibrant conduit to many community groups and community-based agencies including San Francisco Women Against Rape, All Our Families Coalition, University of San Francisco's Center for Gender Equity, VIVA (Latina/Latino Lesbian Artists), and the Asian Lesbian Network.
Purple Moon adapts its educational programs to the needs of the group they embrace. Through meditation and movement, and particularly through non-western expressions of ritual, dance and spirituality, PMDP reaches out to women journeying through their recovery from substance abuse, expectant mothers and the complications of pregnancy, seniors dealing with the loss of flexibility and mobility, and many others. Among the groups it has served are Women and Children's Family Services, Women's Alcoholism Center, GLOE - Gay and Lesbian Outreach to Elders, Lavender Youth Recreation and Information Center (LYRIC), and the National Women's Music Festival.
"Mahina" presents an impressive and diverse roster of likewise impressive and diverse women. Arisika Razak, as the Goddess "Hina", directs the Integrated Health Studies Program at the California Institute of Integral Studies. Frances Sedayao, as ever changing "Time", is in her fifth season with PMDP. She has been a grant recipient from Serpent Source Foundation, an organization dedicated to funding women whose work embodies a political and social-change focus. She was joined in Part 5 by the graceful dancer Keiko Otaka, a recent graduate from the dance and theatre program of Cal State East Bay in Hayward. Ellen Bepp, as the "Self - called into action", is a native of the Bay Area and currently a member of Somei Yoshino Taiko Ensemble, a group of artists dedicated to exploring and developing works that incorporate taiko (Japanese drumming) with other types of performance art. Alleluia Panis, as "Wind - teller of stories", has received commissioning awards from the Rockefeller Foundation, the National Endowment for the Arts, New Langton Arts, and Brava. Renee Arakaki, Christine Lipat, and Jane De Cuir furnished instrumentals and vocals.
Mahina, as Goddess of the Moon, reflects divine light and embodies wisdom and intuition. She knows the Purple Moon Dance Project and beckons your attendance and support.
Zeum Theatre is located in Yerba Buena Gardens
221 Fourth Street (cross street, Howard)

Tickets: $15
For group rates and information: 415-552-1105
####