THE MUSIC MAN
With Seán Martinfield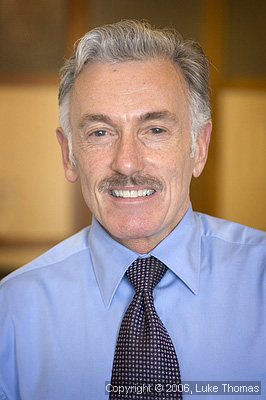 Seán Martinfield
Photo(s) by Luke Thomas
THEY HAD FACES!
The 2006 San Francisco Silent Film Festival
July 13, 2006
Opening the 11th Annual San Francisco Silent Film Festival this Friday night, July 14th, is the 1927 classic SEVENTH HEAVEN. In what promises to be yet another "only in San Francisco" Opening Night spectacular, viewers will experience a sparkling new 35mm print and marvel to 110 non-stop minutes of live organ accompaniment on the Castro Theater's Mighty Wurlitzer by the very popular and much heralded interpreter of silent film scores, Clark Wilson. The film features Janet Gaynor, winning the first Academy Award for Best Actress for her combined performances as street waif, "Diane" and (with Hollywood's calendar always being somewhat different) her 1928 appearances in STREET ANGEL and SUNRISE. Co-starring is favorite leading man, the extremely handsome Charles Farrell, in this the fourth of their thirteen films together. Although shamefully overlooked for an Academy nomination, Mr. Farrell always maintained a debonair appearance and secured his immortality by playing Gale Storm's father ("Vern Felton") in 126 episodes of the enduring TV series, MY LITTLE MARGIE. Introducing the film will be Robin Adrian, son of Janet Gaynor and MGM's quintessential Hollywood costume designer - Adrian.
In keeping with the recent theme of the San Francisco Opera's summer series, "Return of the Divas" - Janet Gaynor's first step up the movie ladder was in 1922 as an usherette at our own Castro Theatre. Even then, she beguiled the patrons with her infectious smile during such premieres as THE BOOTLEGGERS starring the lovely Norma Shearer and then ran her petite 5-foot frame home to prepare for graduation from Polytechnic High School in June 1923. She would go on to become one of Hollywood's most beloved leading ladies, her most famous "talkie" role coming nine years later as the struggling actress "Vicki Lester" (aka Esther Blodgett) in the original A STAR IS BORN. Sadly, in September of 1982, here in San Francisco, Janet Gaynor and companion Mary Martin were involved in a horrific traffic accident. The crash killed Martin's agent and injured Gaynor's husband. Miss Gaynor never fully recovered from her injuries and passed away in 1984. In gratitude for the incredible care extended to them while at San Francisco General Hospital and in memory of her friend, Mary Martin dedicated the hospital's Trauma Center that continues to serve The City.
No doubt, music fans are looking forward to organist Clark Wilson's treatment of the film's familiar theme song - "I'm in Heaven when I see you smile! Smile for me, my Diane." Not only did the major stars of early Hollywood have entrancing faces, many a profound expression was summoned forth and captured as studio musicians softened the din of rolling film with luxurious "mood music". Given its sweeping range and innate sense of longing and hope, "Diane" is an example of one of those melodies. In SUNSET BOULEVARD, gliding into the New Year across her tiled floor whereupon Rudolph Valentino once danced the tango, Gloria Swanson (as the silent film star "Norma Desmond") is losing her grip on reality and ravishing gigolo William Holden as a tuxedoed quartet plays this hit tune from SEVENTH HEAVEN.
"There are no other guests!" Norma says. "We don't want to share this night with other people - this is just for you and me."
But you will want to share this always fresh, always ecstatic experience happening this weekend at San Francisco's sole-surviving neighborhood movie palace, The Castro Theatre. Following Friday night's opening of SEVENTH HEAVEN, there are ten more programs to choose from:
Program 2: Saturday, July 15 11:00 am $13
BUCKING BROADWAY (1917)
CAST: Harry Carey, Molly Malone, L.M. Wells, Vester Pegg
DIRECTOR: John Ford
Program length: 90 mins
Introduced by Joseph McBride, author of Searching for John Ford: A Life, and with very special guest Harry Carey, Jr.!
With short: SAN FRANCISCO EARTHQUAKE AND FIRE (APRIL 18, 1906)
Live piano accompaniment by Michael Mortilla
Program 3: Saturday, July 15 1:40 pm $13
AU BONHEUR DES DAMES (1930)
CAST: Dita Parlo, Armand Bour, Pierre de Guingand, Ginette Madie
DIRECTOR: Julien Duvivier
Program length: 120 mins
A country girl comes to Paris to seek work in her uncle's dress shop only to find that it's being run out of business by Au Bonheur Des Dames, a giant department store.
Live Accompaniment by The Hot Club of San Francisco
Program 4: Saturday, July 15 4:20 pm $13
SPARROWS (1926)
CAST: Mary Pickford, Gustav von Seyffertitz, Spec O'Donnell
DIRECTOR: William Beaudine
Program length: 110 mins
Presented in a restored and tinted print.
Plus the original SPARROWS trailer and rare outtakes!
Live piano accompaniment by Michael Mortilla
Program 5: Saturday, July 15 8:20 pm $15
PANDORA'S BOX (1929)
CAST: Louise Brooks, Fritz Kortner, Francis Lederer, Carl Goetz
DIRECTOR: G.W. Pabst
Program length: 125 mins
A devastating portrait of an erotic siren let loose in a society poised on the brink of collapse.
With short: EXPLODED GAS TANKS, U.S MINT, EMPORIUM AND SPRECKELS BUILDING (1906)
Live accompaniment on The Mighty Wurlitzer By Clark Wilson
Program 6: Sunday, July 16 11:00 am FREE ADMISSION
Amazing Tales From The Archives
Program length: 65 mins
Join us for an exclusive peek into the world of flammable cellulose nitrate - the stuff silent films are made of. Archivists and preservation experts will share tales of impossibly fragile paper prints, exotic film gauges and deteriorating movies that are seemingly unsalvageable, and then show excerpts of films that have been saved for posterity. With Patrick Loughney of George Eastman House, Mike Mashon of The Library of Congress, Mona Nagai of Pacific Film Archive and Peter Limburg of Haghefilm Conservation.
Live piano accompaniment by Michael Mortilla
Program 7: Sunday, July 16 12:30 pm $13
LAUREL & HARDY
THE FINISHING TOUCH, 1928 (Directed by Clyde Bruckman)
LIBERTY, 1929 (Directed by Leo McCarey)
WRONG AGAIN, 1929 (Directed by Leo McCarey)
Program length: 80 mins
The sublime absurdity of Stan Laurel and Oliver Hardy in a program of three side-splitting two-reelers.
With short: SCENES IN SAN FRANCISCO, #1 (May 9, 1906)
Live piano accompaniment by Michael Mortilla
Program 8: Sunday, July 16 2:40 pm $13
THE GIRL WITH THE HATBOX (1927)
CAST: Anna Sten, Vladimir Fogel, Ivan Koval-Samborsky, Serafima Birman, Pavel Pol
DIRECTOR: Boris Barnet
Program length: 95 mins
A wildly inventive Russian farce labeled as subversive by Soviet censors of the era!
Live accompaniment by Balka Ensemble
Program 9: Sunday, July 16 5:00 pm $13
THE UNHOLY THREE (1925)
CAST: Lon Chaney, Mae Busch, Harry Earles, Victor McLaglen
DIRECTOR: Tod Browning
Program length: 90 mins
From the director of FREAKS, you've never seen anything like it! Introduced by Patrick Loughney of George Eastman House.
Live piano accompaniment by Jon Mirsalis
Program 10: Sunday, July 16 8:00 pm $15
SHOW PEOPLE (1928)
CAST: Marion Davies, William Haines, Dell Henderson, Paul Ralli
DIRECTOR: King Vidor
Program length: 100 mins
A showcase for the mistress of William Randolph Hearst and co-star William Haines - a number one box office hit who never kept his Gay identity a secret. Cameo appearances by Charlie Chaplin, Douglas Fairbanks, John Gilbert and many more.
With short: MABEL AND FATTY VIEWING THE WORLD'S FAIR AT SAN FRANCISCO (1915)
Live accompaniment on The Mighty Wurlitzer by Dennis James

HOW TO BUY TICKETS:

ONLINE: Until July 13 at www.silentfilm.org

BY PHONE: Until July 13 at 925-866-9530

BY FAX: Until July 13 at 925-866-9597 (order form available online)

IN PERSON: Until July 13 at the Festival Box Office, 833 Market Street, Suite 812 in San Francisco. Hours: Thu-Fri 12 pm-5:30 pm

DAY OF SHOW: July 14-16 at the Castro Theatre, 429 Castro Street in San Francisco. Hours: 9:30 am - 8:30 pm.

####