THE MUSIC MAN
With Seán Martinfield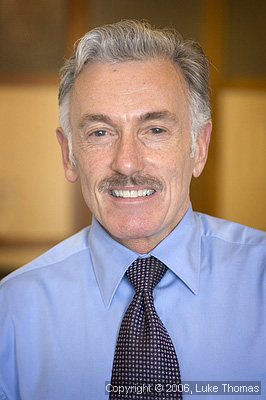 Seán Martinfield
Photo(s) by Luke Thomas
A CHORUS LINE - A Singular Sensation!
August 4, 2006
The production of A CHORUS LINE currently at San Francisco's Curran Theatre until September 2nd is the one and only out-of-town tryout for this Broadway Revival scheduled to open October 5th at New York's Gerald Schoenfeld Theatre, 45th & Broadway.
Thirty-one years have passed since the musical opened at New York's Shubert Theatre. It stayed there for the next 15 years. In addition to winning 9 out of its 12 Tony Award nominations, it permanently changed the landscape of the Broadway Musical. Come the 2007 Tony nominations, this revival of composer Marvin Hamlisch's A CHORUS LINE and the re-created / re-vitalized direction and choreography of Michael Bennett might very well surpass its previous take of the coveted award. Attendance records may be broken at the Schoenfeld Theatre as well. Across the board, each of the performers defines the notion of "The Triple Threat", i.e., dancing abilities on a par with musicianship & singing skills, both matching the strength and readiness of the acting chops. In short, the potential to sustain a career in any one of three fields of endeavor. Add to this a fourth element - they are all extremely charming. The gimmick of the story being the reality of the audition process - from the 19 who make the final callback, only 8 will be kept. But which? The tension is authentic. Surely the Producers will find the money to hire them all. How can the Director ("Zach") make such choices and who the hell is he, anyway? For this production, it is the very stunning Michael Berresse - familiar to Broadway audiences as "Bill" (KISS ME KATE), "Giuseppe" (LIGHT IN THE PIAZZA), and "Billy Flynn" (CHICAGO). What was "Cassie" thinking when she left his bed and took off for Hollywood to dance in a TV commercial as a "Band-Aid?
In the coveted role of "Cassie", it is the amazing and much under-used Charlotte d'Amboise who scored the operatic "Bravas!" of the evening. Although well rewarded for her Broadway appearances as "Roxie Hart" (CHICAGO), "Charity" (in SWEET CHARITY) and "Lola" (DAMN YANKEES), Ms. d'Amboise finally gets her chance to come through and exhibits the stuff of legendary Broadway Divas. Although "Cassie" is begging her former lover "Zach" for a position in the chorus, Charlotte d'Amboise will never again serve as anyone's Understudy or Replacement. "Oh, The Lady In Red" - she took our breath away.
Everything is beautiful about Mara Davi in the role of "Maggie". Owning and belting an authentic 4th-space E for the climax of "At The Ballet", she will be making her Broadway debut come October. Joining in that statistic, Natalie Cortez (as "Morales") brings the whole schmear to the delightful "Nothing" and to what has been deservedly labeled as the "overworked / overdone / oh-so-tired" number - "What I Did For Love". Not any more! Ms. Cortez infuses freshness and new life into a ballad long ago moaned and whined to death. Encore!
Clearly in the It's About Time Department - taking on the attitude of "Sheila" is the beautiful and statuesque Deidre Goodwin. Not since Audra McDonald's tempestuous stir as "Carrie Pepperidge" in CAROUSEL has a role been so obviously in need of and so perfectly realized by this Quadruple Threat and Black Performer.
In the Male Department, Jason Tam scored huge as the shy and diminutive "Paul", the pathetic little Gay boy who suffers permanent knee injury during rehearsal. Paul McGill is a natural for the admittedly strange but gifted "Mark". With such recent Broadway credits as DIRTY ROTTEN SCOUNDRELS and SWEET SMELL OF SUCCESS under his belt, the swarthy and black booted Michael Paternostro proved his sense of humor as "Greg" and drew much sympathy as one of those eliminated in the final cut. James T. Lane (as "Richie") makes the cut and was very much on the ball with "Gimme the ball, gimme the ball".
This CHORUS LINE seems as vibrant and unconventional as it was three decades ago. The production and cast are very near to perfection - perhaps a quicker follow on one of the spots during the first 15 minutes of its Intermission-free two acts, maybe a day-off and some vocal rest for its fabulously talented, close to being perfectly perfect ensemble. Consider yourself lucky if you are in possession of a ticket to this second production in the "Best of Broadway" series brought to San Francisco by producer Carol Shorenstein Hays.
To purchase tickets on line: http://www.bestofbroadway-sf.com/tickets/index.asp
My first point of critical support is whether or not to tell those closest to me to purchase whatever ticket is available. For this all too brief San Francisco run of A CHORUS LINE, it does not matter where you sit - but that you go.

####