THE MUSIC MAN
With Seán Martinfield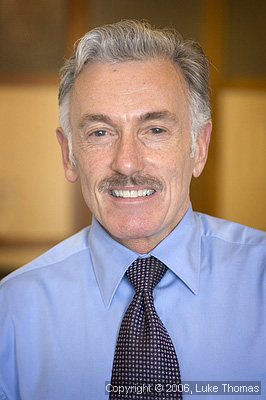 Seán Martinfield
Photo(s) by Luke Thomas
LIGHT IN THE PIAZZA - A dim bulb
August 7, 2006
Adam Guettel's THE LIGHT IN THE PIAZZA plays at San Francisco's Orpheum Theater until August 27th . Given its six Tonys awarded in 2005, including the composer's for Best Score, it certainly qualifies for this season's SHN series, "Best of Broadway". Too bad that - between 1 and 10 - the applause meter on Friday Night's audience never brightened above 4. There are a number of reasons.
LIGHT IN THE PIAZZA is much too long. The curtain did not come down until 10:25 PM. A few blocks up at the War Memorial Opera House where the San Francisco Ballet and Symphony unfold the most complex of stories and greatest of compositions, audiences very often exit at 10:00 PM sharp. The book by Craig Lucas contains too many scenes with too many spins on a small body of data, dragging out the work far longer than is necessary. In addition to Guettel's songs which do not necessarily advance the plot, mothers of both the Bride and Groom are given private monologues with the audience in order to clarify too much information. No, no. Just sharpen the blue pencil.
The story is based on the 1960 novella by Elizabeth Spencer, taking place in and around a certain piazza in Florence. It is basically a piece of fluff even though its heroine, the young "Clara" is developmentally challenged. Even with this particular twist, the plot remains that of a lovely young woman who meets an attractive younger man, they fall in love, surmount a series of social and familial challenges, and wind up being married - in a Catholic Church - in the presence of family and friends. As with all light dramas or comedies ending with a wedding, we leave assuming that the couple goes on happily ever after. Even for the dauntless and charming "Prince", no bride goes marching down the aisle with a greater amount of personal baggage or more dysfunctional (extended) family than does Walt Disney's "Snow White" - but under 84 minutes and supported by one of the greatest scores ever written and a group of songs long-ago withstanding the Test of Time. By sharp contrast, none of Adam Guettel's songs from LIGHT IN THE PIAZZA last long enough to be whistled UP the aisle and its Original Cast CDs are already being tossed out on eBay.
It is fair to observe that at age 41 Mr. Guettel is writing under the pressure of being the grandson of Broadway and Film composer Richard Rodgers and the son of Mary Rodgers, composer of ONCE UPON A MATTRESS and author of FREAKY FRIDAY. While every composer's work needs to stand on its own and not be in perpetual competition with works by fellow family members, it can be useful to look at some of the facts and figures swirling around in the light of this piazza.
In 1932, at the age of 30, Richard Rodgers and lyricist Lorenz Hart composed the score for the film LOVE ME TONIGHT. Robert Osborne, host of the Turner Classic Movie Channel, has observed that it may very well be the best film musical of all time. Starring French leading man Maurice Chevalier and popular American soprano Jeanette MacDonald, the musical includes four of the song team's greatest hits: Isn't It Romantic, Lover, Mimi, and Love Me Tonight. The first three happen within the first half-hour and everyone at the Premier or those watching the recently released DVD could sing them before the finale. In 1960, both Rodgers were nominated for Tonys in the "Best Musical" Category. Richard and partner Oscar Hammerstein were up for THE SOUND OF MUSIC; daughter Mary was up for ONCE UPON A MATTRESS. Each of the their Leading Ladies was nominated as "Best Actress In A Musical" - Carol Burnett for MATTRESS and Mary Martin for SOUND OF MUSIC. Ms. Martin grabbed the award and likewise Dick & Oscar. By the end of the week the sound of the music was sweeping around the world and, again, everyone was singing along. While the score of MATTRESS is not so easily remembered, the show's success is directly attributable to its star, Carol Burnett.
In 1965, Rodgers took his audience to Italy with DO I HEAR A WALTZ. Stephen Sondheim, an obviously important influence to Adam Guettel, provided the lyrics. As with PIAZZA, the style of DO I HEAR A WALTZ has many operetta-like qualities. Enter the handsome and virile Italian star, Sergio Franchi, appropriately heroic as the very romantic Leading Man, "Renato Di Rossi". Few Broadway tenors have demonstrated such amazing vocal strength and clarity as did Signor Franchi. ("Lui li ci ha delle palle.") His appearance on the ED SULLIVAN SHOW performing the main solo, "Take The Moment" (an idea and situation similar to PIAZZA), catapulted Franchi into instant stardom; his recording and nightclub career overwhelmingly successful. By contrast, the vocals of PIAZZA's leading man, tenor David Burnham, ("Fabrizio") while mostly pleasant, lack the brawn and bravado of the standard Italian popular tenor, and very often slip into that pinched and nasal "Mermaid" sound so prevalent on today's Broadway stage.
Before and during the Intermission, I realized I was waiting for something that sounded markedly Italian, lyrical and substantive as one associates with Puccini's GIANNI SCHICCHI. Something harkening over to familiar Neapolitan Classics would have worked also; just a bit of glimmer from standards such as those revitalized to American audiences by Luciano Pavarotti: La Danza or Non Ti Scordar Di Me (Do Not Forget Me). As it is, PIAZZA is not without romance, but it is far from being Mediterranean. With all of its swooping piano arpeggios, repetitive crescendoing of cymbals and climactic boom from the drum, the overly-orchestrated numbers smack of Disney's ALADDIN and BEAUTY AND THE BEAST. Overheard in the Lobby, "I'm waiting for something raunchy and hot!" So, I interrupted and said, "Then go see A CHORUS LINE with the very hot Jessica Lee Goldyn singing "Tits and ass" (Dance: 10, Looks: 3)."
And we started comparing notes.
I went on, "Along with the very sexy guy from the Bronx, "Al" (Tony Yazbeck), and his off-key wife, "Kristine" (Chryssie Whitehead), in the duet "Sing" - it doesn't get sweeter or raunchier than that!" [See review, 28 July 2006.]
For the very best in Entertainment, A CHORUS LINE remains the brightest light in The City. There is too much emptiness, frustration and disappointment with LIGHT IN THE PIAZZA
####