THE MUSIC MAN
With Seán Martinfield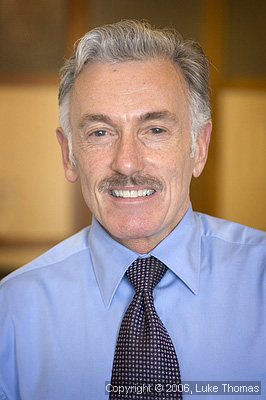 Seán Martinfield
Photo(s) by Luke Thomas
TALK IS CHEAP - At The Magic Theatre
August 11, 2006
As a personally designated protégé (read: Disciple) of acting teacher Sanford ("Sandy") Meisner, Jim Jarrett brings his one-man-show "Talk Is Cheap…Dreams Are Priceless" to San Francisco's Magic Theatre. Playing through August 27th, the performance is an absolute Must-See for anyone who ever read the high school vocational pamphlet, "So You Want To Be An Actor" and confounded by it ever since.
Jim Jarrett is an actor's actor.
Jim Jarrett is an amazing playwright.
Jim Jarrett is the embodiment of the Meisner Technique, an established methodology for training the wannabe actor.
Jim Jarrett is opening The Meisner Technique School of Acting in San Francisco in September 2006. (See below for more information.)
As the character, "Sanford Meisner", Jim Jarrett employs the Meisner Technique to create and transmit his own script. In short, he practices what he preaches. He walks the walk and talks the talk. If you want to know what that is, then make every effort to see this performance.
Since Jarrett's script includes his teacher's admonition, "Screw the critics!" - then it follows he advises the same. Thus, it is fair to assume that neither Mr. Jarrett nor any of his students will be seeking out this review.
Damn.
Jim Jarrett was captivating.
Jim Jarrett's script, "Talk Is Cheap…Dreams Are Priceless" is incredible.
The production at The Magic Theatre is totally engrossing. Every moment of its fleeting 2 hours and 15 minutes is packed, precious and memorable.
All performing artists can name those in their field who impacted them most, whether they actually ever met them or not. Sometimes it happens that there is one in particular - the Hero, the Ultimate Exemplar - who sparks the young admirer toward faithful commitment and a pursuit of the same or similar path. Along the way, come the choices about which University or Conservatory to attend and with whom to study outside the Academic environment. Eventually the student learns if they have the stuff to continue and what they have to do to pay for their various tuitions, maintain a roof over their head, eat, visit the doctor once in a while, etc. Come their first paid gig, the student becomes a commercial entity and learns about the breadth of their appeal and future marketability. Or not.
My friends, associates and clients know who those performers were for me. One in particular, actor Rene Auberjonois (one of a number of Leading Men with Bill Ball's original company of the American Conservatory Theatre), was the ultimate cause for my pursuing and earning a degree in Theatre Arts at San Francisco State University. My "Hero" is returning this season to A.C.T. to portray Moliere's "Imaginary Invalid". A rare opportunity.
I believe that Jim Jarrett is as rare an opportunity.
Some wannabe performers will make the smart choice to study with Jim Jarrett. Without question, they will be profoundly influenced in their interaction with him and his imparting the Meisner Technique. What kind of impact that will have on San Francisco's theatrical landscape remains to be seen.
Until then, order your tickets to Jim Jarrett and "Talk Is Cheap…Dreams Are Priceless":
www.magictheatre.org
To discuss enrollment, contact Jim Jarrett Productions at (208) 720-7888 or e-mail jimjarrett@sunvalley.net
For additional information: www.jarrettproductions.com
In the meantime, "Screw the critics."
####