THE MUSIC MAN
With Seán Martinfield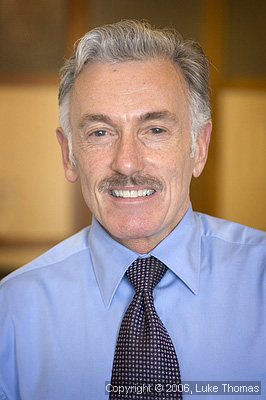 Seán Martinfield
Photo(s) by Luke Thomas
A Grand Finale - The Merola Opera Program
August 22, 2006
The annual presentation of the Merola Opera Program's "Grand Finale" at San Francisco's War Memorial Opera House was as much a Commencement Exercise as it was an artistic success. More importantly, the event also proved to be a renewal of faith and a loving tribute to recently deceased co-founder and Chairman, James H. Schwabacher.
As an advanced training course, the fully funded Merola Opera Program is of vital importance toward the development of world class excellence in young vocal artists pursuing professional operatic careers. Established in 1957 and named for the San Francisco Opera's first general director, Gaetano Merola, the 23 singers selected for this year's intensive eleven-week program delivered a thoroughly diverse and entertaining concert under the baton of Richard Buckley, familiar to audiences in Pittsburgh, Austin, Montreal and now Principal Conductor to the newly formed Opera Cleveland. No doubt, some of these artists and Mr. Buckley will cross paths again. The networking starts here.
Appearing on this bill of 20 well-chosen selections are three singers who originate from Winnipeg, Sydney, and Seoul; twenty are from the USA. Of them, three are from California - soprano Ani Maldjian (Los Angeles); soprano Jamie Chamberlin (Santa Barbara); and tenor Brian Thorsett (Half Moon Bay). Only Mr. Thorsett credits the San Francisco Conservatory of Music in his bio notes. The Merola Opera Program does not play Local Favorites nor does it receive any direct financial support from the San Francisco Opera. Through a series of auditions it invites the cream of the crop and then covers their travel, housing and coaching expenses as well as a weekly subsistence allowance. While the presentation aspects of the "Grand Finale" do have something in the air similar to the last rounds of "American Idol", each of these finely educated singers will become listed and linked to a tight international "Who's Who" of available young Operatic Talent. Among the familiar talent that has passed through these vocal tests of fire are the Leading Ladies of the recent smash-hit Summer Opera Season: Patricia Racette (MADAMA BUTTERFLY), Dolora Zajick (THE MAID OF ORLÉANS), and the three sopranos appearing as "The Countess" (LE NOZZE DI FIGARO) - Ruth Ann Swenson, Twyla Robinson and Melody Moore. It's that thing about coming to San Francisco and finally getting your act together. For these career singers, it started with the Merola Opera Program.
In some ways "The Grand Finale" is similar to a great "Coming Out Cotillion". As evidenced in their arias and scenes, each of the singers steps into the spotlight to display their various physical attributes, the wealth of their talent, and their desirability to the various houses where a vacancy needs to be filled or a position needs to be created.
Following the overture, the very handsome Black baritone, Daniel Billings, began the program with "Rivolgete a lui lo sguardo" - an aria intended for the character "Guglielmo" from Mozart's COSI FAN TUTTE (translates to, "They are all like this") which actually landed on the cutting room floor in 1790. In English, figuratively speaking, the opening line of the aria could be, "Feast your eyes on this!" For Mozart and librettist Lorenzo Da Ponte, the song just added too many notes. Too bad Mr. Billings wasn't around then. Casting Directors, take note!
Another feast for the eyes and ears was the truly sensuous "Fly Duet" of baritone David Lara (as "Jupiter") and soprano Jamie Chamberlin (as "Eurydice") from Offenbach's ORPHEUS IN THE UNDERWORLD. Having seen Mr. Lara earlier as Rossini's lusty "Figaro" in soft-shoe-tandem with tenor Joshua Kohl as the potent "Almaviva" - one need not look much beyond the obvious. No matter who he is teamed up with, David Lara is a hot Leading Man with a 2+ octaves ready to go.
Bass-baritone Marc Webster, as "Sarastro" (DIE ZAUBERFLÖTE), displayed clear and resonant command over his Low Fs in the aria, "In diesen heil'gen Hallen" ("In these hallowed halls"). The remainder of the sentence is "…one knows not revenge." As with the three soprano alumni mentioned above covering the role of "The Countess" [see review, MARRIAGE OF FIGARO - Wife #3), Mr. Webster might one day find his competitive spirit challenged by two other gifted bass-baritones featured this fine night, Michael Anthony McGee and Kyle Albertson. All three could be considered for such bass-baritone roles as "Des Grieux" in MANON, "Collin" in LA BOHÈME, or as "Banquo" in Verdi's MACBETH. Mr. McGee presented himself as a worthy "Prince Igor". Mr. Albertson was brimming over with erotic charm in "Warm as the autumn light" (THE BALLAD OF BABY DOE) - enough, in fact, to inspire every soprano in town to warm up her High Ds, loosen her stays and head for the prairie.
The most arresting ensemble of the evening proved to be the "Ice Cream Sextet" from Kurt Weill's STREET SCENE. Before her passing in 1981, the tempestuous Lotte Lenya (wife of Kurt Weill) wanted it made known that her husband's musicals should be performed only by the best in the Classical field. It would seem her death-wishes were more clear and coherent than some might think. [See commentary on A.C.T.'s "Happy End", June 15, 2006.] Even with this young ensemble, under the direction of apprentice stage director Tara Faircloth, Mrs. Weill can rest in peace knowing that her husband's work is blooming at the War Memorial Opera House.
Some will be invited into the next and more advanced program and become an Adler Fellow (named for former manager of the SF Opera, Kurt Herbert Adler). Some of the singers showed seeds of greatness, others were simply fabulous, while others have (at this stage in their development) every reason to think they can sustain respectable careers in the operatic world - including all manner of Classical recordings and various symphonic or concert-type solo experiences - for as long as they choose to maintain their vocal chops, physical health and artistic integrity.
In a class by herself is soprano Heidi Melton. Her rendition of "Surta è la notte…Ernani involami" from Verdi's ERNANI stopped the show. The wave of shouting and applause that flooded towards her was more than deserved. As the only soprano and the only performer to be pushed out for a second bow, the commanding Ms. Melton was incredibly grateful, radiant and even somewhat embarrassed to be singled out as the hit of the evening.
The last ensemble of the evening, the Encore, was dedicated to James H. Schwabacher. An enlarged portrait of Mr. Schwabacher descended from the rafters, a familiar photo to many of us who knew him and benefited from his instruction. From Leonard Bernstein's CANDIDE, "Make Our Garden Grow", all twenty-three singers, including members of the Adler Fellows, joined in a most fitting and heartfelt tribute.
Help support Mr. Schwabacher's vision and the future of Opera by joining Merola.
For more information contact: www.merola.org
E-mail: mop@sfopera.com
Phone: (415) 565-5427
Opening Night of the 2006-07 season San Francisco Opera happens Friday, September 8. For further information:
Opera Box Office:
301 Van Ness Avenue
Phone: (415) 864-3330
Hours: Monday - Friday, 10 am - 6 pm (also Saturday, 10 am - 6 pm during performance season)
Ordering Tickets Online:
Tickets may be ordered online up to 48 hours prior to each performance.
To order tickets online go to sfopera.com/buy.
####