THE MUSIC MAN
With Seán Martinfield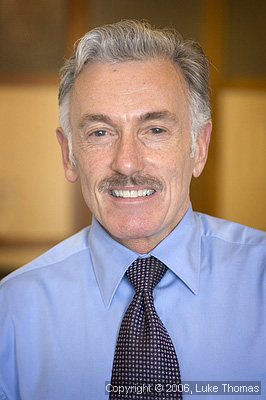 Seán Martinfield
Photo(s) by Luke Thomas
The Rivals at ACT
April 2, 2006
The baths are open! This one ("The Circus", England's famous spa at Bath) is very high-end and "co-ed", with in-and-out privileges. The Pump Room is nearby (some are more juiced than others), those who want their own room have one, a few carry a nom de plume (one being tagged "Fag"), another pretends to be a Beverley (his father, "Sir Anthony Absolute" is registered nearby - egad!), some have brought fantasy wardrobe, little text notes are flying everywhere, tiny nose bottles are freely passed while pinchings of really good stuff is deeply sniffed, as seemingly fragile relationships switch on/off/on/off, and excepting the occasional exclamation of "Zounds!" - one might easily wax nostalgic about the San Francisco of yore, including the establishment of its American Conservatory Theatre.
Seize the moment - but, rest up! For Richard Brinsley Sheridan's lengthy comedy of 1775, THE RIVALS, has been re-vitalized at ACT, opening this past Wednesday night to a delighted crowd, clinging happily and tenaciously to every last millionth syllable. Under the detection (uh, make that "direction") of Lillian Groag, every nook and cranny of the Geary Theatre is packed, crammed and stuffed with the glories of the English tongue. Pronouncing this lofty and revered verbal symphony into being is an amazing assemblage of sparkling talent who seem to toss off quips, queries and quibbles with the agility and aplomb of everyday phone chatter. Considering that even the finest of classical singers frequently carry sheet music for performances lasting less than 20 minutes, there was an air of fascination that so much text - of such uncommon lyricism and flow of logic - could be orated (every last part and participle of its ponderous prattle and patently prosaic prose) to the Last Row with, perhaps, one syllabic stammer during the entire sojourn of its nearly 3-hour and 84-page, single-spaced, Irish and British accent-laden marble-papered manuscript. While no actor should ever be commended for memorizing and delivering a prescribed set of lines (at the very least at an audible level, but with such nimbleness, color and dexterity of tone as exhibited by every member of the cast), those of us on the receiving end of Sheridan's daunting and deliciously dense text dancing amidst / in the mist / and through the often thoroughly missed and fluffiest of plots - were, nevertheless, grinning constantly and holding tight in our seats while the author's particularly long and florid motifs, moral pronouncements and (then) innovative and manipulative malapropisms stirred our receivers, straightened our spines, stifled the careless cough - leaving us all breathless at its single Intermission and final Exiting.
In production somewhere for more than 23 decades, composed at age 23 and within less than the span of one semester, no one within Sheridan's rivaling troupe of verbose and well-healed young sophisticates is intended to be beyond the age of 23; the elders not necessarily advanced to even mid-40s. Ah, for such a fortunate and finely-tuned cast, 'tis amazing the successful illusions wrought by Jeanna Hurd's luminescent make-up and fully-fluffed wigs in tandem with the warm lighting of Nancy Schertler. Set designer Donald Eastman provides a hugely fantastic and faithful rendering of the Bath resort, based on a 1773 aquatint by painter John Robert Cozens. From a centered vantage point of its courtyard and facing the interior façade of the resort's half-Colosseum-shape, we view the characters as they bounce and buck, languish and lunge, pivot and promenade in exquisite Georgian finery designed by Beaver Bauer. Of particular charm and excellence in their roles are Jill Tanner and Andy Murray. As the orthographically challenged "Mrs. Malaprop", Ms. Tanner is provocative, glimmering and ebullient, evoking the "Mrs. Lovey Wentworth Howell" of famed comedy actress Natalie Schafer. Andy Murray, is the epitome of the hot blooded red-headed "Sir Lucius O'Trigger", potently palatable pushing past the parataxis. With Mr. Murray under the spotlight, one understands the aggressive pursuits of "Mrs. Malaprop", possibly prescribing (describing?) for herself a prolonged sprawl across the "casting pouch" of the luscious "O'Trigger", and as "Delia", his pre-eminent paramour.
As ACT readies its 40th Anniversary - I point to those noticeably loyal since its outset. During Intermission, over some sparkling champagne, was much (overheard) reminiscing about the brilliantly directed and similarly lengthy and loquacious productions of Molière's TARTUFFE and Shaw's MAN AND SUPERMAN, each having starred the now-immortal (and soon-returning) René Auberjonois. Given the artistic success of this production of Sheridan's THE RIVALS and glancing towards the ticket holder of one score or fourscore, perhaps an occasional, scandalously daring 7:30 Curtain (especially on School Nights) might smooth the road toward a 50th Anniversary.
Peeking at "the pineapple of perfection", perhaps THE RIVALS is not the best "date play", but neither is it a dated play. ACT's "Rivals" is un-rivaled, arriving fresh, and flourishing a fabulously vital vocabulary. The production is riveted and perking at the Geary Theatre through Shakespeare's birthday, April 23rd. Order tickets now by calling 415-749-2ACT or by intriguing the Internet at www.act-sf.org
####