SUPERVISOR MAXWELL TOUTS LOCAL LIQUOR PROPOSAL IN TENDERLOIN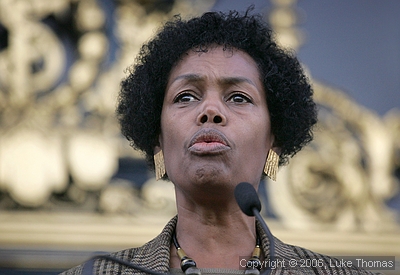 Supervisor Sophie Maxwell. File photo.
Photo(s) by Luke Thomas
By Brent Begin, Bay City News Service
February 3, 2006
SAN FRANCISCO(BCN) - San Francisco Supervisor Sophie Maxwell congratulated members of the Youth Leadership Institute yesterday outside a Tenderloin liquor store for their part in supporting a proposed city ordinance regulating liquor stores.
"We're trying to educate all of the ... liquor store owners on how to be good neighbors," Maxwell said in front of Empire Market at Eddy and Leavenworth streets. "If they are not successful in that, then we a have a little stick, and that stick is more local control."
The Deemed Approved Ordinance was approved by the Budget and Finance Committee on Wednesday and will go before the full Board of Supervisors on Feb. 14, according to the YLI.
The institute researched the impact of alcohol on San Francisco neighborhoods and found that many shopkeepers keep unsafe conditions in neighborhoods like the Tenderloin, Mission, Bayview and South of Market.
Together with Maxwell, the young members of the organization have helped bring the new legislation before the Board of Supervisors.
The law would punish liquor store owners on a local level if they fail to keep people from loitering on their doorsteps. Liquor licenses would be regulated not only on the state level, but also on the local level with the city attorney's office.
"I think it's a good idea that we have a state law and a local ordinance," said Eric Hirata, district administrator for the Department of Alcoholic Beverage Control. "It will clean up the communities and provide safer communities."
Businesses that can't clean up their act could face a variety of punishments, from heavy fines to a ban on sales of single cans of beer or small flasks of liquor.
Outside many Tenderloin liquor stores, people lean against doorways with cans of beer in their hands while others lurk on street corners.
Muhammad Alhaj, the owner of Empire Market, said his neighbors could do more to clean the streets of drug dealers and dangerous drunks.
But in other liquor stores around the neighborhood, shopkeepers wondered what they could do to keep those people from loitering outside their businesses.
"It's simple," Alhaj said. "When you see the same guys out front all the time, don't sell to them."
Maxwell said there were other ways to avoid breaking the ordinance. Keeping the windows free of advertisements, keeping the businesses clean and brightly lit, and even playing unusual music.
"We're looking for the effort," Maxwell said. "If we don't have records that they're calling the police, then we're going to deal with them."
Similar ordinances are in effect in Vallejo, Oakland and Contra Costa County.
Copyright © 2006 by Bay City News, Inc. -- Republication, Rebroadcast or any other Reuse without the express written consent of Bay City News, Inc. is prohibited.
####