Mayor Jerry Brown accused
of breaking nightclubber cell phone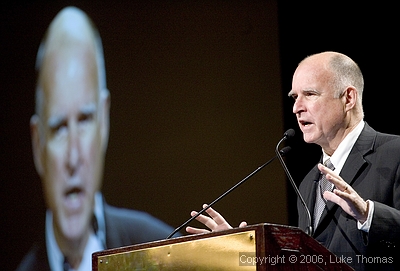 Photo(s) by Luke Thomas
By Jeff Shuttleworth, Bay City News
March 8, 2006
OAKLAND (BCN) - Alameda County District Attorney Tom Orloff said today that his office is investigating an incident outside an Oakland nightclub early Sunday in which a woman accused Oakland Mayor Jerry Brown of breaking her cell phone.
Orloff said the Oakland Police Department asked his office to investigate the incident to avoid the appearance of any kind of conflict of interest, since Brown oversees the department.
Orloff said one of his investigators is interviewing witnesses.
Brown's spokesman, Gil Duran, said the mayor visited several nightclubs Saturday night and Sunday morning after police officers complained that they have to devote time and resources to "babysit" problem nightclubs where fights break out after they close.
Duran said Brown "tried to calm down" people outside @17th at 510 17th Street when an altercation broke out between security guards and several women he said had been thrown out of the club for fighting and being intoxicated.
Duran said the allegation by one of the women that Brown broke her cell phone after she started videotaping the mayor is "completely untrue."
Duran said Brown "tried to be a Good Samaritan and is being falsely accused."
Duran said three eyewitnesses, including two security guards and the owner of another bar who happened to be at the scene, called the mayor's office today to say they will tell District Attorney investigators that Brown didn't break the woman's cell phone.
A person who answered the phone at @17th today said the club has no immediate comment on the incident but might comment later today.
Copyright © 2006 by Bay City News, Inc. -- Republication, Rebroadcast or any other Reuse without the express written consent of Bay City News, Inc. is prohibited.
####