Cities aren't suburbs and must retain their unique character, Chicago Mayor Richard Daley tells San Francisco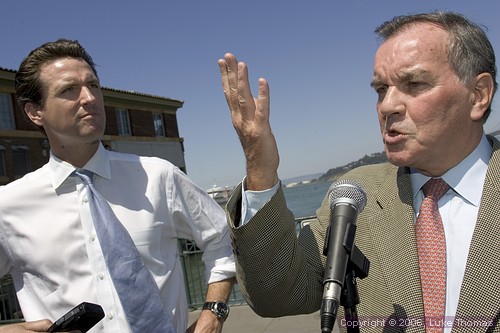 Chicago Mayor Richard Daley, right, came to San Francisco to learn, not to duplicate, Daley tells San Francisco Mayor Gavin Newsom.
Photo(s) by Luke Thomas
July 18, 2006
Greening of American urban areas topped discussion here yesterday between the mayors of two fast greening cities.
Chicago Mayor Richard Daley came to San Francisco for exchange of workable solutions to urban issues faced by the Windy City and City by the Bay.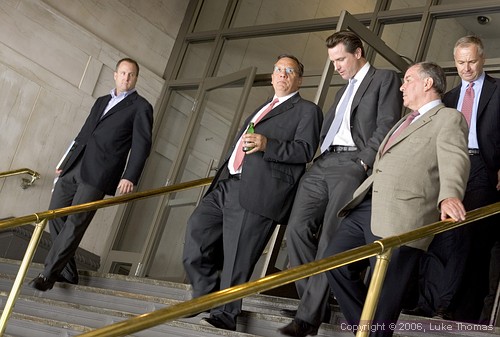 San Francisco Mayor Gavin Newsom welcomed Daley, noting Newsom had visited Chicago adopting much of that city's greening strategy.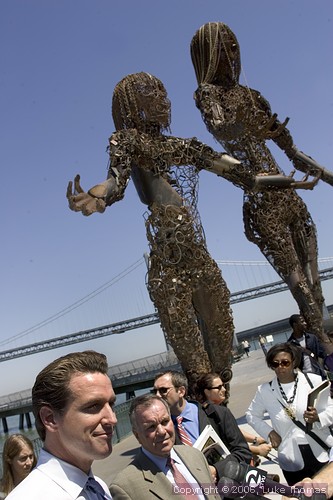 "As some of you know, Mayor Daley has been called the mayor with the green thumb - the Martha Stewart of mayors because of his focus on greening and cleaning the city, his focus on public spaces, public art and the like," noted Newsom.
"I think we in San Francisco can learn an enormous amount so it's a wonderful thing that the mayor is out here taking a look at what's San Francisco is doing.
"Hopefully there are some ideas he can bring back as opposed to all of the ideas we've brought back from Chicago into San Francisco.
"Everything that we're talking about with our green initiatives, our better streets initiative, really comes from what Chicago has been doing. Our efforts to focus on Centennial Park are analogous to what he has accomplished in Millennium Park in Chicago.
"We love our cities dearly and it shows in what the mayor has done in his city and I hope in San Francisco we can continue to take some of his ideas and adopt those unique strategies here."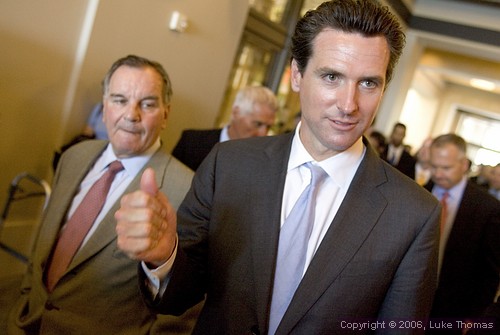 For his part, Daley stressed importance of cities remaining unique.
"The most important thing is that every city must have its own character," Daley stated.
"I'm not here to duplicate anything . I'm here to learn and find out what we can do differently.
"Cities should not be the same. We're not the suburban areas.
"Every city has to keep their distinct character, identity different from any other city.
"It's extremely important in this day and age because people want to become so alike in regards to cities and that is the challenge for cities like Chicago, San Francisco and others to keep our own identity."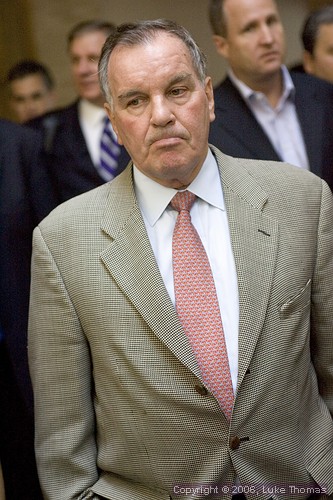 ####