McGoldrick's consolidated election schedule proposal rejected by Supervisors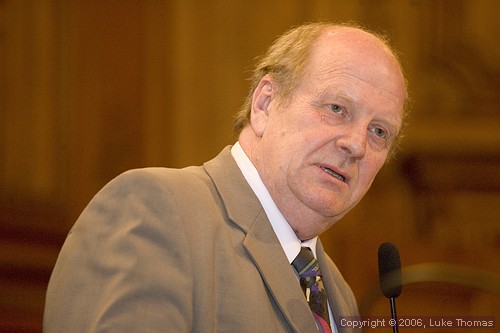 Supervisor Jake McGoldrick pleads with Supervisors at yesterday's Board of Supervisors meeting to support his consolidated election schedule charter amendment proposal that would combine local elections with State and Federal elections.
Photo(s) by Luke Thomas
July 26, 2006
The Board of Supervisors rejected in a 6-5 vote a charter amendment to restrict local elections to even-numbered years yesterday, keeping the proposal off the November ballot and out of the hands of voters.
It was an idea that had been stewing with progressive Supervisor Jake McGoldrick for three years, finally emerging as legislation this summer - to coincide local elections with gubernatorial and presidential elections which have a proven greater civic interest.
"Rather than decry the fact that people don't come out to vote, what this analysis has sought to do is find out when people do vote and say 'that's when we should have these offices up for election," McGoldrick said.
In point of fact, twenty percent more voters showed for gubernatorial or presidential elections than San Francisco municipal elections over the past 40 years, according to findings by the Legislative Analyst's Office.
"Democratic participation is at the heart of this," McGoldrick said.
However, opponents failed to see the proposal as a democratic impetus, but rather an under researched, botched attempt to hit the nail on the head.
"This measure really is a band aid approach to a significant problem that's structural," Supervisor Chris Daly contended. "It has more to do with local government not being relevant to the lives of every day people in San Francisco than it does when the elections are queued."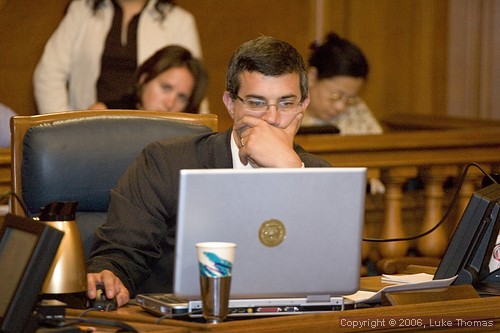 Supervisor Chris Daly
As the only supervisor who spoke out in support of the ill-fated charter amendment, Fiona Ma noted that it would not only help voter fatigue, but save $26 million over 10 years, as estimated by the Office of Elections.
Instead of moving the mountain we should go to the mountain, McGoldrick told the board.
Frustrated after the defeat, he had no plans to pursue the issue with new legislation.
"This is something that I think shouldn't die," Supervisor Tom Ammiano said before voting against the measure. "But I really do want to thank Supervisor McGoldrick for all the hard work and enthusiasm that he's exhibited."

####