McGoldrick retains Transportation Authority chairmanship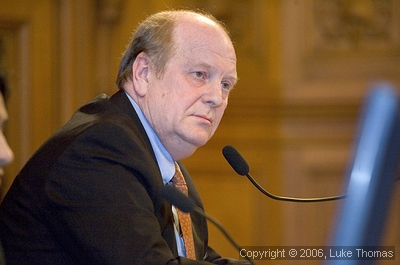 Supervisor Jake McGoldrick
Photo(s) by Luke Thomas
By Pat Murphy and Luke Thomas
January 31, 2006, 9:00 p.m.
Supervisor Jake McGoldrick was re-elected chair of the San Francisco Transportation Authority today by an 8-3 vote.
Supervisor Fiona Ma was elected vice-chair, having withdrawn her candidacy for chair when the 11:00 a.m. meeting began.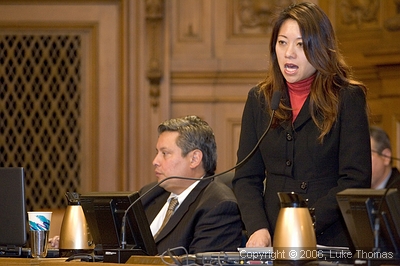 Supervisor Fiona Ma
McGoldrick beat back a heated effort by Daly for chairmanship.
In addition to his own vote, Supervisors Ross Mirkarimi and Ma voted for Daly.
Daly cast McGoldrick as harmful to transbay transit development, citing alleged confrontational meetings between McGoldrick and the Transbay Joint Powers Authority (TJPA) officials.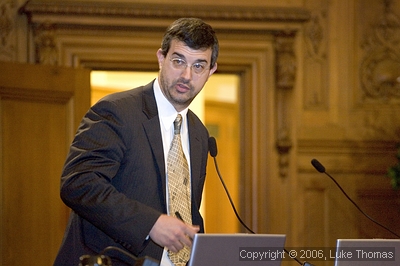 Supervisor Chris Daly
For his part, McGoldrick responded he meant to speak the truth in review of TJPA planning.
McGoldrick extended an offer, while looking at Daly, to bury the hatchet for the betterment of commission business and transit planning.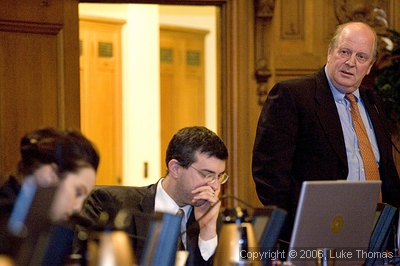 In return, Daly noted he stood not in conciliation but in opposition to unamed financial backers of McGoldrick's transit.
Daly also raised the suspicion of supervisors discussing the election in violation of the Brown Act. He did not say which supervisors exceeding a quorum of the committee may have broken the statute by speaking privately.
"I'm disappointed for the Transbay project. I never thought I had the votes because there may have been ad seriatim meetings," Daly told the Sentinel.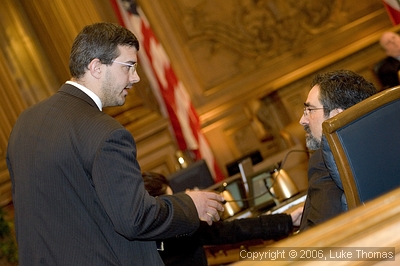 ####