House fire displaces families in Mission District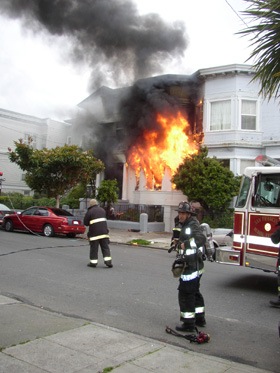 Photo by Ian Elwood
By Ian Elwood
April 7, 2006
At 3:00pm today, amid the sound of clustering electrical explosions and light rain, a fire broke out at a two story house on the 400 block of Bartlett Street in the Mission District. The first house to set fire was the upstairs unit of the building at 455 Bartlett Street. The cause was a faulty electrical connection from a television in the front room, firefighters say. The only person who sustained injuries was a firefighter who cut her thumb and went to the hospital for stitches.
The fire started on the top floor at the front of the house in a recreation room that contained decorative neon lights, a pool table and a television. Flames engulfed the entire house, and singed the adjoining house next door. The smoke was so thick that half of the block was obscured from view. Electrical wires that had been attached to the facade burned off and fell to the street, creating a flurry of sparks as they flailed about.
Firefighters from Station 11 at 26th and Church Streets arrived ten minutes after the fire became visible from the street, which is all that it takes to completely destroy a home. The crowd that had gathered was dangerously close to the blaze, which had since reached its apex. Firefighters cleared the sidewalk as the street filled up with hose and ladder trucks.
Members of the displaced families wept on the sidewalk as the rain turned to light hail. One of the residents who lived in the top floor unit said that he had tried to put the fire out at first with buckets of water, then with a hose, but to no avail.
The Red Cross arrived an hour later, taking information from the displaced residents. The San Francisco Water Department and Police showed up. PG&E responded to handle the burned electrical wires that fell from the house, which continued to emit sparks until they were secured.
In total two units were completely destroyed, with over 10 people displaced, adjacent units were badly damaged by smoke. There were two units on the basement floor that were occupied by businesses, one of which belonged to the Latino family that sells flowers at the 24th Street BART station. The basement units suffered nominal damage and firefighters say there was no evidence of occupants at the time of the fire.

####