Owners of pot club raided by DEA return to business in open air of Civic Center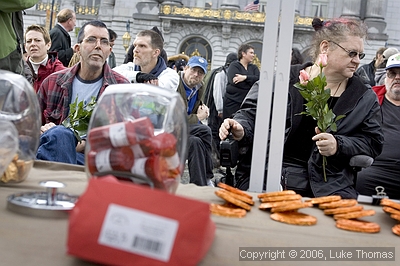 Photo(s) by Luke Thomas
January 12, 2006
Defiant owners of a San Francisco medical marijuana dispensary raided in December by federal agents thumbed their nose at federal law yesterday by openly dispensing marijuana to patients in Civic Center.
California and San Francisco have legalized use of marijuana if prescribed by a physician.
Asserting that federal law supersedes local and state law, the federal Drug Enforcement Agency (DEA) continues to suppress marijuana dispensaries.
Supervisor Ross Mirkarimi, who helped author the local legalization ordinance, gave support to Steve and Cathy Smith, owners of the HopeNet Collective raided last month by the DEA.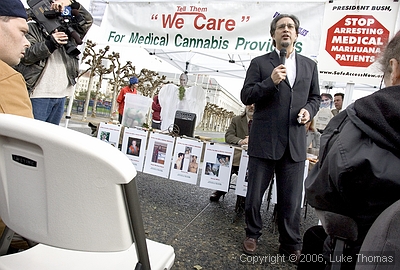 "Quite frankly I think we're a little bit ahead of the state by instituting a regulatory scheme that's not coming from a punitive place," observed the District 5 supervisor.
One owner of the club maintained the vast majority of Americans support use of marijuana for medical purposes.
"I wish to tell the Feds that it's time to go back to a government for the people, by the people," said Steve Smith, who owns and operates HopeNet with his wife Cathy Smith.
"When 80% of the people are in favor of medical marijuana then it's time for the federal government to heed all those wishes and I would love the opportunity to openly give the patients of San Francisco the medicine they were denied by the DEA over the Christmas holidays.
They dispensed a week's prescription of marijuana to current patients in the 2:30 p.m. Civic Center protest.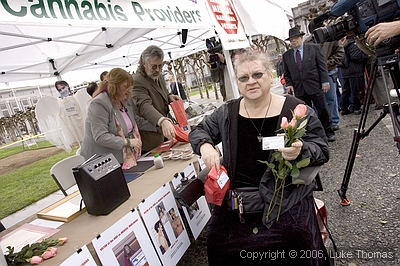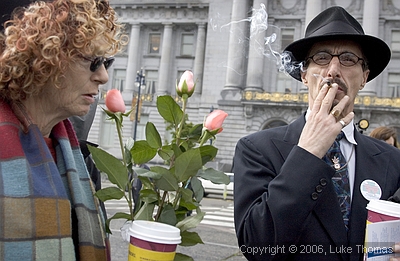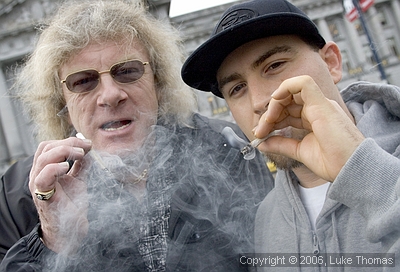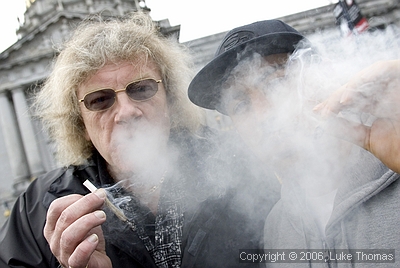 ####