DOVETALES
With Mishana Hosseinioun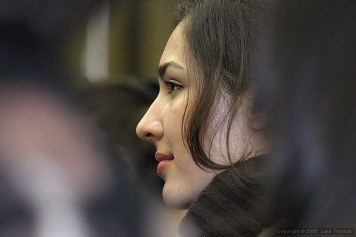 Photo(s) by Luke Thomas
Good Morning America
Staying up all night is a form of civil disobedience
June 19, 2005
Staying up all night is a form of civil disobedience. I didn't know it until I gave it a try in this chair by the window. I thought I'd outsmart Julius while I was at it, and seize both the day and the night. By 2:02 I really felt like an activist; by 4:49 I was practically verging on anarchism. By 6:15, I figured I would likely emerge as the next Dalai Lama. (No wonder they want us sleeping).

I got to watch the sky undress, just as it assumed the rest of us had our eyes closed. I caught the moon with its pants down, and the sun, red-handed, but not before witnessing the yawning clouds taking a piss on our front lawns, then skirting along-at which point the birds seemed to yell out something that sounded like "get off my property!"

But it is nearing the time I would normally wake up. So I will get up off my seat now and move onto a bowl of cereal and on with my life. Besides, it's Fathers' Day and as a daughter I never was the rebellious type.
Mishana Hosseinioun is the Program Director of International Convention on Human Rights (ICHR), a non-profit dedicated to drafting a legally enforceable international human rights document. She is a longstanding intern in Mayor Gavin Newsom's office in San Francisco and a recent graduate of Rhetoric and Near Eastern Studies from the University of California, Berkeley. Email Mishana at Mishana@ichr.org
####
Editor's Note: Views expressed by columnists published on FogCityJournal.com are not necessarily the views or beliefs of Fog City Journal. Fog City Journal supports free speech in all its varied forms and provides a forum for a complete spectrum of viewpoints.