DOVETALES
With Mishana Hosseinioun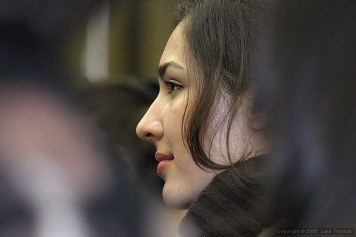 Photo(s) by Luke Thomas
Operation Katrina
September 11, 2005
What do you get when you mix two parts deluge, one part wind, a pinch of poverty and two tablespoons of hunger? Katrina, you didn't see the violence coming either, did you? For better or worse, the hurricane with the deceivingly sweet name that swept the South actually shines some light for us on the root of all crime-related epidemics from looting and drive bys, to war.
While the contention is not that all hurricanes are necessarily conducive to the kind of systematic and widespread killing known to Srebeniza or Darfur, this particular one is indeed a reminder of our propensity as human beings, on one level or another, toward comparable, hostile behavior. If anything, we now know that it hardly takes more than 24 hours to turn a civilized population of men, women, and youth into a vicious lot, even prepared, in certain instances, to kill for their property and survival, unless they are willing to be killed first. The universal quotient to be derived from all of this is that when you have nothing left to lose, you can, well, pretty much lose it.
Just when we in the United States thought we would descend like saints to help other nations clean up their act, we are confronted by the embarrassing reality of our own helplessness and crudeness in the face of a similar descent upon our soil, and not to mention the surprise of the ensuing ruin and destitution. To make matters worse, a natural disaster such as this one, unlike the fateful events of September 11, for example, eliminates the possibility for a target of revenge. Perhaps, the anthropomorphic itch to give a human name, and by extension, a human countenance to our storms-a tendency which may even be lingering from our days of idolatry-shows just how important it is for us to name higher forces over which we have little or no form of mastery. In the case of Katrina, she just happened to be one of our enemies, and we like to name those too. Although, in afterthought, it still would not be entirely out of the question to rule out global warming and engineering mishaps, which only then leads us back to ourselves as the culprits. We could, therefore, kindly choose to take this opportunity to spank ourselves in silent retribution-on the bottom line, that is.
Nevertheless, goodness undoubtedly emanates from such disasters as well, including the kind of outpouring of aid and hospitality displayed by bewildered onlookers around the globe; what is more, if Katrina could be deemed to have a mind of her own, she too, would have been considered well intentioned were it not for the slight over-exuberance of her marine and otherwise life-giving force. Yet like with all other life lessons that pass us by like a storm, we are most likely too busy organizing our disaster relief fundraisers to take notice of the chilling resemble of our fate due to hurricane Katrina to that of all people faced with the unsolicited storming of their land by overseas visitors that call themselves Freedom and Liberation.
When Sentinel columnist Mishana Hosseinioun sees the bodies floating down the river she knows its time to head upstream.
Mishana Hosseinioun is the Program Director of International Convention on Human Rights (ICHR), a non-profit dedicated to drafting a legally enforceable international human rights document. She is a longstanding intern in Mayor Gavin Newsom's office in San Francisco and a recent graduate of Rhetoric and Near Eastern Studies from the University of California, Berkeley. Email Mishana at Mishana@ichr.org
####
Editor's Note: Views expressed by columnists published on FogCityJournal.com are not necessarily the views or beliefs of Fog City Journal. Fog City Journal supports free speech in all its varied forms and provides a forum for a complete spectrum of viewpoints.