Mirkarimi pushes for police foot patrols
to help stem violent crime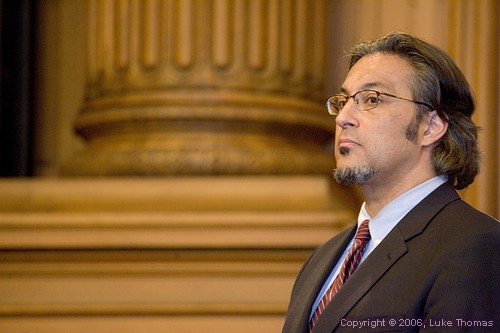 Supervisor Ross Mirkarimi is championing an effort to redraw SFPD resource district boundaries with the intent of applying foot patrols to neighborhoods
most impacted by violent crime.
Photo(s) by Luke Thomas
August 16, 2006
A proposed ordinance that would temporarily increase the number of police foot patrols in San Francisco's crime-plagued Western Addition stirred praise and apprehension at Tuesday's Board of Supervisors meeting.
The ordinance, a one-year pilot program sponsored by Supervisor Ross Mirkarimi, would add two foot-patrol officers a day to patrol high-crime targeted areas in an effort to stem the city's rising homicide rate. Mirkarimi said he hopes the program will lead to a citywide permanent increase in foot patrols.
"I want to see foot and beat patrols citywide, and we're working very, very hard to make this happen," Mirkarimi said. He also asked that the board postpone taking action on the ordinance until Sept. 19.
"I'm still willing to entertain any possible amendments by any of you, or by the mayor's office that helps strengthen this legislation … towards a citywide program."
During the meeting, Supervisor Sophie Maxwell recounted driving past the site of a double homicide one block from her home in the Bayview District last week.
"We need beat police officers," she said. "We have a situation where people are being murdered in the streets of San Francisco. The excuses just don't work anymore."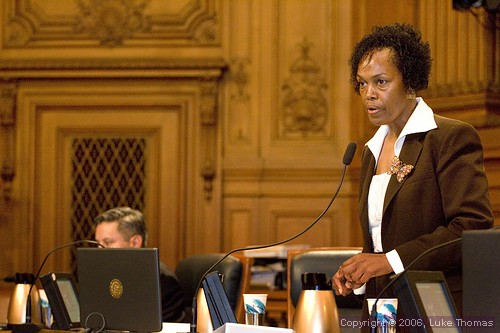 Supervisor Sophie Maxwell
But with the number of police officers well below the city charter's mandate of 1,971, supervisors Sean Elsbernd and Jake McGoldrick both expressed concerns that fundamental issues of police staffing and funding weren't being addressed.
"Let's be clear, to really have foot patrols across the city we need to have a full police force," Elsbernd said. "And to have a full police force we need to fully fund the department."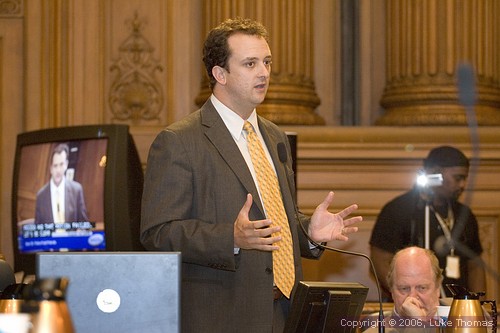 Supervisors Sean Elsbernd and Jake McGoldrick
McGoldrick was frustrated by what he saw as a "sorely lacking" amount of information on the "collateral consequences" of unevenly concentrating more officers in higher crime areas.
"I can't say that we can vote on this in a very informed way, other than as a stabbing out at a problem that we're all frustrated as hell about," he said.
"I'm lucky. We are not dragging bodies in body bags out of my district. We are not cleaning up the blood in the streets in my district every day. But I've got to know that down the street I'm not going to see bigger problems erupt and explode."
Mirkarimi responded, "In areas where people might be concerned about any kind of domino effect about instituting a foot-and-beat patrol in [the Western Addition], we've taken pains to make sure that it does not impinge upon any other district at all. I'm definitely not going into this slipshod."
Supervisors Bevan Dufty, Tom Ammiano and Fiona Ma all voiced support for the proposed ordinance.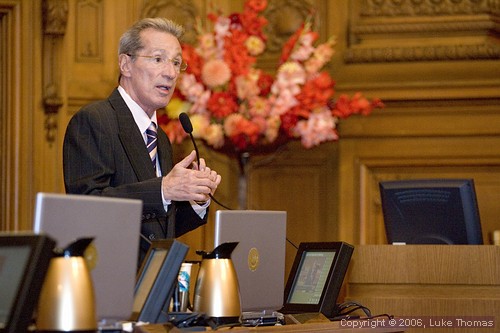 Supervisor Tom Ammiano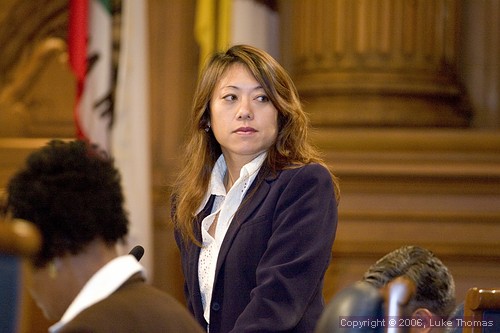 Supervisor Fiona Ma
"I am prepared to vote for Supervisor Mirkarimi's measure to see what will happen," Dufty said. "I think there is a need for leadership coming out of this department, a greater amount of proactivity.
"As much as I support the men and women of this department who put their lives on the line every time they go out to protect and serve … I am frustrated, too."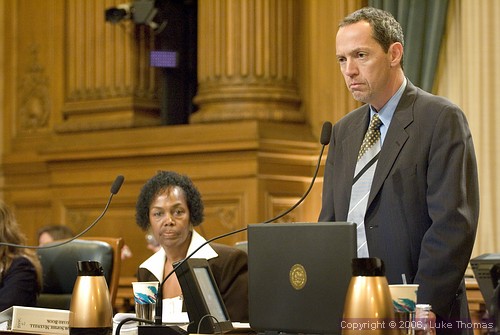 Supervisor Bevan Dufty
####