SF MAN MISIDENTIFIED AS VIOLENT COP SPEAKS OUT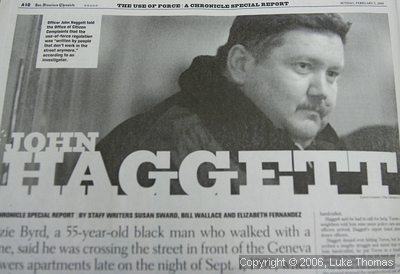 Jack Neeley, mistakenly identified as SFPD Officer John Haggett.
Photo(s) by Luke Thomas
By Brigid Gaffikin, Bay City News Service
February 7, 2006
SAN FRANCISCO (BCN) - A case of mistaken identity has turned a San Francisco man's life upside down since he was wrongly identified in a San Francisco Chronicle photo caption as a police officer allegedly notorious for using excessive force.
A large image of Jack Neeley, Jr., 42, a cab driver with Black & White Checker Cabs and a security guard at the Ramada Plaza hotel on Market Street, mistakenly appeared in an article about Sgt. John Haggett in The Chronicle's Sunday edition.
But Neeley has never worked as a police officer -- he has been driving a cab for about 10 years and working at the Ramada Plaza for three years.
Neeley said he was surprised when a former co-worker called him Sunday to ask how long he had been an undercover cop. He was shocked to see his picture in the paper, he said, because he hadn't read the article.
"Then it just hit," he added. He said he realized that if people thought he was a cop - and an apparently violent one at that - he might be assaulted by someone who harbored anger toward police.
Neeley deals with strangers routinely in his line of work and said that he has become scared, feeling he has to constantly watch his back.
"I scan the area, make sure no one's around," he said as he described how he leaves his home.
He couldn't drive his cab the first night after he saw the picture.
On Monday night, one cab customer confronted him.
"She looked at me and said, 'It's you!,'" he said, adding that while the woman was no threat, her comment "made me jump to the side of the driver's seat."
Neeley, who stands about 5 feet 10 inches tall, has short brown hair and is heavyset, said he doesn't think he looks like Haggett.
He saw a picture of the policeman on the television news Monday night.
Neither Neeley nor his attorney, Dan Bacon, knows how the incorrect attribution happened. Bacon said The Chronicle is working with them to try to get to the bottom of the mix-up.
No one even knows where the photo came from, Bacon said. It might have been taken at the hotel where Neeley works, he said.
Bacon said he finds it puzzling that The Chronicle made such an error, given that San Francisco police have told him photographs of all officers are readily available to the public.
He's also surprised that this sort of mistake could happen in a story that, as far as he understands, took at least 18 months to research.
According to Bacon, a photograph and an explanation of the error will appear in Wednesday's Chronicle.
But even with these steps to explain who Neeley actually is, he said, Neeley "has gone through a lot of emotional trauma.''
In a statement issued by The Chronicle on Tuesday, the paper accepted responsibility for the mistake.
"The Chronicle made an error in the identification of a photograph that ran in Sunday's newspaper in connection with its series on the San Francisco Police Department's use of force policy," read the statement issued by media and public relations director Patricia Hoyt.
"The person in the photograph is not SFPD Sgt. John Haggett,'' the statement continued. "The person in the photograph has never been a member of the San Francisco Police Department and is in no way connected to the use of force series. The Chronicle regrets the error."
Copyright © 2006 by Bay City News, Inc. -- Republication, Rebroadcast or any other Reuse without the express written consent of Bay City News, Inc. is prohibited.
####