Snazzy new library takes up residence
in San Francisco's Mission Bay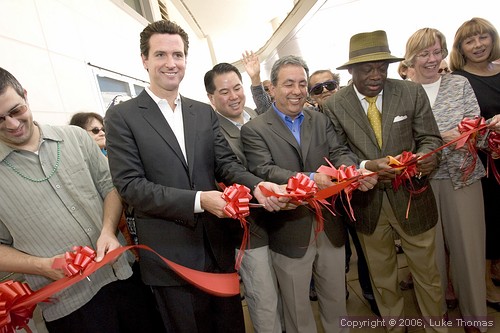 District 6 Supervisor Chris Daly, Mayor Gavin Newsom, Assessor Phil Ting, City Librarian Luis Herrera and former Mayor Willie Brown took part in a ribbon cutting ceremony commemorating the opening of the new snazzy Mission Bay Library on Saturday.
Photo(s) by Luke Thomas
July 9, 2006
The Mission Bay Branch Library is synonymizing the words library and community on the waterfront corner of Fourth and Berry Streets, boasting a multi-use facility with 139 units of affordable elderly housing, the first community meeting room in the neighborhood, a retail space and ample storage for 34,000 books and media.
As the first new San Francisco Public Library branch to open in 40 years, the 7,500-square-foot space barely resembles the City's older locations with its sleek, ultra-modern architecture, airy feel, and proliferation of amenities.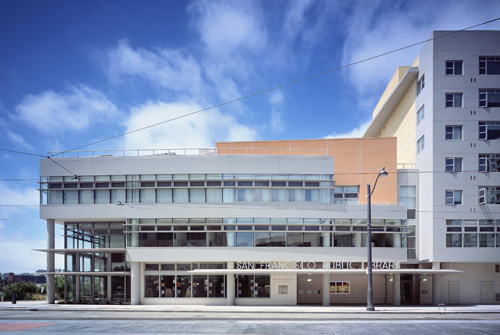 The new Mission Bay Library...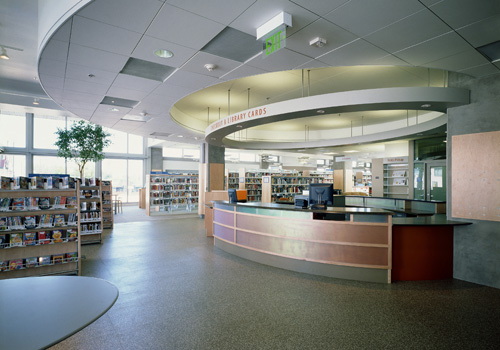 ... and its reception area.
"Libraries are more than just a place to read or check out a book," Mayor Gavin Newsom told an audience comprised of residents, politicos, and library groupies at the new branch's ribbon cutting Saturday morning. "They're about communities."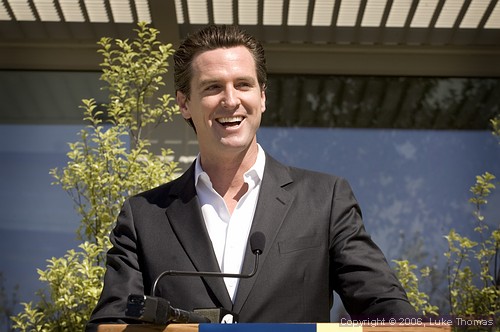 Mayor Gavin Newsom
Running Tuesday through Saturday, Mission Bay's hours, like most, are limited. Only seven of 27 branches are open seven days a week.
Peter Warfield, Executive Director of the Library User's Association, an independent library watchdog group, wants to see availability increase across the board.
"If I go to my branch on Saturday afternoon and I can't sign up for a computer, and that's often the case, my next shot is Tuesday," Warfield said, emphasizing 19 branches are closed on Sundays when families have time to go to the library.
The previous acting City Librarian, Paul Underwood, estimated the 19 branches could be open for four hours on Sundays, costing the City an extra $240,000 per year. Underwood presented the figure to the Library Commission about a year and a half ago, Warfield said.
Current City Librarian Luis Herrera said that amount would cover just four branches.
"You're impacting students, children and young adults. So we have to balance it between Monday and Sunday hours," Herrera said. "I'd like to see a combination of more Sundays."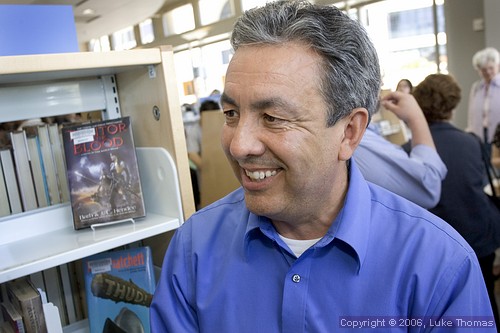 City Librarian Luis Herrera
A recent analysis by Herrera concluded that opening 16 branches on Sunday would require an additional $2 million in yearly funding.
He did not push for more operational funding at the June 29 Budget and Finance meeting when the library's budget was reviewed. The last review of hours was done in 2005 when Herrera reported to the committee he believed additional library funding would be required to support other areas of the budget.
"Right now we're more concerned with meeting the obligations of the renovations," Herrera said. "It's a future financial hit … that right now I don't think is prudent."
The discrepancy between Herrera's and Underwood's cost estimations came from salary options. Herrera is committed to hiring permanent part-time staff while Underwood considered hourly wages in his evaluation.
"I wouldn't want to do that. You wouldn't be able to give them benefits and you'd really get them at a 20-hour minimum," Herrera said.
Supervisor Ross Mirkarimi, affirmed by the Budget and Finance Committee at its June 29 meeting, urged the Board of Supervisors to authorize $480,000 for temporary Sunday opening of City libraries.
Many of the residents who attended Mission Bay's opening, mostly seniors or parents with small children, were from other neighborhoods.
Joyce Louie took her nephew to check out the extensive collection of baseball books and children's DVDs. She said she likes her local Golden Gate Valley Branch and enjoys checking out new locations.
Under a glorious azure sky several City Hall most recognizable faces joined in a throng of speakers including former Mayor Willie Brown, who focused a great deal of attention on libraries and Mission Bay area during his tenure.
"I sincerely hope you invite me to every one of these because I don't want to have to take credit from afar," half-joked Brown.

Former Mayor Willie Brown
He was thanked profusely for his efforts as mayor and supporting the $106 million library branch improvement bond voters passed in November 2000.
That, in addition to fundraising by Friends of the San Francisco Public Library, paid for the $4 million Mission Bay Branch and renovations at many of the City's 26 other locations.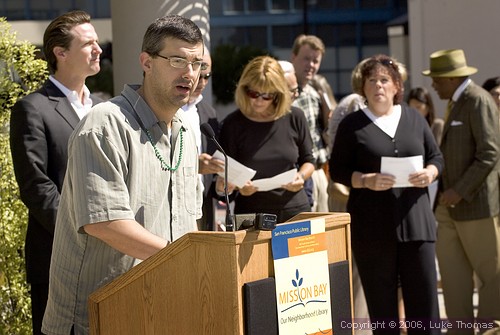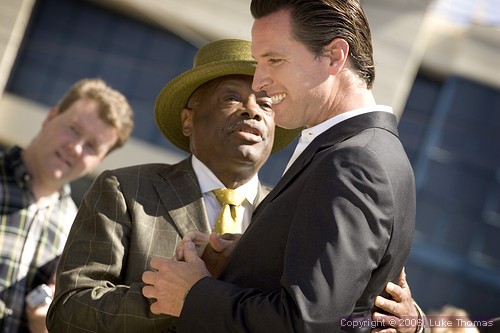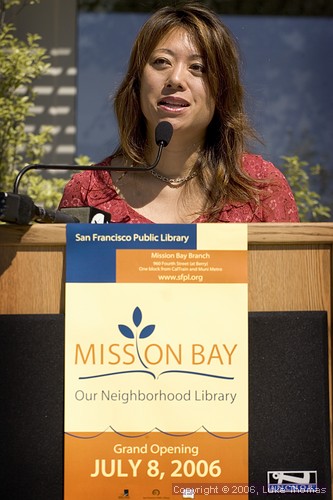 State Assembly frontrunner Fiona Ma says she will
work toward obtaining State funding for libraries.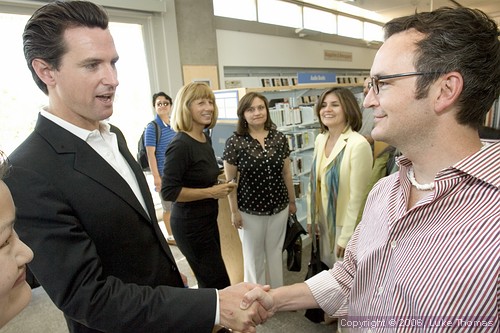 District 6 resident and Supervisoral candidate Rob Black (right).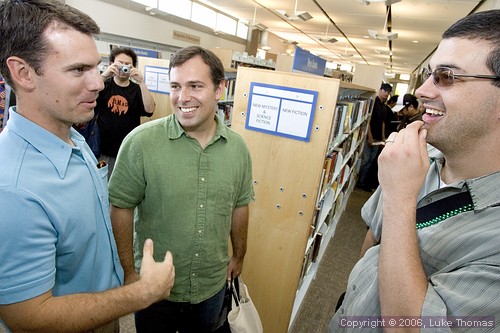 Supervisor Daly and brothers True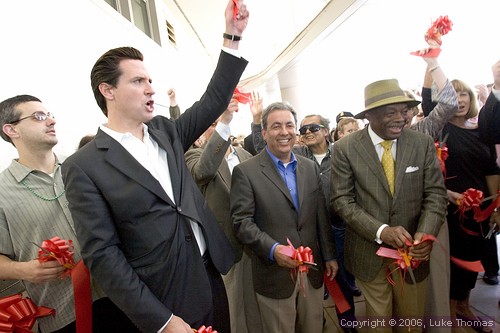 ####