Predatory Parking
San Francisco residents chafe at new fines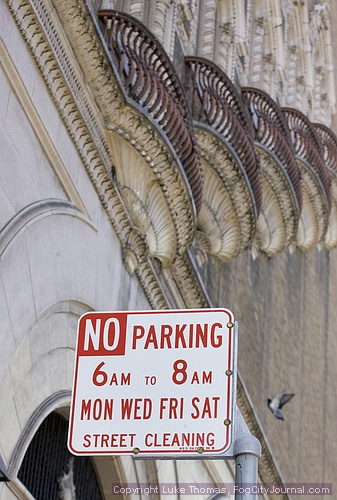 Photo(s) by Luke Thomas
By Myrna Lim
Re-printed with permission, San Francisco Downtown Magazine

June 6, 2007
Call it parking rage. Call it frustration. The lack of parking in the neighborhoods, the ever increasing costs of parking tickets, and parking meters evoke such strong emotions from merchants, shoppers and residents alike. The highly charged issue is reaching a boiling point as residents are forced to dig ever deeper into their pockets. Parking in the neighborhoods is a problem begging for a solution!
"If you have money it doesn't matter, you just pay. But, I had to use my entire paycheck of $238 to pay for my parking tickets," says, Sandra Joensen, a cashier at Kragen Auto Parts on Mission Street.
"It's a whole week's groceries," the statuesque single mother from Sunnyvale explains, while she painstakingly sweeps the floor at work.
"It's really hard to find parking around here," she says, shaking her head. "There is this meter maid who just waits and watches people as they go to get change. As soon as the meter turns, she writes the ticket. Some people try to plead that they are just trying to get change to feed the meter, but she doesn't care."
For most residents of the Excelsior neighborhood, the costs of parking meters and parking tickets cut deep into their budget. It costs 25 cents for 10 minutes to park at a meter. A ticket from an expired meter costs $40.00, which is a day's net salary for a lot of residents. If the ticket is not paid within 30 days, it goes up to $100.00, which is over two days' net salary.
For most residents, it is much easier to just go out of the city to shop. Onnyx Walker, a consultant for senior residential homes, has mixed feelings.
"Before, I wanted to support individual stores in the community. But since it is so difficult to find parking and so expensive, I drive to the Peninsula where there is plenty of parking…and more friendly," Walker said.
Meanwhile, small businesses that manage to survive because they are family owned, bear the brunt of the City's parking revenue schemes.
Julio Martinez, the proud owner of Arcos Comfort Shoe (4470 Mission St), says, "We lose customers. They drive around for 20-25 minutes, they can't find a spot to park, and then they just leave. If they find a parking spot at a meter, they only have one hour.
"It is illegal to feed the meter after one hour. If they are caught [feeding the meter], they get a ticket. We need a public parking lot."
Julio works full time as a nurse. His wife and two daughters help run the business.
"My customers run out of the store every 30 minutes to make sure they don't get a ticket. It takes away from the pleasure of shopping, " says Excelsior Goodwill Store Assistant Manager, Jacqueline Gandy.
"It's too much! I get 2-3 tickets a month. I don't have a choice. I have to move around, go downtown to the Gift Center, then come back to the store," Gandy added.
Edwin Gonzalez of Campos Jewelers (4685 Mission St). He spends $1,440 per year on parking tickets.
Janelle Ruan and her father, owners of the Japan Home Centre are hopeful.
"We just opened 6 months ago, in November. One time, a family ran to our store to buy tapioca before heading back to their car. They ended up with a $40 parking ticket. They got the ticket so fast. They were so mad! It will be nice to have a parking lot around here."
City Public officials like Nathaniel Ford Sr., Executive Director of the Municipal Transportation Agency, who oversees parking seems to be at a loss for understanding. He has said in prior statements, "I've gotten parking tickets, and I sort of slap myself on the wrist and pay the ticket."
It helps that Nathan Ford makes a yearly base salary of $328,000 with guaranteed increases. He drives a city paid car. He gets 15-20 days of paid vacation, an additional $90,000 in benefits, retirement, and annuity. Each member of his family gets a free Muni fast pass every month. He has an expense account covering travel, meals, etc. - not quite the same economic power as the working people of the Mission District.
Most recently, Nathan Ford presided over a $158,000 VIP party to celebrate the opening of Muni 's Third Street Light Rail, even though the agency forecasted an $11 million deficit for fiscal year 2007.
The MTA's 2007 budget is $673 million compared to $529.5 million in 2004, an increase of $143.5 million. Despite a 27% increase, the MTA projects a deficit. The Mayor put together a blue ribbon panel to figure out how to generate another $100 million to improve Muni. Two of the ideas being floated are increasing the cost of parking tickets and increasing the parking meter rates again. They were just raised a couple of years ago.
Flor Dene, Assistant Manager of Kragen Auto Parts is matter of fact when asked what would happen if the meter rates are increased.
"This is the only store without parking. All our other stores make much more than we do. We can handle it now. But if the rate is increased, we will lose a lot of customers," Dene said.
Onnyx Walker is a lot more vocal.
"That is just absolutely ridiculous. It is an unfriendly attack on residents and shoppers to fine them to support Muni. It's like they are launching a war. The government is wasteful. Muni should be self supporting. They should be collecting the fares from Muni," Walker fumes.
"Some of the Supervisors are anti-car. They have to understand, we have to share our parking with people from outside San Francisco. Our City government should be friendlier to its citizens. My neighbor got a ticket for $100 because his car was protruding 12 inches out to the sidewalk. Taxing poor people who are just struggling - that makes me very angry!"
The anger voiced by many residents is well founded. Instead of correcting problems such as failure to collect bus fares, abuse of handicap cards, failure to properly monitor and account for meter payments received, reining in abuses of workers compensation and disability claims, managing personnel problems and overtime, the City simply increase fines and puts the financial burden on residents - hurting the most vulnerable working poor.
For merchants and shoppers, a public parking lot would help generate business. If the meter fees and parking tickets are rolled back, more people will shop in the neighborhoods. Struggling residents would find economic relief in an "amnesty program" - to pay their tickets without penalties. This will bring in $6.1 million of outstanding revenues into the city coffers, without the need for extra personnel.
It is the least punitive measure a government can do to be friendly to its residents - not having to pay a boot-removal fee of $75, paying towing at a cost of $314, or having one's license suspended. All this "auto-antagonism" is enough to drive SF citizens crazy...or out of San Francisco entirely.
Myrna Lim is a community advocate from San Francisco's Excelsior District fighting for issues that affect people's day to day lives.

####