Supervisor McGoldrick introduces resolution
to encourage solar technology manufacturing
in San Francisco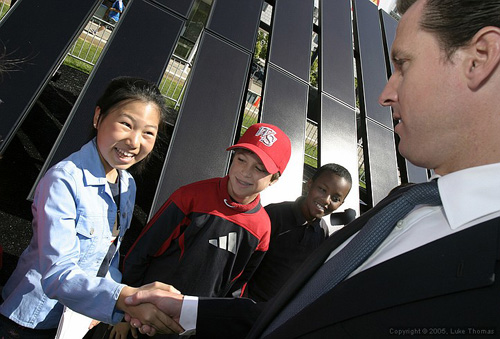 Mayor Gavin Newsom greets a future generation of San Franciscans during World Environment Day week who could be the beneficiaries of clean solar energy production.
Photo(s) by Luke Thomas
June 29, 2006
Supervisor Jake McGoldrick introduced legislation at Tuesday's Board of Supervisors meeting aimed at encouraging a leading solar energy company in Palo Alto to choose San Francisco as one its manufacturing facility locations.
Nanosolar, Inc., known for developing a new generation of solar electricity cells, recently announced it plans to build the world's largest manufacturing site in the Bay Area.
The global solar industry has increased 55 percent from one year ago, and it is predicted clean technology will be the number one growth industry in the 21st century.
Nanosolar's impact on the industry will nearly triple the nation's solar manufacturing output producing a total of approximately 200 million solar electricity cells per year.
McGoldrick said Nanosolar's new manufacturing facility will create as many as 200 manufacturing related jobs.
The resolution states:
- In November 2001, San Francisco voters approved $100 million dollars in revenue bonds to pay for solar panels and other energy efficiency measures for public buildings.
- San Francisco is redeveloping two former military bases - Treasure Island and the Hunter's Point Shipyard - and has plans to make extensive use of solar panels in both projects.
- San Francisco has a demonstrated a commitment to supporting the alternative energy industry and wants to establish a long-term partnerships with Nanosolar.
- San Francisco is moving forward with implementing Community Choice Aggregation allowing the aggregation electric loads of residents, businesses and municipal facilities, to promote the purchase and sale of renewable electrical energy.
The city's leadership reputation led the United Nations to select San Francisco as the host city for World Environment Day 2005.
The Board of Supervisors strongly encourages Nanosolar to choose San Francisco for the location of its manufacturing facility.
####