THE MUSIC MAN
With Seán Martinfield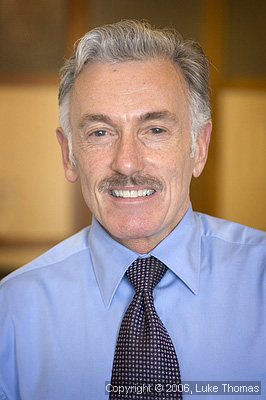 Seán Martinfield
NERO: ANOTHER GOLDEN ROME - A World Premiere at The Magic Theatre
February 24, 2006
Steven Sater's NERO is the most refreshing and imaginative script to come along in a long-long time. His Who / What / and Wheres are the foundations and columns of Theatre itself - all stepping forward through the sands of time (literally!) to un-mask contemporary counterparts, recurring episodes, and re-named or rediscovered locations. It's the Hows and Whys of his dramatic arrangement that catapult him into the kind of slots marked, "Best Playwright Of The Year". It appears that Sater has resurrected and polished up the ancient Satyr Play. Ah! Cue his Narrator/Everyman, "Boccaccio", who might say to us: "Well, THAT would be one of those lewd burlesques which took serious no-laughing-matters and held them up to subversive and seditious mockery." Example? As Nero fiddles, Rome is completely ravaged by a firestorm, possibly the result of grave inefficiency on the part of local magistrates, perhaps caused by a group of non-conforming religious extremists. A political upstart (the discordant voice) asks about those "crowds of pale evacuees, their homes now lost in the fire - those huddling in our shelters, living on our streets…?" Sater inserts a variation on the now classic boo-boo from Matriarch Barbara Bush observing the huddled masses at the Houston Astrodome. "Well," says a STENTORIAN MATRON, "if you'd seen their homes before, you'd know they're better off - in ash and dust…"
Steven Sater's NERO is part of Magic's HOT HOUSE '06, a national platform for premiering works by those playwrights "America needs to know". From now until April 9th, NERO plays in rotating repertory with MORBIDITIY & MORTALITY and THE ICE BREAKER, each marking its world premiere at the Magic Theatre. From the cast's teasing pre-act warm-ups to the one collective final bow and then sudden withdrawal - I am clamoring for more. Solution? See it again.
The cast is a true ensemble and collectively superb. With the exception of Drew Hirshfield as "Nero", each of the actors takes on more than three roles, all distinguishable in attitude, and flavored with every accent under Rome's dominion. The title role is perfectly fleshed-out by the lean and charismatic Hirshfield, who could easily slide into the role of Peter Shaffer's AMADEUS. Catherine Smitko as "Agrippina" (Nero's mother), is a larger-than-life Amazon; and with her gorgeous contralto voice, a kind of Angela Lansbury on steroids, shot from guns. Andrew Hurteau, as the previously mentioned "Boccaccio", is an amazingly intelligent and formidable presence. The function of the "Everyman" is to remove the Fourth Wall and link the audience to the action, to the inside scoop, and (with the author's occasional peppering of Greek and Latin and a host of Classical Personages) to expose the artful chicanery swirling throughout what Sater identifies as this "House of Fame". Hurteau's rich baritone voice can easily croon the songs provided by composer Duncan Sheik and then barrel out the gruffness of a General Patton. Joe Mandragona as the discarded rightful heir, "Brittanicus", is a compelling innocent. Made up as a Poor Pierrot and sporting the body of a young gladiator, Mandragona is a subtle and deft comedian. He and David Cramer (as Seneca/Narcissus/a "Hogan's Heroes" German officer/and gossiping Cockney Crone) along with the very attractive Sofia Ahmad (as Octavia/Poppea/a wide-eyed Christian convert/and saucy French maid) demonstrate extreme sharpness and versatility in going from role to role, rivaling the talents one might quickly identify from "The Best of Saturday Night Live".
Finally, it's about collaboration. As founder of Banter Company, focusing on adaptations of classical theatre for the modern audience, Beth Miles was the perfect choice for directing this highly complex, mad-mad, wordy, bordering on screwball, genius piece of playwrighting. Here is a director America needs to know. Being a fan of minimalist design and smaller house productions, much praise goes to set designer Melpomene Katakalos and to Russell Champa for lighting effects. Strings of lights, three chandeliers for the burning of Rome, and lit bulbs framing large square entrance ways (resembling Hollywood makeup mirrors) was enough to expose this current Administration at Caesar's Palace.

Click here for Seán Martinfield archive.
####