Atlanta public transit chief to head MUNI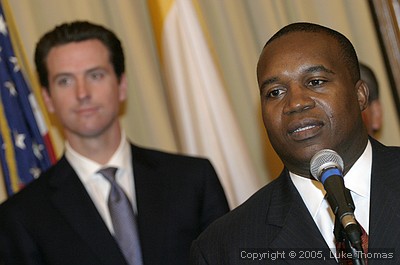 Photo(s) by Luke Thomas
December 7, 2005
Nathaniel P. Ford, Sr. will head San Francisco MUNI beginning in January, the Municipal Transportation Agency (MTA) decided unanimously yesterday.
He leaves Metropolitan Atlanta Rapid Transit (MARTA), where he served as general manager and chief executive officer.
While at MARTA, Ford's duties included providing executive leadership to 4,200 employees and managing an operating and capital budget of $792.9 million, the mayor's office of communications said in a written statement.
"In Fiscal Year 2005, Mr. Ford helped save MARTA $16.1 millions in reserve funds that were previously approved by MARTA's Board to cover operating deficits, through creative revenue generating strategies and implementing critical cost cutting initiative.
"Ford was also beneficial in reducing costs totaling $36 millions over a three year period and ended FY 2004 under budget by $11.5 million by improving efficiency in operations, restructuring the work force and building consensus among employees to gain voluntary wage concessions."
####