Mayor Newsom allays concerns
raised by letter drafted in Macris' name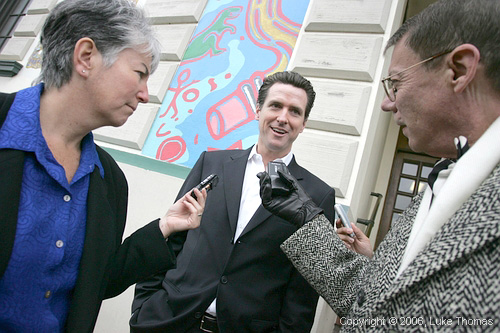 Newsom fields questions from reporters outside Leonard Flynn Elementary school
Photo(s) by Luke Thomas
By Luke Thomas and Pat Murphy
February 18, 2006
Following fallout caused by a letter drafted by mayoral staff on behalf of Planning Director Dean Macris while Macris was out of town, Mayor Newsom responded to reporters questions yesterday to allay fears of foul play.
The letter, drafted hastily and presented at the Board of Supervisors meeting on February 7 by Larry Badiner, contained last minute amendments to the C-3 downtown parking legislation, ostensibly lessening restrictions on downtown parking development.
"I'm just trying to understand all of that as much as anybody else. Obviously there was some miscommunication, lessons learned," Newsom said.
"I think the whole issue is clarification on C-3 and everyone's position and opinions and everyone seemed to be just a little bit on their own page so the idea was to get everyone on the same page and obviously there was some confusion - but nothing more than that.
"Doing a statement on a cell phone in Boston and having Marshall or somebody typing it and having an understanding, and then having a deadline at the Board does not make for a good process.
"And obviously lessons learned, so we'll try to make sure that process doesn't occur again."
Addressing concerns downtown stakeholders were behind the last minute changes, Newsom explained several stakeholders were present in a meeting arranged by Wade Crowfoot.
"You know that's also been wildly misrepresented. There were about 50 people in that room. And you know what is amazing to me? This is why I love politics in San Francisco. My friends like Ted Gullicksen (Tenants Union executive director) and others can write legislation in supervisors' offices but boy that's okay and then other people aren't in the room. But boy when a community that's affected by legislation - directly affected - comes and says, 'We're concerned about this, Mr. Mayor,' all of a sudden it's oh boy backhanded."
Skepticism swirled when it was revealed Don Fisher, a downtown stakeholder, attended the most recent stakeholder meeting.
Addressing the concern Fisher muscled his interests leading to the letter's creation, Newsom said, "It's a public meeting and there must have been 50-60 people in the room, and they weren't all downtown, quite the contrary. Don (Fisher) barely said two words. What's wrong with people actually expressing an opinion based upon legislation that will affect them?"
In closing, Newsom concluded, "It was obviously a messy process but it has not affected the legislation in any way and it has not affected the cooperation between the Board and myself, and I am in a position not to veto the legislation by making some amendments to it, and that's all that matters."
A second reading of the legislation will allow for any new amendments to be considered at the next Board of Supervisors meeting.
####