SUPPORTERS GATHER TO RETIRE NEWSOM CAMPAIGN DEBT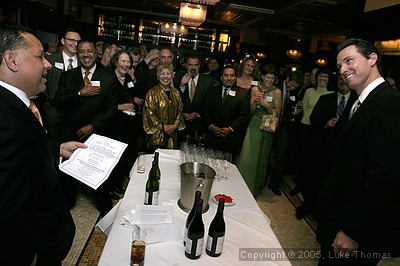 CHAIR FRED NARANJO receives a nod of thanks from Mayor Newsom.
Photo(s) by Luke Thomas
Wednesday, September 14, 2005
Some 200 supporters gathered last night to help retire Gavin Newsom's mayoral campaign debt, with the victorious candidate reflecting that campaign made him more appreciative of San Francisco diversity.
As such, finger pointing of the past became a priority of his administration, the mayor told participants gathered at La Suite Restaurant on the Embarcadero.
"It's a little embarrassing to have a campaign debt like I have, but it's one of those things that in hindsight was worth it - remarkable campaign, most assuredly, one that I think has made the city a better city, and it's certainly made me a better mayor
"It made me more appreciative of the diverse points of view in San Francisco, and the recognition, the realities that we've got to bring this city together.
"We cannot afford to have a divided city, and we've got to really reach out and recognize that the true strength of the city is embracing our diversity, focusing on what pulls us together, our common humanity, and maintain the kind of optimism that's defined San Francisco's past.
"It seems increasingly we're focusing on what's right with San Francisco, and not focusing on what's wrong with the city.
"We have spent just too many years pointing fingers, abdicating any responsibility, blaming people…and now more than ever I think we've restored a little bit of pride."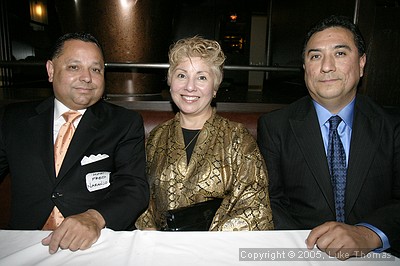 Event organizer Paula Fiscal enjoys the evening with fellow Newsom supporter and event chair Fred Naranjo, left, with family member at her side.
For more information, contact Paula Fiscal at paulacfiscal@gmail.com

####