Mayor invites assailants of Chinatown homeless man surrender directly to Newsom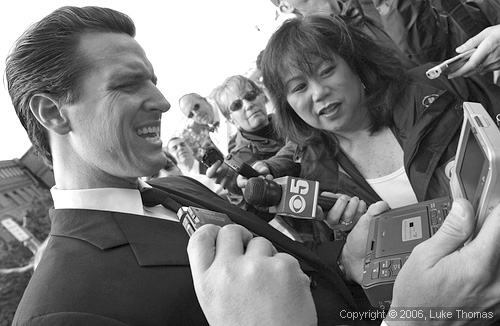 Mayor Newsom reacts to video of assailants beating a homeless man
Photo(s) by Luke Thomas
March 8, 2006
Four men caught on video tape as they repeatedly kicked a sleeping homeless man in Chinatown over the weekend best "come down to my office and turn themselves in," Mayor Gavin Newsom suggested Tuesday.
Newsom told the Sentinel criminal suspects have surrendered directly to the mayor in the past.
He offered the invitation after viewing the video tape during a visit to San Francisco General Hospital yesterday.
"Their best thing they could do, I think, is come down to my office and turn themselves in," Newsom said. "I mean that with sincerity."
"We'll find them. They'll be found and when they're found they'll be taken care of appropriately and be held accountable for this.
"But if they came down maybe we could help them redirect their life a little bit more appropriately and I'd be happy to take them in my office and we'll start with a little discussion about what it is they hope to become in their lives and try to redirect them in ways that can be constructive."
The mayor recalled a past criminal suspect surrender to Newsom.
"He said he had seen me out in the community and said that he trusted me," Newsom told the Sentinel.
"What was incredible was that he said he didn't want to turn himself immediately and gave me his cell phone, and I trusted him and called him the next day and he turned himself in.
"If someone did something wrong, own up to it and then we'll help, hold you accountable and make sure you make this a positive thing in your life by helping turn around other people's lives."
The mayors office is located in Room 200 of San Francisco City Hall, 1 Dr. Carlton B. Goodlett Place (formerly Polk Street) between McAllister and Grove Streets.
####