Coretta Scott King one of nation's most influential women,
says Mayor Newsom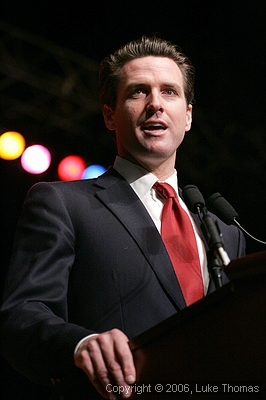 Mayor Gavin Newsom. File photo.
Photo(s) by Luke Thomas
February 1, 2006
San Francisco Mayor Gavin Newsom yesterday offered the following statement on the passing of Coretta Scott King.
"Coretta Scott King will not only be remembered as a wife and formidable partner to the late great Dr. Martin Luther King, Jr., but she was in her own right one of the most influential women in our country's history. With her quiet resolve, and ever-present position along side Dr. King, Coretta Scott King helped changed the ideology of a society to embrace racial diversity and equality. She additionally gave a voice to the women and mothers who were also on the front-line in the struggle for equality and acceptance.
In a continuation of the legacy of her husband, Coretta Scott King was very passionate and outspoken as ever on the issues of human rights and social justice.Coretta Scott King has carried the message of nonviolence and the dream of Dr. King's legacy to almost every corner of our nation and globe.
Her work as a leader in the continuing challenge for equality and human rights for all will be sorely missed. On behalf of the City and County of San Francisco, I would like to extend my sympathy and condolences to the King Family."
####