NEWSOM WEIGHS IN ON PUBLIC FINANCING OF MAYORAL RACE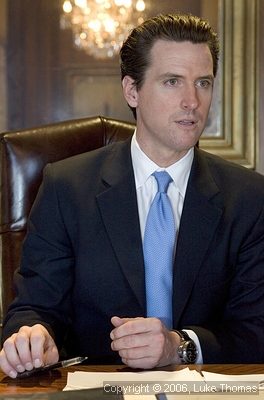 Photo(s) by Luke Thomas
By Angela Hokanson, Bay City News Service
February 8, 2006
SAN FRANCISCO (BCN) - San Francisco Mayor Gavin Newsom favors putting the issue of public financing of the city's mayoral race before the voters, and believes that the ordinance approved Tuesday by the San Francisco Board of Supervisors should be broadened.
The mayor's office is in support of taxpayers deciding whether or not public money should be used to fund the mayoral race, Newsom explained in letter submitted to the supervisors on Tuesday.
"I feel somewhat uncomfortable with elected officials, and not the voters, approving a program that uses General Fund dollars to fund political campaigns that could otherwise be spent on investments in the community," Newsom said in the letter.
The board passed the campaign reform ordinance with a 9-2 vote on Tuesday. The measure calls for approximately $6.2 million of public money to be used by qualifying mayoral candidates to finance their election campaigns.
The cost of the program would be capped at $2 per resident per year.
Proponents of the ordinance argue that the measure will help level the playing field for mayoral candidates, helping to ensure that winning the election is not just about having the most amply funded campaign.
The supervisors who opposed the ordinance, Michela Alioto-Pier and Sean Elsbernd, share Newsom's view that the issue of public financing of the mayoral race is best decided by the voters, not the supervisors themselves.
The legislation that went before the board on Tuesday could be strengthened, in Newsom's view, with several changes, according to the letter Newsom sent to the supervisors on Tuesday.
Newsom argues that public financing should be expanded to include all major citywide elections in San Francisco instead of a select few races.
Newsom also advocates 24-hour disclosure of all contributions to elected officials within San Francisco starting 45 days prior to an election. The legislation would also be improved, Newsom said, if conflict of interest provisions related to contractors working with the board or elected city officials are incorporated into the public financing legislation.
"It is apparent that more work can be done to strengthen the proposed public financing program," Newsom said. "I am confident that these changes can be made in a timely manner that will not impact the city's ability to implement public financing for the next Mayor's race."
Copyright © 2006 by Bay City News, Inc. -- Republication, Rebroadcast or any other Reuse without the express written consent of Bay City News, Inc. is prohibited.
####