Newsom asks Health Access Council study of expanded worker coverage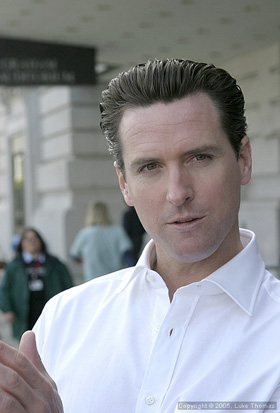 Mayor Gavin Newsom. (File photo)
Photo(s) by Luke Thomas
December 21, 2005, 10:00 p.m.
Mayor Newsom today called for creation of a Health Access Council to explore increased health care coverage for small business workers.
The action came in response to legislation proposed by Supervisor Tom Ammiano requiring health insurance for employees of businesses with 20 or more workers.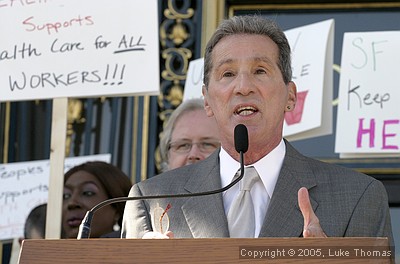 Tom Ammiano announces health care ordinance legislation
on the steps of City Hall, November 22.
Photo(s) by Luke Thomas
Members of the Small Business Commission, and some small business owners, complained the Ammiano measure was drafted without their participation.
In a letter to the San Francisco Board of Supervisors, Newsom asked the council be inclusive of "elected officials, health care experts, community health advocates, and local business and non-profit leaders to explore approaches to increased health care access."
He charged the council with completing the study in four months.
"Within four months, this council will review current and proposed initiatives - including this legislation and proposals to expand health care access from the CEO of the San Francisco Health Plan and the Director of Public Health - and work to identify effective initiatives to expand health care acces.
"This body would provide broadly representative input on the issue and, in addition to the Health Commission and Health Services Board, allow for an inclusive and collaborative policy development to occur.
"I believe these actions are necessary to foster both an inclusive and productive dialogue aimed at expanding health care in San Francisco."
Newsom commended Ammiano for leadership on the issue.
"I commend Supervisor Ammiano's leadership advancing the public conversation on health care access and look forward to conversations on this public issue in the coming weeks and months," Newsom added.
See related Public Health Drives City Budget - Unions Drive Public Health. and 'Ammiano Plans Taxation without Representation.'

####