Satellite technology pinpoints your NextBus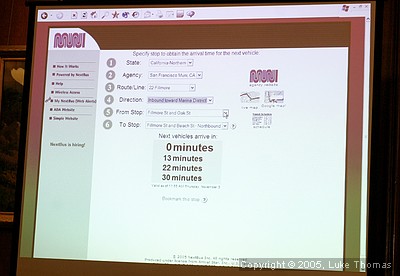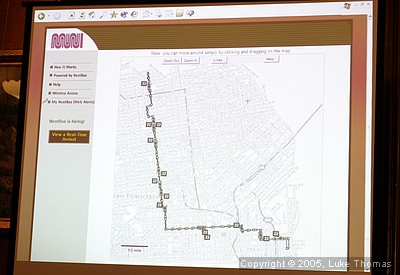 Photo(s) by Luke Thomas
By Pat Murphy
November 4, 2005
Baffled MUNI riders are no longer lost in a great black hole of inaccurate bus arrival times thanks to Global Positioning Satellites (GPS) and their real-time pinpoint of bus locations.
Riders may now access that information for several MUNI lines through cell phones, mobile devices, and other means, MUNI chieftain Stuart Sunshine detailed yesterday.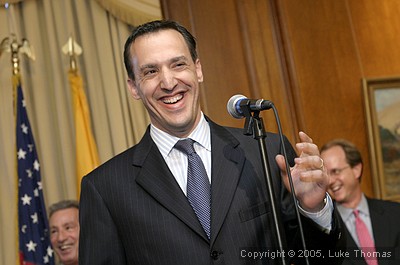 Acting Executive MUNI Director Stuart Sunshine.
Known as NextBus, the system today is operative on all five Metro lines, the F line, and three trolley bus lines: 22 Fillmore, 24 Divisadero and 33 Stanyan.
The NextBus system will be available for all MUNI lines by the end of 2007, said Mayor Newsom, who hosted announcement in a morning City Hall press conference.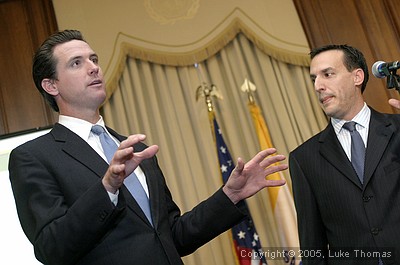 Mayor Gavin Newsom

Taking into account the actual position of buses, their intended stops, and typical traffic patterns, NextBus can estimate vehicle arrivals with a high degree of accuracy, Sunshine said.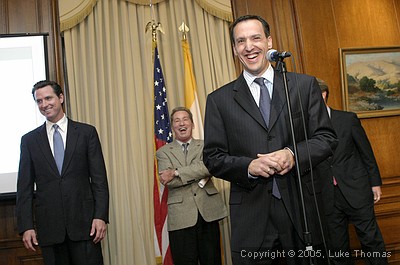 The predictions are then made available on the NextMuni website and to wireless devices including signs at bus stops and businesses, internet capable cell phones, palm pilots, other personal digital assistants (PDAs), and by telephoning 511.
Newsom praised Congresswoman Nancy Pelosi (D-CA) for her successful efforts in gaining $20 million Federal funding for Bay Area public transit.
More than half that amount was allocated by the Metropolitan Transportation Commission (MTC) for San Francisco's NextBus system.

"The Metropolitan Transportation Commission is as excited about this
NextBus project as the City of San Francisco is," MTC executive director said of the $11.2 million NextBus project.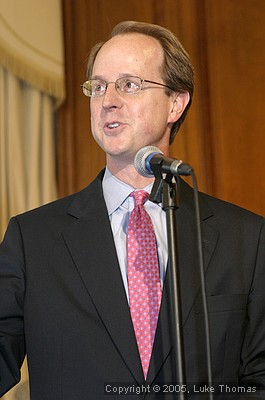 Steve Heminger, MTC Executive Director
"San Francisco Muni is leading the way for the rest of the Bay Area by going citywide with its system for tracking transit vehicles in real-time and displaying arrival predictions, Steve Heminger added.
"I am proud to have secured federal funding for the NextBus system so
that all San Franciscans can access reliable transit information to plan
their trips on Muni, reduce their wait times, and enjoy an improved passenger experience," House Democratic Leader Pelosi said through spokesperson Dan Bernal.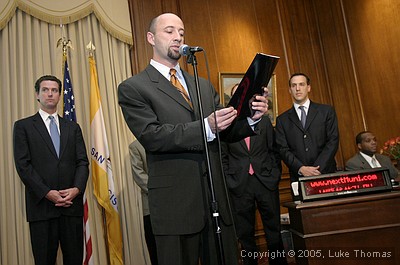 Dan Bernal, Congresswoman Nancy Pelosi spokesperson.

"The citywide expansion of NextBus will ensure that San Francisco continues to lead the country in providing quality and consistent public transportation."
"Making city services customer friendly and accessible is one of my
Main goals, NextBus is another step to fulfilling my commitment to make us a first class customer service city and a leader in technological
innovation," Newsom stated.

####