Code Pink, San Francisco Supervisors, step up pressure on Pelosi over support for war funding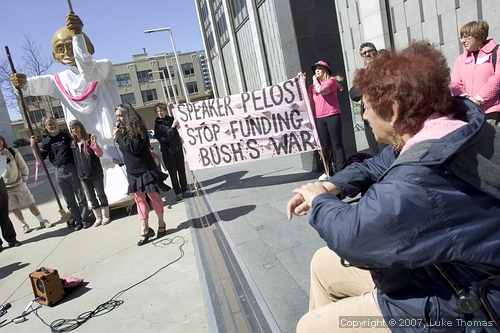 Members of Code Pink held a rally outside the Philip Burton Federal Building in San Francisco Wednesday to urge Speaker Nancy Pelosi to stop funding the Bush administration's penchant for war and occupation.
Photo(s) by Luke Thomas
March 22, 2007
One day before Congress votes on a supplemental appropriations bill setting benchmarks and a final date of withdrawal of U.S. forces from Iraq in 2008, local officials joined Code Pink Wednesday at the Phillip Burton Federal Building to call on Speaker Nancy Pelosi to cut off all war funding, and to bring about an immediate end to the U.S. occupation of Iraq.
Pelosi has been widely criticized for her ambiguous stand in support of war appropriations while touting "no blank check" for Iraq.
Grassroots activist Krissy Keefer, who ran for Congress on an anti-war platform against Pelosi in 2006, said money appropriated in the name of U.S. troops is not benefiting the troops.
"It is absolutely not supporting the troops", she said. "We know at this point that the money is absolutely not going to the troops. It is going to Halliburton and other corporations."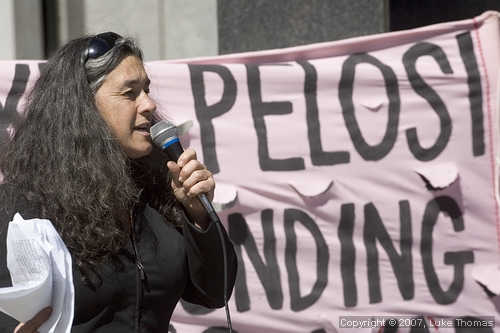 Krissy Keefer
Code Pink activist Janet Weil, drawing attention to Pelosi's reluctance to represent San Francisco's progressive opposition to the war said: "Congresswoman Nancy Pelosi could have joined with her sisters, California Congresswomen Barbara Lee, Lynn Woolsey and Maxine Waters to build the consensus in Congress to fully fund the withdrawal of US troops by December 2007."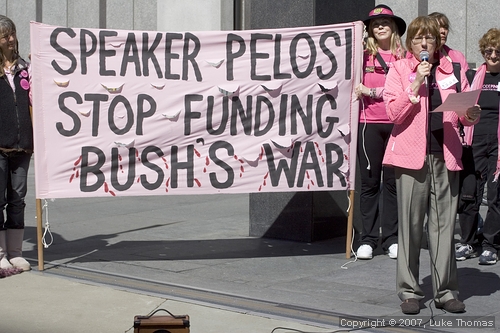 Janet Weil
"We still call on Congresswoman Pelosi to represent her progressive, pro-peace district and to support the Barbara Lee amendment to the supplemental for a fully funded withdrawal," Weil added.
Code Pink is maintaining a daily 24-hour peace protest outside Pelosi's house in San Francisco.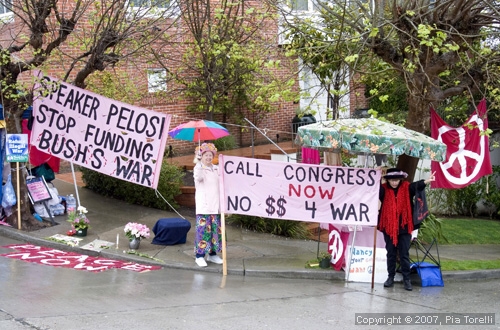 Photo by Pia Torelli
"We are going to be there until the appropriations bill is voted on. And when Nancy makes her vote, if it's a 'yes' we're going to have civil disobedience," said Code Pink activist Toby Blome.
Supervisors Ross Mirkarimi and Chris Daly joined the rally to voice their discontent with congress and Pelosi.
"If we want to make sure that we're out of the Middle East, we then have to make sure that they (representatives) hear us. If they do not hear us we also have to attach the message that we will make sure they are voted out of office," Mirkarimi said.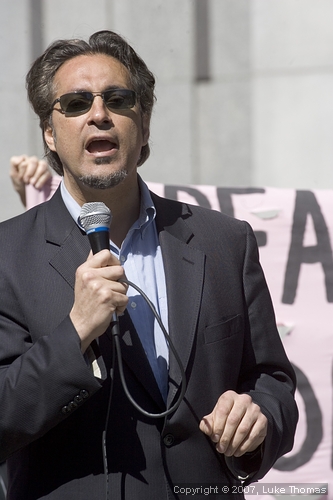 Supervisor Ross Mirkarimi
Supervisor Daly, who successfully shepherded a recent non-binding resolution calling on congress to secure the immediate withdrawal of U.S. troops from Iraq, called on Pelosi to represent the voters who elected her to office.
"Yes, Nancy Pelosi does have to deal with political realities in Washington D.C. But she also has to deal with political realities in her congressional district.
"In 2004 with San Francisco Chronicle and San Francisco Examiner saying no, 63 percent of San Franciscans said 'yes' to immediate withdrawal", Daly said.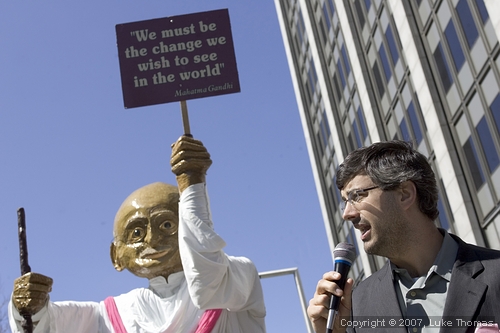 Supervisor Chris Daly.
The supplemental bill will be debated in the house today and is expected to be voted on by the close of business Friday.
Luke Thomas contributed to this report.

####