Jerry Brown holds meetings on soaring Oakland homicide rate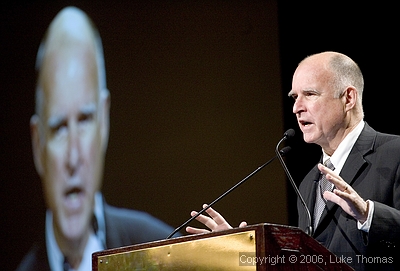 Oakland Mayor Jerry Brown. File photo.
Photo(s) by Luke Thomas
By Jeff Shuttleworth, Bay City News Service
March 1, 2006
OAKLAND (BCN) - Oakland Mayor Jerry Brown is holding meetings today to address two urgent Police Department issues: how to fight a recent spike in homicides and how to hire more officers quickly.
Brown's spokesman, Gil Duran, said Brown is meeting this morning with Police Chief Wayne Tucker, City Administrator Deborah Edgerly and personnel officials to discuss ways of luring more police officers to Oakland so the city can solve its problem of having a shortage of officers.
Duran said that at 2 p.m. Brown will go to the Police Department to have an "all hands" meeting with police officers and brass to discuss a plan to redeploy officers to fight a recent crime wave in Oakland.
Duran said there has been "a surge in crime" of all kinds, including homicides.
After three murders last weekend, Oakland has had 19 homicides so far this year, which is more than double the total of seven killings at this time last year.
Duran said Brown, Tucker and police command staff will hold a news conference at the Police Department at 3 p.m. to discuss redeploying officers.
Copyright © 2006 by Bay City News, Inc. -- Republication, Rebroadcast or any other Reuse without the express written consent of Bay City News, Inc. is prohibited.
####