OCTAVIA BOULEVARD OPENS DISSIPATING FREEWAY MOTORISTS TO CITY STREETS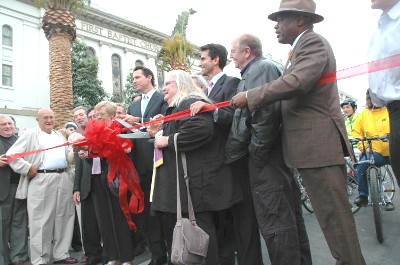 WOMAN WITH STAYING POWER - Hayes Valley civic leader Patricia Walkup, who both fought and mediated arrival of the day for 16 years, snaps the scissors and makes it done.
fogcityjournal.com Photos by BILL WILSON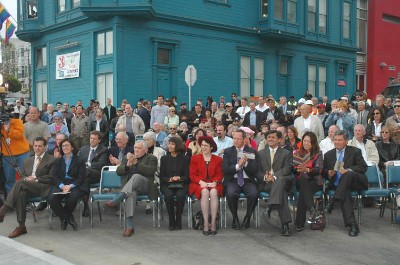 Friday, September 9, 2005
The city that grumped how - after three ballot battles and 16 years since the Loma Prieta earthquake required it - today opened Octavia Boulevard.
Where the old Central Freeway once sped motorists onto Fell Street, its Octavia Boulevard replacement dissipates car traffic to several city streets.
Construction began in 2003.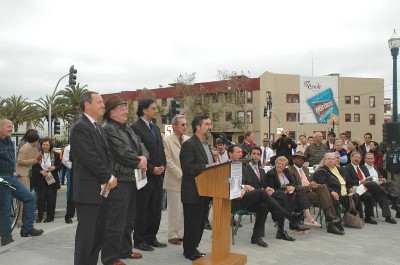 Board of Supervisors President Aaron Peskin welcomes project completion, surrounded from left, Supervisors Bevan Dufty, Jake McGoldrick, Ross Mirkarimi, Tom Ammiano; and seated from left, Mayor Gavin Newsom, Assemblyman Mark Leno, Port Commissioner and former Supervisor Sue Bierman, former Mayor Willie Brown, civic leader Patricia Walkup, City Administrator Ed Lee, and Hayes Valley activist and former member of the Democratic County Central Committee Robin Levitt.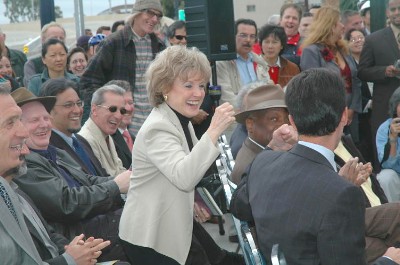 Barbara Kaufman, representative of California Governor Arnold Schwarzenegger, shakes her fist at Assemblyman Mark Leno for receiving the limelight. Enjoying the sight from left seated are former Mayor Art Agnos, and Supervisors Jake McGoldrick, Ross Mirkarim, and Tom Ammiano.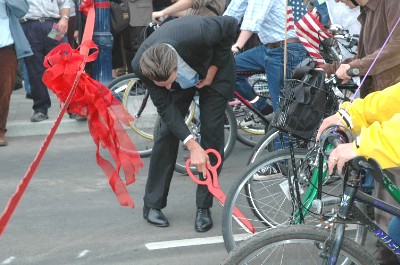 MAYOR GAVIN NEWSOM ad hocs Project Start Your Pedals.
####