Newsom lauds Office of Emergency Services audit

Reiterates confidence in OES director
May 16, 2006
City Budget Analyst findings in an audit of the Office of Emergency Services and Homeland Security (OES), in part critical of the agency, are very helpful to completing the OES task, Mayor Gavin Newsom said Monday.
The audit criticized the department as being top heavy with managers and slow to spend federal funding.
Board of Supervisors Budget Analyst Harvey Rose released the audit yesterday also citing incompletion of emergency plans for all City departments.
Newsom addressed the audit following a Bayview tour of the City's first Communities of Opportunity Center attended by California First Lady Maria Shriver.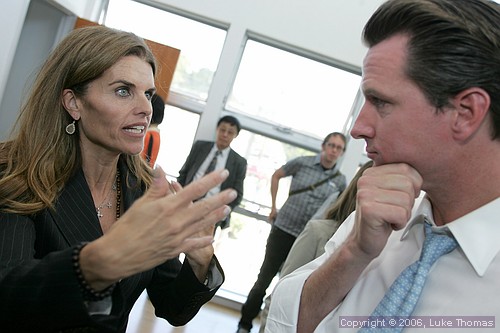 California First Lady Maria Shriver and Mayor Gavin Newsom
Photo(s) by Luke Thomas
"I think it's actually a very helpful document," Newsom told reporters.
"I think if you read all the letters and appendages, and you look on balance where we were two years ago and imagine what that audit would have looked like two years ago, and the progress we've been making in the last 18 months that we have a lot that is going right.
"At the same time I've said it throughout -- I don't know how many times I've keep saying it - we've got a lot of work to do.
"This audit will actually be very helpful in advancing those efforts, and more importantly the audit brings up a lot of areas where we were certainly aware there were weaknesses and we were working on them.
"In other areas where frankly it was a third set of eyes that helped us advance consideration to amend and augment the way we were doing business so I think it is actually a very helpful document."
Newsom issued an executive directive May 10 implementing 19 audit recommendations.
The mayor yesterday reiterated his confidence in OES director Annemarie Conroy who responded last week to the audit.
"I think she's done a very good job under difficult circumstances and nothing in this audit makes me change my opinion of her," stated Newsom.
For her part, Conroy noted the OES budget was reduced every year since 1991.
The agency had a staff of four employees when Conroy became director, Conroy told the Sentinel.
She maintained that San Francisco should not be seen in a vacuum when considering how quickly federal funding is spent.
Federal grant guidelines have slowed expenditure in most urban centers including Los Angeles, she said.
####