Law enforcement agencies gather to mourn passing of San Francisco Police Officer Nick-Tomasito Birco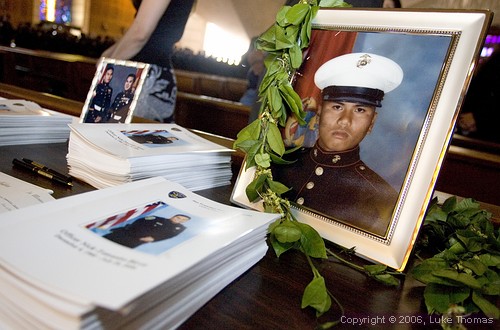 Deceased San Francisco Police Officer Nick-Tomasito Birco.
Photo(s) by Luke Thomas
August 2, 2006, 2.00 p.m.
California law enforcement officers today mourned the loss of San Francisco Police Officer Nick-Tomasito Birco in a Mass of Christian Burial at St. Mary's Cathedral.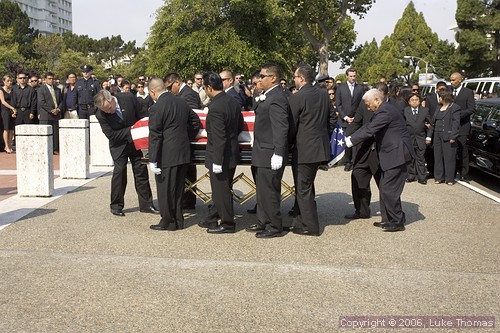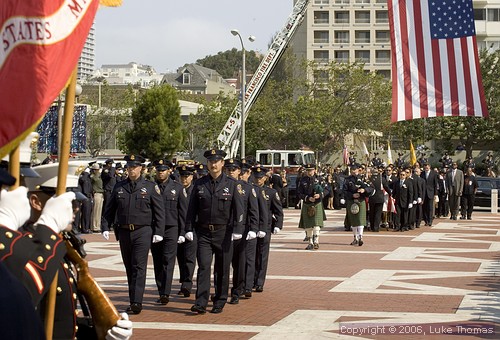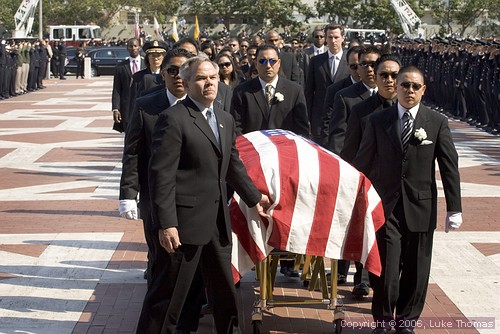 Officiating Archbishop George Niederaurer advised them to look beyond fear that they could be next.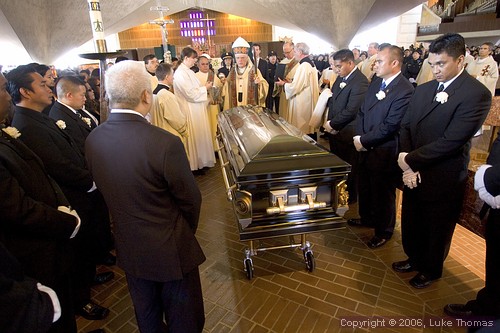 Archbishop George H. Niederauer casts holy water upon Officer Birco's coffin.
"Many years ago John McMurray, the protestant theologian, said this, 'The maxim of illusory religion runs 'fear not, trust in God, you will see that none of the things you fear will happen to you,'" Neideraurer began.
"'The maxim of the real religion, on the contrary, is, 'fear not, the things you afraid of are quite likely to happen to you, but they are nothing ultimately to be afraid of.'
"I am not a police officer. But if I were, here in Nick Birco's funeral today, I think I not only would be thinking, 'That could have been me, or that could be me some day.'
"Ours is a cynical age and we often find a way to undercut every value, to debase every hero, to ridicule every ideal, but quietly with no fuss some men and women go out defending us, protecting us from ourselves and from each other.
"They won't be found on the pages of People Magazine.
"They are generous and brave and sensitive.
"We give thanks for every officer who serves us."
Officers representing agencies from as far away as Salinas, Reno and Sacramento stood at attention outside the cathedral before the ceremony began, as a four-story-tall American flag was suspended between two San Francisco Fire Department ladders.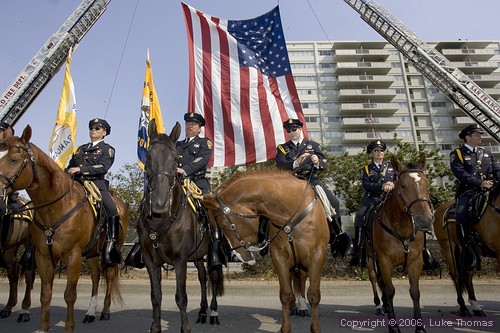 At the entrance of the cathedral a 9-foot-long surfboard stood decorated with pictures of Birco, his friends and family, and of his time served in the Marine Corps.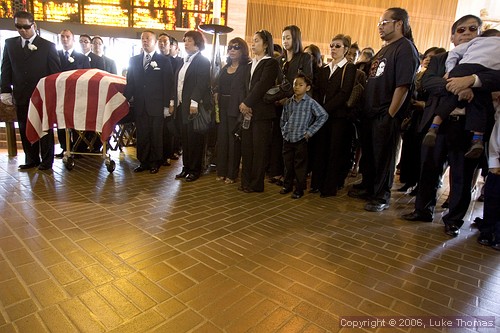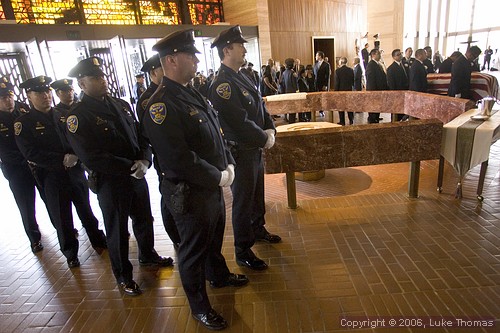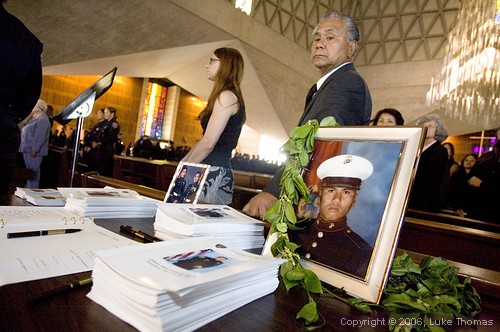 Birco, a five-year veteran of the San Francisco Police Department, moved to San Francisco from the Philippines when he was 4 years old and stayed in the Bay Area his entire life.
San Francisco Mayor Gavin Newsom said Birco chose the most difficult way to serve San Francisco, by being stationed in the Bayview district. He also said Birco's death, when a van carrying robbery suspects slammed into his patrol car, was the result of a senseless and cowardly crime.
"Nick set a standard for bravery that few can meet, but many will remember,'' Newsom said. "We will all remember his smile and his soul.''
Police Chief Heather Fong followed Newsom and extended her condolences to the Birco family.
She said she did not have the words to describe Birco's character, but that everyone would "remember the love that guided his heart in everything he did.''
She also said Birco died while showing his "innate sense of duty.''
After the funeral attended by 2,400 mourners, a police motorcade through the city will escort Birco's coffin past the Hall of Justice on its way to be interred at the Holy Cross Cemetery in Colma.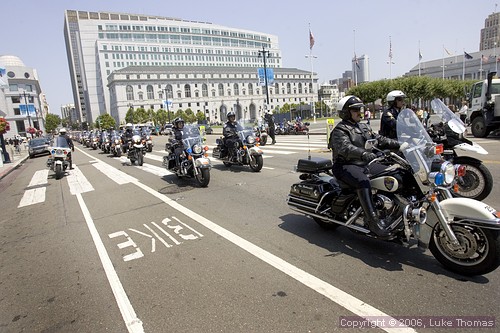 Bay City News contributed to this report.
####